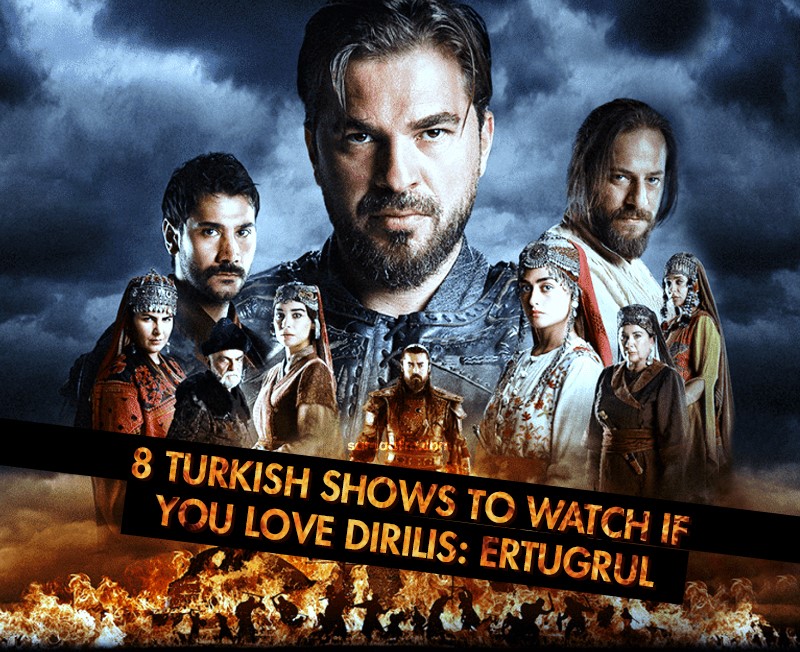 8 Turkish shows to watch if you love Dirilis: Ertugrul
posted by:

Zainab Naseem

1 Comment
Top Turkish Series 2021
If you watch and love Turkish entertainment content after Dirilis: Ertugrul, you should be watching these 8 shows. These shows will have you hooked and you enjoy them thoroughly.
With Diriliş: Ertuğrul causing a ripple effect and denoting the renaissance of famous Turkish content in Pakistan, we believe it's the ideal chance to look around and gorge on all the good Turkish content you've been passing up and most likely will not discover on your TV sets.
Turkish entertainment content appears to hit an exceptional harmony with individuals here in Pakistan. While numerous serials have been broadcasted in Pakistan over the most recent couple of years, including the uncontrollably mainstream Ishq-e-Mamnu, Fatma Gul, Feriha, and Kosem Sultan, there are others that a significant number of you might not have binged at this point. Let's have a look at 8 of them
1. Yunus Emre: Askin Yolculugu
Yunus Emre: Aşkın Yolculugu "Yunus Emre: The journey of love" is a Turkish biographical and historical television series created by Mehmet Bozdağ, starring Gökhan Atalay in the leading role. The series premiered on TRT 1 in Turkey on June 18, 2015. It centers around the life of Yunus Emre, the 13th century Anatolian Sufi poet, who greatly influenced the Anatolian culture. It aired on PTV home on 23rd November 2020.
2. Payitaht: Abdulhamid
Payitaht: Abdülhamid "The Capital: Abdul Hamid," named The Last Emperor in English, is a Turkish drama – historical television series starring Bülent İnal and Özlem Conker depicting historical events during the reign of the 34th Ottoman Sultan, Abdul Hamid II. The series follows important events that marked the last 13 years of the reign of Sultan Abdülhamid. It includes a war that resulted in the victory of the Ottoman Empire, the Greek War. The series gained massive fan following in Turkey.
3. Vlad the Impaler
Deliler, Vlad the Impaler is a rangers unit of the Ottoman armed force that has turned into the subject of a film. It displays the contention between Vlad III and Mehmed II. Deliler, which means crazy people. Those people were the mounted forces of the Ottoman Army, which shook the entire world. It is directed by Osman Kaya and shot in Aksaray territory.
4. Mehmetçik Kut'ül Amare
The incredible story of Mehmet and his companions in the Ottoman state arranged for the First World War, the lone dream is the restoration and freedom of the state, and there is just adoration for a homeland in the heart. Mehmet doesn't spare a moment to show any sort of penance and exertion for the country. While Mehmet will introduce his life for the country, Zeynep will cherish him and his affection will be a romantic tale written in a cavern.
5. Mendirman Jaloliddin
Mendirman Jaloliddin is a Turkish–Uzbek TV drama by Mehmet Bozdağ with the Uzbek Ministry of Culture and Sports. It depends on the life of Jalal-ad-Din Mingburnu. A leader of the Khwarazmian Empire. He is depicted by Emre Kıvılcım. The TV series was shot in both Uzbekistan and Turkey and was initially broadcasted in Uzbek on Milliy TV on 14 February 2021. Mendirman Jaloliddin has likewise been generally welcomed in Pakistan with just its first episode being an accomplishment in the country.
6. Conquest 1453
Fetih 1453 (English: The Conquest 1453) is a 2012 Turkish epic action film directed by Faruk Aksoy and produced by Faruk Aksoy, Servet Aksoy, and Ayşe Germen. Starring Devrim Evin, İbrahim Çelikkol, and Dilek Serbest, the film is based on events surrounding the Fall of Constantinople to the Ottoman Turks during the reign of Sultan Mehmed II.
7. The Protector
The Protector is a drama fantasy series starring Çağatay Ulusoy. It was produced by Binnur Karaevli and directed by Umut Aral, Gönenç Uyanık, and Can Evrenol in the first season. The story is an adaptation of Turkish novelist Nilüfer İpek Gökdel's mystery novel, 'Karakalem ve Bir Delikanlının Tuhaf Hikayesi' (A Strange Story of Charcoal and a Young Man), which was published in 2016.
8. Muhteşem Yüzyıl: Kösem (The Magnificent Century: Kosem)
Muhteşem Yüzyıl: Kösem is a sequel to the 2011 Turkish drama Muhteşem Yüzyıl. Written by Yılmaz Şahin. It recounts the life of Mahpeyker Kösem Sultan, a slave girl who became the most powerful woman in Ottoman history. After she was captured and sent to the harem of Sultan Ahmed I. Actresses Nurgül Yeşilçay, Beren Saat and Anastasia Tsilimpiou played the titular role in three different ages of her life in the series.
What do you think are other great Turkish series? Let us know in the comments below.
Comment on "8 Turkish shows to watch if you love Dirilis: Ertugrul"