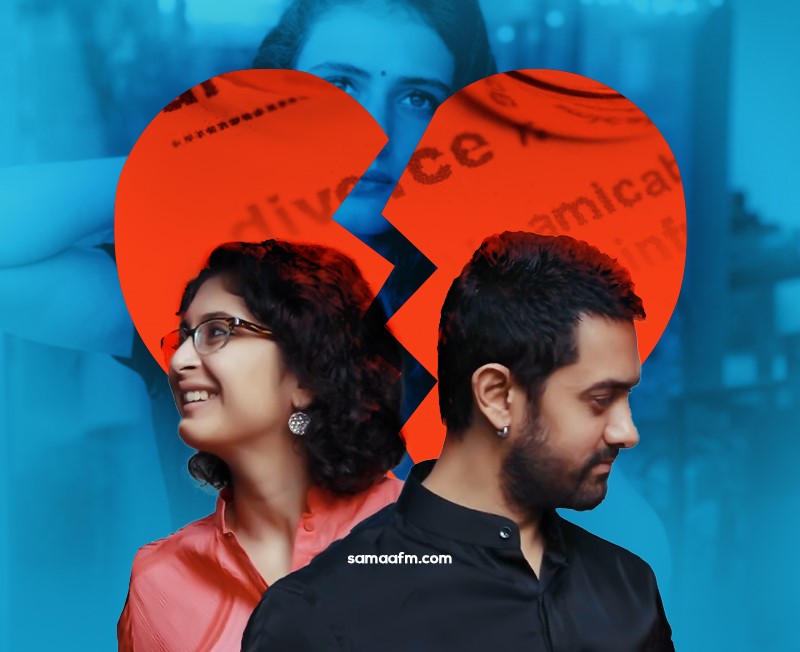 Aamir Khan separates from Kiran Rao after 15 years, is Fatima Sana Shaikh the reason?
posted by:

Zainab Naseem

No Comments
It's yet another sad day with the sad news that Bollywood actor Aamir Khan gets a divorce from his wife Kiran Rao after 16 years of marriage. In a joint statement issued on July 3, Aamir Khan and Kiran Rao announced their divorce and termed it is as "The start of a new journey."
The couple jointly released a video together, announcing that this is a new chapter of their lives and they are always a family. Furthermore, they said that in these 15 beautiful years together they have shared a lifetime of experiences, joy, and laughter. And their relationship has only grown in trust, respect, and love. Now they would like to begin a new chapter in their lives but as two different people. Aamir Khan said, 'Hum dono khush hain, Humare rishte mein change aya hai.' The couple will co-parent and share the custody of their son Azad, 9.
Moreover, they announced that their organization, Paani Foundation will be working the same as before. (Paani Foundation is a non-profit, non-governmental organization that is active in the area of drought prevention and watershed management in the state of Maharashtra, India).
Is Fatima Sana Shaikh the reason behind the divorce?
Since the announcement of Aamir Khan and Kiran Rao's separation, furious fans have assembled to put the fault for the split on the Dangal actress Fatima Sana Shaikh. The actress got into trends with aficionados of the couple taking to the celebrity's Instagram to leave remarks, like, "Congratulations for Aamir's divorce." Another user asked, "Are you going to marry Aamir Khan?" Both Shaikh and Khan are silent on this matter.
Read More: Indian actor Arjun Mathur pens an emotional note to Farhad Humayun
According to the various news outlets, Shaikh and Khan were dating secretly and having an affair. The secret affair started on the sets of 2018's movie 'Thugs of Hindostan.'
This caused relationship stress between the marriage of Rao and Khan. The duo also worked together in 2016's hit Dangal. Fatima played the role of 'Geeta Phogat' and Khan played her father Mahavir Singh Phogat.
Also Read: Salman Khan launches trailer of upcoming movie Radhe
Aamir Khan and Reena Dutta
Khan married Kiran Rao in 2005, two years after getting a divorce from Dutta. That marriage also lasted for 16 years from 1986 to 2002. Aamir Khan and Reena Dutta were neighbors back then.
During an interview in 1999, Aamir had said that he sought after Reena Dutta a lot of times yet she declined persistently. As Aamir eventually lost expectation on the circumstance, Reena moved toward him and admitted her affections for him. Khan and Reena Dutta got married on April 18, 1986. They have two children, son Junaid and daughter Ira. In December 2002, Khan filed for divorce from Reena Dutta.