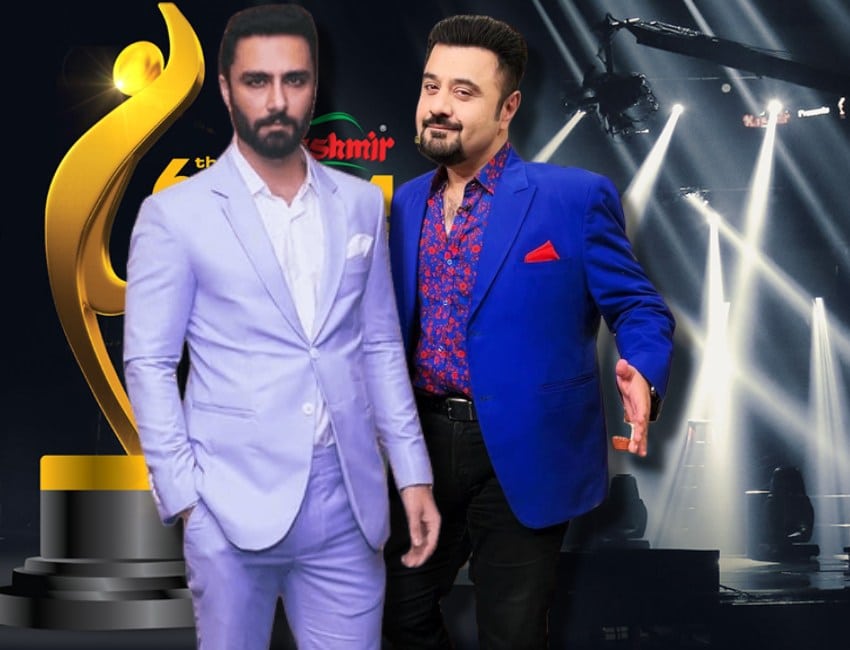 Ahmad Ali Butt, Ahmed Ali Akbar get trolled for recreating infamous Will Smith Oscar slapgate
posted by:

Zainab Naseem

No Comments
Another day, another controversy
A short clip from the recent Hum Awards has gone viral on social media after capturing a recreation of the infamous "slapgate." The clip shows Ahmad Ali Butt mocking Ahmed Ali Akbar's look from his super hit series Parizaad, prompting the Laal Kabootar star to come forward and slap him, shocking everyone.
Also Read: Aliza Sultan Khan opens up about the abusive relationship with Feroze Khan
The audience realises the host and actor are recreating "the slap heard around the world" when Akbar follows his slap with a warning reminiscent of Will Smith's warning to Chris Rock at the Oscars. Butt begins by saying, "Ahmed Ali Akbar… Parizaad. Menay kaha tha na na? Bohat pehle kaha tha, hit hone keliye mun kaala karana parta hai. "Par tumne tou aik nahi, dou nahi, paanch heroines ke saath mun kaala karaliya."
Also Read: British model Taloulah Mair accuses Aima Baig of cheating on ex-fiancé Shahbaz Shigri
As Akbar walks towards Butt and pretends to slap him, laughter erupts in the hall. Everyone remains silent. He then yells, "Keep my name out of your mouth!" and the crowd erupts once more.
Twitter is not happy with Ahmed Ali Butt
While the recreation received a lot of applause at the award show, social media users were not impressed. The depiction, which may or may not have been scripted, is also being trolled for its "lack of originality," with many calling it "cringeworthy" and others calling it "offensive."
A user tweets,
The war or irrelevancy and relevancy in Pakistani industry. The irony is pointed by one such tweet,
Furthermore, one user tweets,
Stars in attendance were also criticized back home for "going on vacation" while the country struggled to stay afloat in the aftermath of the flash floods. Fans, on the other hand, are vocal in their displeasure.
Yasir Hussain also shares his voice on the issues, including taking a jibe at the fellow celebrities.
Celebrities responded to the snide remarks by stating that they were only doing their jobs, while the channel stated that all proceeds from the ceremony would be donated to flood victims.
Have something to add to the story? Comment down below!