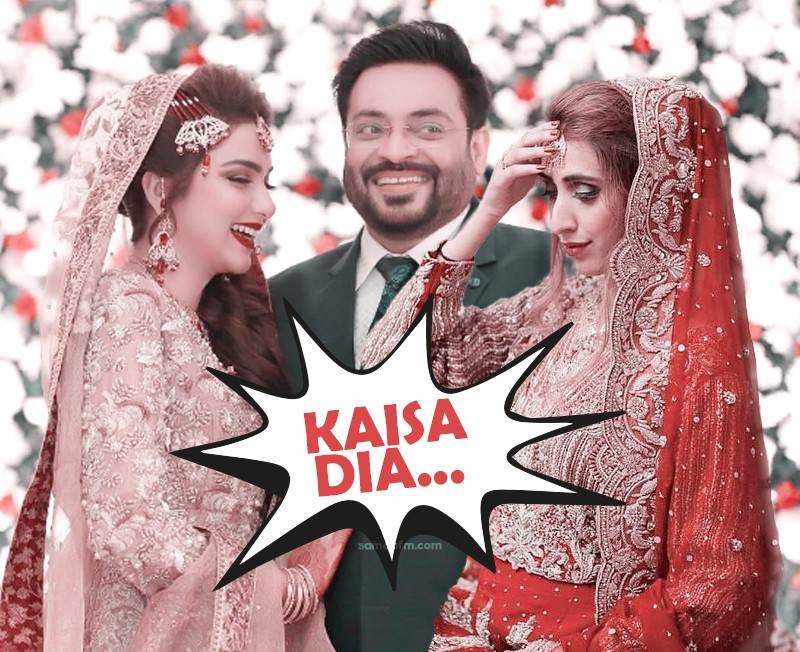 Aamir Liaquat is in major trouble after his third wife to be appears with proofs!
posted by:

Zainab Naseem

No Comments
Aamir Liaquat was once a scholar, then a host, then an entertainer and now a controversy, and he knows how to catch limelight with controversies and nothing else. First it was "Kesa diya?" then it was "Aam khayega aam?" and now it is his conversations with his third wife to be, apparently! He divorced his first wife on a phone call after his second wife forced him to do it. Turns out he is not too loyal after all. Aamir Liaquat's marriage in 2018 came off as a shocker for most of the people.
Who is Haniya Khan?
No one knows Haniya Khan a week ago, she is a self-proclaimed model and apparently Aamir Liaquat approached her. Their relationship is going on for a while now. She has recently called Amir Liaquat cheater and a 'traitor.' In a video message she stated that, "I am Hania Khan. I haven't been feeling well for three months and was blaming everyone because I thought everyone was against me. I was blaming the media, my family, mother and I even hit my parents."
She further added that she could never understand why her parents always keep such people and things away from their children which are not good for them.
Labelling Aamir Liaquat as a traitor and cheater
"Aamir Liaquat, it is very sad that by trying to act good, you manipulated me and made my parents look bad. I hit my mother because of you. I am blaming my sister Hira because of whom I have reached this stage. Because of her, I can call myself Hania Khan." She added, "You are a traitor."
"I was a driver's daughter. I am from a poor background. Only my mother and sisters supported me and you made me their enemy," she confessed. Khan also declared that she even tried to commit suicide four times. Tuba is a hypocrite, she tried to damage my career."
Aamir Liaquat finally breaks the silence
Aamir Liaquat after the whole controversy and posted an explanatory video online and cleared the air about his alleged affair with Hania Khan. He said, "I only have one wife and that is Tuba."
Too much drama revolving around just one person for the last 3 years!