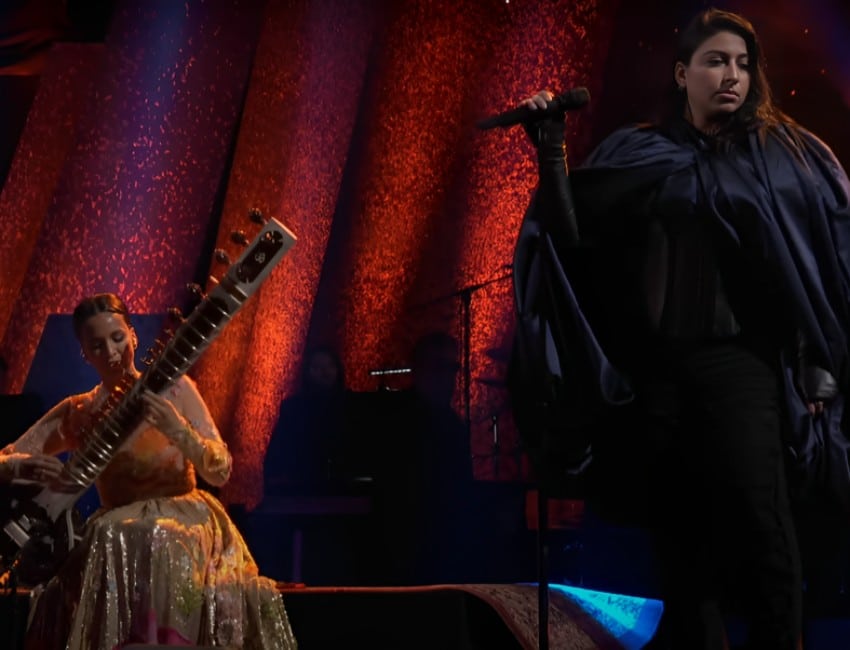 Arooj Aftab and Anoushka Shankar performed "Udhero Na" at Grammy'23
posted by:

Zainab Naseem

No Comments
Arooj Aftab, a lightning soul in a dark robe
Long black dresses, a husky, melancholy voice, and dark eyes, the darkest hue of the colour wheel shows the personality of Arooj Aftab. She does, however, manage to stay afloat, all due to her musical abilities.
Contemporary music style
In 2021, Aftab released Vuture Prince, a "neo-Sufi" album that the singer describes as "post-minimalist." Ghazals are a traditional South Asian poetic form steeped in love and longing. The lyrics from this album's Urdu-layered tracks drifted over contemporary jazzy compositions.
Barack Obama's playlist
Aftab became well-known after Barack Obama included her song Mohabbat on his playlist. Not only that, but she also received a Grammy for that song. She eventually became the first musician from Pakistan to receive a Grammy.
Coke Studio 14
We saw Arooj Aftab again in Coke Studio season 14, where she performed "Mehram," with Asfar Hussain from "Bayaan." The song garnered 12m views on YouTube.
Also Read: Ali Sethi set to perform at Coachella 2023
Arooj Aftab and 2023 Grammy
Aftab was nominated for one Grammy Award this year in addition to her performance from February 5; her song "Udhero Na" was selected for the Best Global Music Performance category. Furthermore, she received a nomination for Best New Artist last year and won the inaugural prize for Best Global Music Performance with "Mohabbat." In total, Shankar has received nine Grammy nominations, including this year's Best Global Music Performance and Best Global Music Album awards.
Watch Arooj Aftab ft Anoushka Shankar's live performance below,
Current ventures for Aftab
Aftab will release "Love In Exile" in the coming weeks. She calls it a "dark, doomy, jazzy, but sort of experimental, very free kind of album." The album also partnerships with Vijay Iyer and Shahzad Ismaily.
Have something to add to the story? Comment down below!