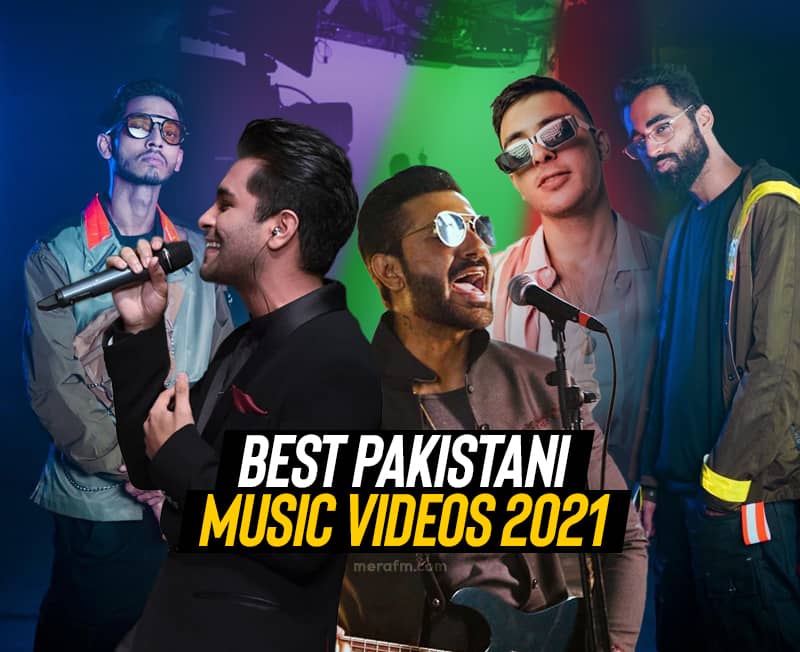 Best Pakistani music videos of 2021
posted by:

Zainab Naseem

No Comments
Music is the unofficial love language!
Music has always played an important role in my life. It has always been a constant companion for me, whether it is tuned from my own nation or from around the world. My father used to play old 60's to 80's music on cassettes every time we went out when I was a kid. I began to explore new artists as I grew older. Music has the capacity to sink into your roots since it is the only thing that can cross borders. Pakistan's music business has grown in leaps and bounds over the years. New artists emerged with a variety of styles. The industry was taken by storm by creative directors and videographers. Let's take a closer look!
Best Pakistani music video of 2021
We've produced a list of the best Pakistani music videos of 2021 that wowed us with their brilliant direction and inventiveness.
10) Qarar – Sajjad Ali
There is no doubt that Sajjad Ali is one of the masters of the Pakistani industry and one of the most famous artists of all time. He's singing over hundreds of songs, yet it's still a breath of new air. He has just released a new song video titled Qarar. The song has a lovely sorrowful tune to it. The song video, which combines layered vocals by Sajjad Ali and Sonya Hussyn's emotional yearning, is a nice treat for broken hearts on cold winter nights. Hussyn's main character is featured in the video, crying in various locales and gazing longingly into the distance as the wind blows through her flawlessly blow-dried hair. Because the protagonist waits for her love to return, the song has a sorrowful Bollywood vibe to it. Jovi Films directed the song video.
Qarar by Sajjad Ali lyrics
Koi tou baat hou aesi qarar ajaye
Khizan bhi dekh chukay ab bahar ajaye
Koi tou baat hou aesi qarar ajaye
Koi to baat hou
Tumhein tou laut ke ana nahe kabhi shayad
Dua yeh hai ke humain intizaar ajaye
Koi to baat hou
9) Larsha Pekhawar – Ali Zafar, Gul Panra and Pukhtoon Fortitude Core
Larsha Pekhwar sports a pleasant, full of energy, colors, and a lovely Pukhtoon culture. The version of this traditional Pashto song by Ali Zafar and Gul Panra was flawless. A good variation of Fortitude Pukhtoon Core gives the song more weight. The video is vibrant and full of beautiful scenery. The film will make you want to dance right away, and if you're of Pathan descent, you'll feel the culture in your bones! The art direction of Shahama Shahid, as well as the direction of Shahzaib Qureshi, Ibrahim Hassan, and Hammad Javed, added to the beauty of this music video. The cinematography of Waleed Akram gives the entire video a mood!
Larsha Pekhawar Ali Zafar Lyrics
Larsha Pekhawarta Kamiz Tor Mala Rawra
Taza Taza Gulona Dre Salor Mala Rawra
Taza Taza Gulona Dre Salor Mala Rawra
Laila Chi Cherta Qadam Kayde
Laila Chi Cherta Qadam Kayde
Aoo Cherta Qadam Kayde Bajawar Guloona
Halta Guder K Taza kegee Zyar Guloona
Kamiz Tor mala rawra
8) Kyun – Aashir Wajahat
Kyun is a song written and performed by Aashir and Nayel Wajahat that kept us addicted during office hours. Aashir, like his younger rapper brother, is a promising talent. Director Wajahat Rauf's entire family is strongly involved in music, therefore it appears as the music flows in their veins. The song surprised us because the lyrics are crisp and on point, hinting at an on-point split! Humza Chaudry has masterfully directed and shot the song video, which features Romaisa Khan. Some of the pictures are quite well-executed. The scene in which Romaisa burns the scarf all the way to the edge was fantastic! The camera shots are fluid and well-executed. The lyrics and music video were a wonderful match.
Kyun by Aashir Wajahat lyrics
Janejanah mere dil wich aagg lavay
Lagay begana yeh zamanaa per yeh dil na haaray
Galaan to kardi per kiun deyti yeh jhootay laaray
Shayirana batain meri samjhay nay yeh dunya walay
Chal mere sath sath chal mere sath sath jaanejaan
Pyaar mein harna pyaar mein harnaa lazim na
Tu jitni lagay pass utni hi duur
Meri zaat waat meri jaan ke peechay tu kyun
Oh meri jaan kyun
7) Rafta Rafta – Atif Aslam
For years, Atif Aslam has been kicking mountains after mountains with his music, starting with his first song "Aadat." Not only in Pakistan but also in India. In India, the artist has a fair amount of music and compositions. 'Pehli Nazar Mein' or 'Tu Jaanay Na,' for example. Aslam is a music connoisseur. Another lovely soulful version was offered by him.
Rafta Rafta, directed by Hassam Baloch and featuring Sajal Aly, was released under the Tarish Music label. Sajal Aly and Atif Aslam's chemistry is on full display in the song video. The three-and-a-half-minute story features the couple peering into one other's eyes, which adds to the enchantment. It was a delight to observe Sajal's pleasant self teamed with Atif Aslam. The two are seen gazing at each other in the backdrop of Skardu while camping by a gorgeous lake. Furthermore, the video's conclusion at a romantic dinner date where Atif proposes to Sajal adds to its allure. The song's videography was enthralling. Furthermore, Sajal's natural beauty and innocence triumphed in the music video.
Rafta Rafta by Atif Aslam lyrics
Rafta rafta sanam, tumse mili nazar
Toh hua hai asar

Khwaab sa ye jahaan, farsh dhua dhua
Jannaton ka sheher

Hum tere ho gaye, ya khuda ishq mein
Gumshuda dil zigar

Rafta rafta sanam, tumse mili nazar
Toh hua hai asar
6) Kaisay Jiyen – Mustafa Zahid
People who are unfamiliar with Mustafa Zahid's songs are unfamiliar with music in general. Mustafa Zahid once commanded Bollywood with his powerful melodies and beautiful music, and his legacy lives on in the hearts of many. Fans came to love him more and more. He is regarded as one of Pakistan's most gifted artists. He dominated the industry from Tera Mera Rishta to Tere Bina Hum Jee Leyngey. The artist surprised everyone this year when he released his rendition of Tere Bina Hum Jee Leyngey as Kaisay Jiyen, which included the stunning Saboor Aly. Saad Hashmi's direction is very brilliant. The plot revolves around love and betrayal. Both of the major characters in the music video are in a relationship, but Saboor betrays him in order to go. The fact that Zahid discovered the truth but still couldn't execute his revenge fits in wonderfully with the lyrics.
Kaisay Jiyen by Mustafa Zahid lyrics
Kaisey Jiyein Kis Se Kahen
Kab Se Shuru Yeah Silsile
Jin K Nishaan Ab Mil Rahe
Wo Na Yahaan Kyun Mil Rahe
Youn Ronnd Ker Meri Wafa
Tujh ko Bata Mila Hai Kya
Dharken Meri Bhataak Rahi
Hai Saans Bi Ataak Rahi
In Faslo Mein Bhi Mujh ko
Lgta Nhe To Mujh Ko Juda Ha
Kyun Toora Tu Ne Yeah Rishta
Yeah Kesi teri Adaa Hai
5) Melancholic – Maanu
With his groovy sounds and varied lyrics, Rehman Afshar, nicknamed Maanu, is one of those artists who fly solo under the radar. Melancholic is a wonderful tune that combines Pop, R&B, and EDM in one song. It's a full-fledged post-breakup album. And it depicts what comes straight from the heart! The song expresses itself perfectly. Melancholic was written and composed by Maanu himself, with Adeel Tahir handling the mastering.
Read More: Melancholic by Maanu is a "sad tale of affairs"
The music video for Melancholic is a visual feast. The traditional 4:3 frame ratio displays the performer (Maanu himself) seated on a couch singing the lyrics with a numb single drowsy face, directed by Muhammad Shah and Abdul-Rehman Malik. People around him appear to be having a good time and enjoying life to the fullest. However, the words imply a breakup, and the melancholy associated with it proves it. This tune becomes more depressing. For him, everything comes to a halt because he has lost himself. When the chorus hits the song intensifies and depicts the feeling of hopelessness, anxiety and the electronic music sure hits the notes perfectly with a constant groove until it fades with percussion tabla-like beats.
Melancholic by Maanu lyrics
Melancholic sa he yeh samaa, mein kahoon kia?
Gin and tonic, pe hoon mein ab kab se yoon zinda
Haan jab se dekhin teri aankhein
Tab se hun mein teri raahun ka diwaana
I don't have words
But I do know ke yoon haule haule
Aage barh raha he in do dilun ka fasaana
Kyun? Dar jaata hun jab hun tujh se duur
Even though I try to play it cool
Tu hi deti he iss dil ko sakoon
4) Yaad – Asim Azhar ft Young Stunners
When two great artists collaborate, you know it'll be a hit! Asim Azhar is one of Pakistan's most valuable possessions. Yaad is one of their outstanding productions that has a special place in the hearts of their followers. Asim Azhar composed the music for Yaad, while Young Stunners composed the rap portion. Both are on a mission to make their imprint in the music industry. The song is a departure from Asim's regular musical approach, and the addition of rap adds a new dimension to the mix for listeners. Asim Azhar, Talha Anjum, Talhah Yunus, and Raamis Ali composed the lyrics.
The song perfectly captures the heartbreak and the agony of missing and attempting to forgive someone you once loved. Asim Hussain directed the music video, and Jazib Qamar created the concept. Usman Malkani did the DOP, and he captured the mood of the video perfectly. The song video is set in the desert and features a charred phone and a single tree, symbolizing loneliness and wait.
Yaad by Asim Azhar lyrics
Tu yeh jaane tere aage mazboor hain
Kis baat ka guroor
Fayda uthayi yeh kaisa yeh suroor hai
Deta saadayen kyun na tujhko sunayi de
Tera deewana poori duniya gawahi de
Main laparwah sarphira par bewafa nahi
Kab tak yeh aashiq aakhir apni safayi de
3) Paisa – Hasan Raheem
Prepare to groove to Hasan Raheem's Paisa! In our list of the Best Pakistani Music Videos of 2021, this song is ranked third. This is why. Hasan Raheem was unknown until the year 2020. And the stars aligned in his favor. He is now well-known throughout the world. The rising star has been added to the Coke Studio season 14 lineup! This is enormous. Despite his career as an MBBS doctor, he believes that music will always be a side hustle for him. We are on the precipice of deciding whether he is correct or incorrect, as music is becoming his strongest trait.
Also Read: Hasan Raheem kicking a new soul in Pakistani RnB and Indie genre!
He's been spotted working with a slew of underappreciated artists…we'd call them treasures! Talal Qureshi, Maanu, Rozeo, Arham Ikram, Rohan YV, and others are among the artists featured. Paisa is buzzing with energy. The music and video work well together. Shot at several locations around Pakistan Cantt station. Hasan can be spotted leaping around in strange places (because this is one of his sporting elements) and making katakat! In addition, he shaved his beard at a nearby naayi shop. When it comes to vibing, he's a natural! Arham Ikram is in charge of cinematography and direction, while RohanYV is in charge of visual effects and post-production. The raw atmosphere of this music video is what sets it apart and places it in third place!
Paisa by Hasan Raheem lyrics

Meri zindagani
Jeekay dekhle tu jaani
Mere dil ka yeh fasana
Tera khudse chaley aana
Dibs on my dil ki rail gaadi
I don't want no teri hoshiyaari
Paiso ki koi kami nai
Baithe saarey beopaari
Yeh kaisa Paisa
2) Nawazish – Auj
Auj's distinct musical style distinguishes them. There isn't another Pakistani band with a classic rock soul like them. After winning the Battle of Bands, the band began focused on creating their own music and developing a name for themselves, and they have already released a single called Nawazish, which features Anoushay Abbasi in the video. We believe this song, with its legendary music video, should be in second place!
Also Read: Thursday Tunes: Nawazish by Auj band is infused with suffering and villainous charm
'Nawazish' delves into the concepts of affection and scorn, as well as the sentiments and traumas they engender in our lives and emotional bonds. The song tells a sorrowful story of hardship and victimization, which the band depicts flawlessly in a delicate rock melodic infusion. The classical Part of the feeling was given more weight by Abdul Rehman's voice. The percussions and Hasnain's powerful bass set the tone for the entire song. Furthermore, the guitar solo, in particular, elevates the entire wicked atmosphere to new heights. The video stars a gothic Anoushay as the villain, who smiles evilly while she causes havoc on her victims. Jalal is the director of the song video. Ijlal Azam, on the other hand, brilliantly demonstrates his abilities as a cinematographer.
Nawazish by Auj lyrics
Jaana,
Jane jaana,
Main kasrat se nafrat mein teri jalta phirun,
Maana, Maine maana,
Tujhay kosoun aur phir teri dar per bhatakta phirun,
Nawazishain teri
jo mera naam leyti hain teri,
kaali zubaan,
Oh jaane-jaan.
1) Afsanay – Young Stunners
For all the right reasons, Afsanay is at the top of our pick of the best Pakistani music videos of 2021. The 6-minute song encapsulates an entire movie in a short amount of time. The song has an amazing tune. I'm astounded at how far the duo has progressed and arrived at this moment. Rapping was never my type of music. This song, though, turned me into a fan of them and the pair in general. Afsanay tells the story of a man (Talha Anjum) who is addicted to drugs and finds himself in a romantic crisis.
The angel of death (Talhah Yunus) follows him about, but he doesn't see him until (Anjum) kills his lover by pushing her off a highrise building when she caught him doing drugs. He attempts to push the feeling away, but the angel of death pursues him, and he dies before eventually meeting him. Abdul Wali Baloch directed and produced the video, with Mahad Ali Sajid and Talhah Yunus as co-directors. Jokhay is in charge of the music. His work is indescribable. The music video's overall tone is eerie. You'll sigh at some time! The rap is fantastic and on point.
Afsanay by Young Stunners lyrics
Afsanay Ab Likhta Nahi
Main Dunya Ko Dikhta Nahi Hon
Mat Poocho Mian Ktna Sahi Hon
Kyun Ik Jagha Tikta Nahi Hon
Basar Kerte Hain Teray Dil Main
Aser Hai Tu Shikwa Kare Kyun
Zikar Hota Hai Her Mehfil Main
Who Chahtay Per Dikhta Nahi Hon
So what were your best music videos of 2021?
Last but not least, if you have something to add to the story? Comment down below!