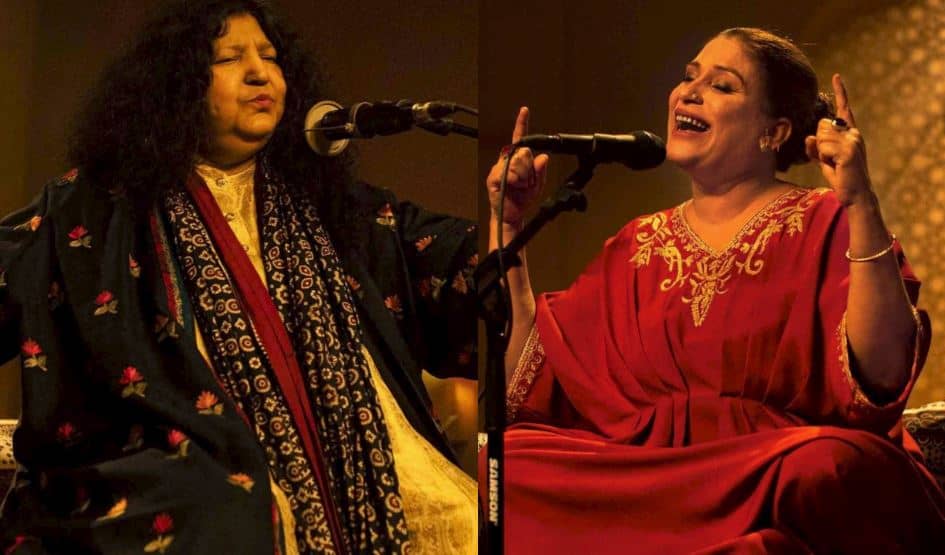 Coke Studio season 14 starts with Abida Parveen and Naseebo Lal's finest!
posted by:

Zainab Naseem

No Comments
Coke Studio Season 14 starts with Tu Jhoom
Coke Studio's magic covers the boundaries in colors that have never been put together before. Just a smattering of pastels and reds, perplexing, commanding and engulfing its audience. Coke Studio season 14 piqued the interest of internet users even before it was released. Now that we've heard the first song, we can confidently state that Xulfi did not disappoint. The first song, 'Tu Jhoom,' by Abida Parveen and Naseebo Lal, debuted on January 14 and has received a lot of positive feedback from netizens and celebrities alike.
Following the release of its season reveal video, Coke Studio unveiled the first song from season 14, 'Tu Jhoom,' which is a soulful melody that has everyone's heart in a twist in the greatest of ways.
Tu Jhoom by Abida Parveen and Naseebo Lal
Written by Adnan Dhool from the Soch band, Xulfi employs his musical sixth sense in 'Tu Jhoom.' To create an unusual coupling that is so natural that it's borderline insane that it hasn't been done before. Xulfi explains that he always aims to provide an element of surprise because predictable things have a short life.
We all know the secret to Xulfi's excellence, his increasing band of young musicians, which includes Abdullah Siddiqui, Sherry Khattak, and Natasha Noorani, all of whom are members of Tu Jhoom's idea. This time around, it's possible that the machinery behind CS14 is also aiming at younger audiences. In any case, everything appears to be functioning. And Xulfi deserves credit for believing in a new generation of artists.
Coke Studio returns as a huge stage this time, with sets and aesthetics that give it a full-fledged theatrical vibe. Tu Jhoom also featured a Sufi contemporary dance performance by Saad Sheikh's Sway Dance Project in tandem with the song.
Also Read: Xulfi to produce season 14 of Coke Studio Pakistan
Naseebo Lal getting the limelight she deserves!
One of the most beautiful aspects of the song is how Naseebo Lal's voice is finally getting the attention it deserves. Her high notes perfectly complement Abida Parveen's low sounds. Tu Jhoom, in a lyrical sense, conveys a message of hope and tranquility. Listeners can put their worries aside and let go of what they can't control.
Netizens and celebrities laud Tu Jhoom by Abida Parveen and Naseebo Lal
Celebrities couldn't stop praising the maestros for their unrivaled singing prowess soon after the song was released.
Ghazi Taimoor who is responsible for the behind the scenes interviews and life at CS, tweets,
Singer and actress Hadiqa Kiani shares her love,
Superstar, Mahira Khan shares her excitement,
Selina Rashid Khan tweets,
Another user tweets,
Listen to the song below,
Have something to add to the story? Comment down below!