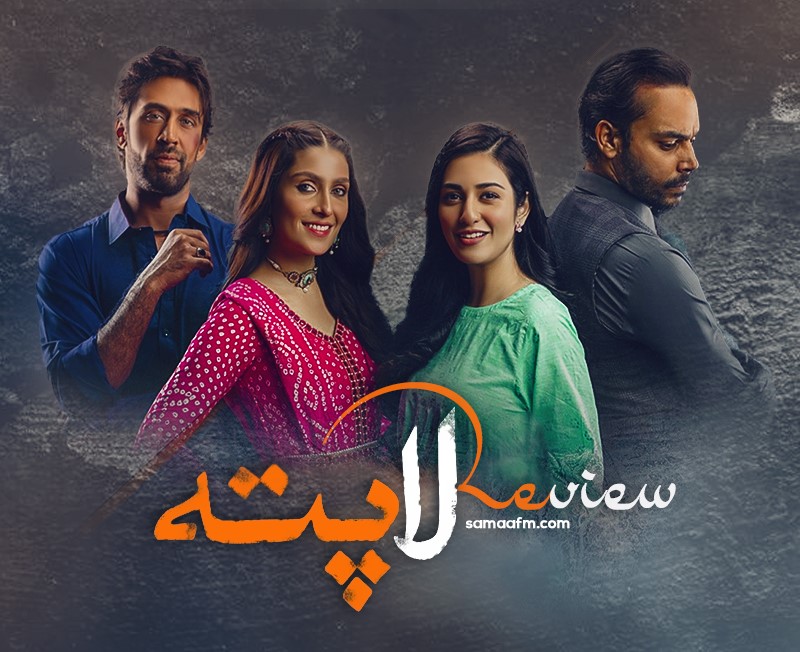 Drama Review: Ayeza Khan as Geeti is extremely problematic in Laapata
posted by:

Zainab Naseem

2 Comments
Pakistan drama industry is seeing a massive change in the storyline. Where dramas like Dil Na Umeed Toh Nahi touching the bounds of sensitive and dark realities of society, we see unrealistic stories with dreamy and cheesy dialogues and poorly executed storylines. Laapata created a hype throughout the month before its release and now that it has on-aired, it manages to leave us cringed throughout the whole two episodes.
Laapata cast
The cast includes Ali Rehman, Ayeza Khan, Sarah Khan, Amna Malik, Gohar Rasheed, Asma Abbas, Emmad Butt, Akbar Islam, Rabia Noreen, Munazzah Arif, Khalifa Sajeeruddin. The drama is written and directed by Khizer Idrees.
Laapata storyline
The story revolves around first cousins Shams (Ali Rehman), Falak (Sarah Khan), Geeti (Ayeza Khan). Their parents share good terms. Geeti is an aspiring TikTok star and her overall look seems like a rip-off of Geet from 'Jab We Met.' Shams handles a General Kiryana store with his father, whereas Falak is a headstrong educated girl and wants to attempt CSS just like her father did.
Shams and Falak are lovers from childhood and can't seem to live without each other. Shams, however, spend most of his time stealing money from his store's wallet and spends it gambling with his friend and he is also a goon who beats people in his neighborhood.
The casual allegations of harassment
In Ayeza Khan's whole career, we have never seen her picking out sensible scripts. She plays unrealistic, weak characters. And with Laapata this line has thickened. The very first episode shows Geeti (Ayeza) using her social media influence to falsely accuse a man of harassment. In times like these where women are fighting and screaming for justice. Stories like these are not adding a humorous element, to begin with.
Furthermore, in addition to our lament, Ayeza herself shared a fan-made clip reel of all those scenes which were 'problematic' in her character. This shows that she doesn't really feel the problem in the scripts she opts for.
Her depiction isn't in a good light, she isn't at all a strong woman material simply a heroine who feels that she can do anything and get anything she needs she doesn't contemplate the results by any stretch of the imagination. She is going to run with a person indeed she is the person who persuades in fact threatens him to elope with her.
The villainous charm
As Geeti is Falak and Shams's cousin, she is also the one who also knows about their relation and blackmails them for mobile recharge and gifts. Even though Falak sternly tells her not to, Geeti's obsession begins to grow for Shams. And it looks like that she is going to be a villain in their relationship.
Read More:
Gohar Rasheed's entrance is however expected in the later episodes, he will be playing an artist's role as Daniyal.
The drama doesn't live up to the hype in the very first two episodes. Due to its poor and cliched storyline and overboard acting by Ayeza Khan as Geeti. We hope the writers of Pakistan understand the responsibility and present stories that are closer to reality and less melodramatic.
Have something to add to the story? Comment down below!
Comment on "Drama Review: Ayeza Khan as Geeti is extremely problematic in Laapata"