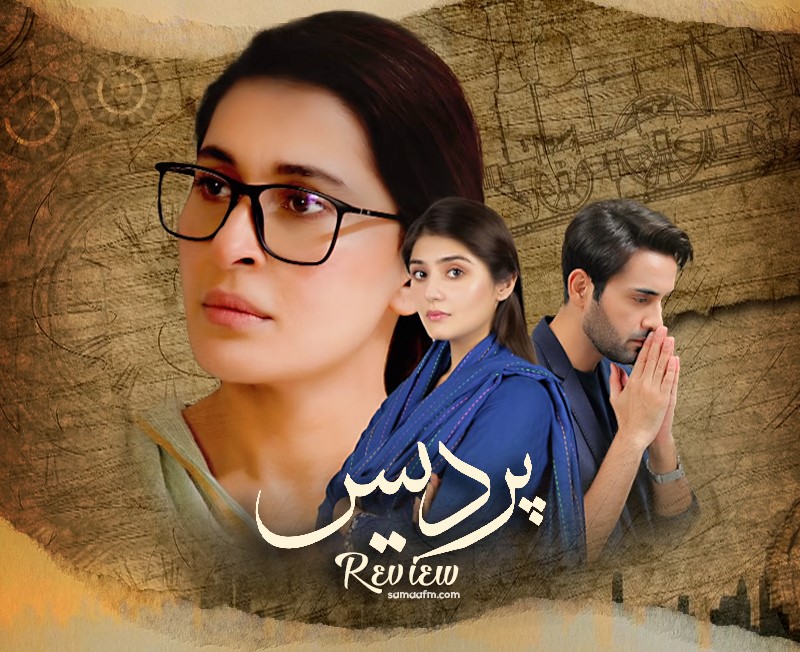 Drama Review: Pardes
posted by:

Zainab Naseem

1 Comment
This year, Ary Digital is airing the drama serial Pardes. The audience was anticipating this performance with bated breath since the teasers had been extremely intriguing.
 

 

View this post on Instagram

 
Pardes drama cast
Pardes, produced by ARY Digital, boasts a stellar cast that includes Sarmad Khoosat and Shahista Lodhi in main parts, as well as Bushra Ansari, Gohar Rasheed, Durr-e-Fishan Saleem, and Sharmeen Ali in supporting roles. 'Pardes,' directed by Marina Khan, scripted by Sarwat Nazir, and produced by Six Sigma, has a riveting plot, flawless execution, and wonderful writing, and it is one play that should be put to your must-see list.
Pardes drama OST
The beautiful and heartfelt OST of Pardes is composed by Naveed Nashad. Amanat Ali and Sithi Saha share the vocals, whereas Qamar Nashad wrote the lyrics.
Pardes storyline
Set in the 90's era, Aiman (Emaan/Dur-i-Fishan) watches as her father Ahsan (Sarmad Khoosat) relocates to Muscat in pursuit of better economic opportunities, leaving her mother Zuby (Shahista Lodhi) and herself to his family's whims. Mumtaz (Bushra Ansari), Ahsan's mother, is presented as a typical mother-in-law. While she is not fundamentally wicked, she takes it upon herself to make life tough for her eldest daughter-in-law. Ahsan's younger brother, Asim (Gohar Rasheed), is portrayed to be someone who doesn't care who he hurts for personal gain.
Also Read: Friday Flix Series of the Week: Dastaan
The family's financial position improves shortly after Ahsan leaves, but at the expense of Aiman and her (later born) younger brother's mental and emotional wellbeing, since the children are ignored by the extended family.
Breadwinner or a money-making machine?
Unfortunately, in many desi homes, it is a frequent practice that the eldest son who is sent overseas, deprived of normal family life, to win his jackpot and send it home so that the entire family may enjoy life's basic luxuries – microwave, vehicle, air conditioning, behen ki shadi, and so on. Take note of how long-term advantages such as giving a higher education for our children or investing that money in a long-term business are not among our top objectives. It's all about accumulating material wealth — isn't that a real desi trait?
Also Read: Drama Review: Parizaad
Why does Pardes resonate closely with reality?
Pardes highlights murky spaces and grey characters that reflect our morality in ways we may like to deny. We may just be the mother-in-law who is watching this or the daughter-in-law who lost her husband to responsibilities. For example, or the daughter or son who lost his or her father to become a mere money-making machine.
Zubaida and Ahsan's struggle for life
Zubaida, played by Shahista Lodhi, will upset you at times while also breaking your heart at others. Her excessively subservient demeanor irritates us and makes us wonder, "Why doesn't she ever stand up for herself?" Her silence is clearly impacting Aiman and negatively harming her.
Whereas, the true definition of love was enacted by Ahsan when he began praying when he sensed something was wrong with Zubaida, a powerful scene where the audience could feel the love he shared with his wife, even though they were miles apart they would always be connected by the heart.
Also Read: Drama Review: Ayeza Khan as Geeti is extremely problematic in Laapata
Pardes surely connects everyone with its storyline. The drama currently airs at 8 pm every Monday on ARY Digital.
Have something to add to the story? Comment down below!
Comment on "Drama Review: Pardes"