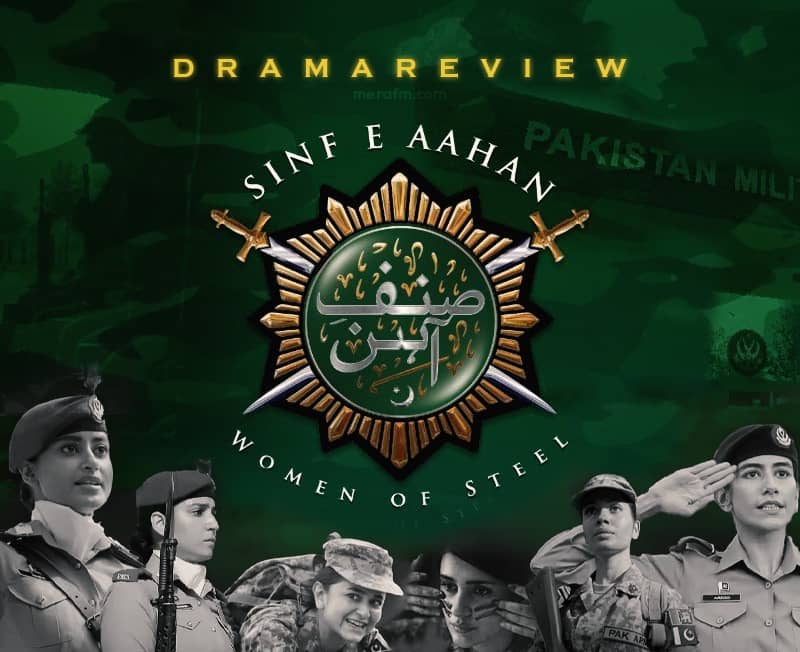 Drama Review: Sinf e Aahan
posted by:

Zainab Naseem

No Comments
Finally, a ray of hope for Pakistani dramas
Almost every Pakistani drama binge-watching woman I know is mentally exhausted these days as a result of what has occurred in Pakistani dramas. The quantity of bechaargi depicted in these dramas in terms of women is not only eye-opening but also draining. The same old routi-dhoti auratain and the same old glorification of physical brutality. Then, with Sinf e Aahan, came a light of hope. It has an all-female cast and a strong female screen portrayal, and it airs on ARY by ISPR, Six Sigma Plus Production & Next Level Entertainment. The drama is written by Umera Ahmed & directed by Nadeem Baig.
After a hectic week, I finally got around to seeing it and have strong feelings about it.
Sinf e Aahan story
The plot is equally focused on five main individuals. Rabia Safeer is played by Sajal Ali, Mahjabeen Mastan is played by Kubra Khan, Pariwesh Jamal is played by Ramsha Khan, Aarzoo Daniel is played by Syra Yousuf, and Shahista Khanzada is played by Yumna Zaidi. Instead of focusing on a few of them, the episode was made to be about all of them. The first episode set the tone for what will be the motivating cause for these five ladies making this life-altering decision. It's worth noting that, due to the extensive cast of Sinf e Aahan, the drama will have something to offer everyone who tunes in. In one way or another, the audience will select a character among these 5 girls with whom they can easily identify. It was fascinating to see how they managed to keep the plot current by including parallels to the real-life dynamics of women of this generation.
Also Read: Drama Review: Parizaad
The diversity of characters in Sinf e Aahan
Sinf e Aahan opening scene beautifully depicted the various walks of life that the main characters hail from. For me, the most enticing feature of this drama is the diversity that they have chosen to show, as a result of which a wide spectrum of audiences will find it fascinating and connect with it. The fact that all of these females had one thing in common was established in the first episode; people who did not believe in them or their goals. Those who did not believe they were capable of greatness.
Also Read: Drama Review: Pardes
Parents support!
However they showed two such parents who will back their daughters' decisions, those girls had either a guy or a woman in their lives who were controlling their destiny and telling them that they were not worth it. All of this was displayed in a non-preachy manner, but it all appeared very natural and realistic because this is the kind of reaction most women get when they talk about their goals and desires.
The strong introduction
Because there are so many characters, I'm thrilled that the majority of the episodes will be action-packed and well-paced. Pariwesh Jamal (Ramsha) is a strong Balochi girl with a supporting father and a kind mother. In exchange for returning their lands, their tribe's Sardar wants Pariwesh to marry one of his servants.
Rabia Safeer (Sajal) is from a military family. Her parents believe that marrying her at this age is the greatest decision for her, despite the fact that she is a class leader and capable of doing so much on her own. She feels suffocated, yet she obeys because she loves and respects her parents.
Despite being dictated by her mother, Mahjabeen Mastaan (Kubra) comes from an affluent society and is inspired by Gen. Nigar; she at least has a definite aim in mind where she wants to live a life of glory. Mahjabeen works as a business lawyer and chose it because her mother wanted her to.
Shahista (Yumna) is a Pathan girl who is revealed to be extremely clever and quick-witted. She lives in a general environment in her family, where she will almost certainly not be encouraged at first, but she is not a quitter.
Also Read: Friday Flix Drama Review: Dil Na Umeed Toh Nahi
Then there's Arzoo Daniel (Syra), a Christian girl who is mature and serene enough to handle everything on her own. She is in a relationship with Noraiz, who is a cheater and a liar (Asad Siddique). ISSB has approached Arzoo about teaching English.
Final Verdict
Overall Sinf e Aahan does give out a happening and good vibe. It is interesting how multiple stories will be parallel with one similar goal. The attention to detail was indeed commendable. I wish that this drama will mark the good standard as Ehd-e-Wafa.
Opening rating: 8.5/10
Have something to add to the story? Comment down below!