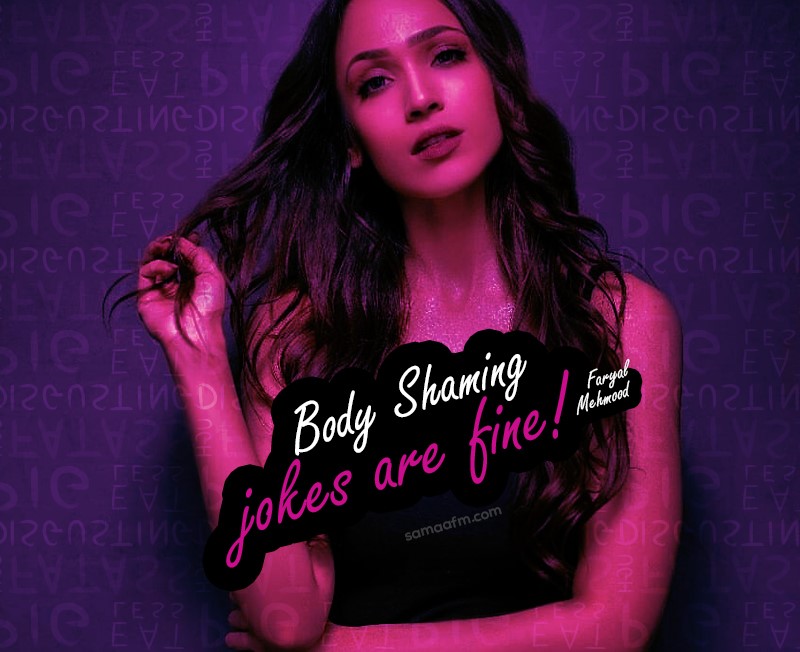 Faryal Mehmood still thinks body-shaming jokes are fine!
posted by:

Zainab Naseem

No Comments
Singer Ahmed Jahanzeb and actor Faryal Mehmood recently made an appearance on 'Time Out with Ahsan Khan,' talking about their encounters in media outlets and industry. The duo also answered tabloid questions and controversies. Both shared laughs and enjoyed each other's company together.
Faryal Mehmood body shames Hareem Farooq
Faryal garnered attention due to her different looks and husky tones. However, that's not all. The star also managed to gather controversy around her in terms of body-shaming. In past, during a show 'Mazak Raat' the actor body-shamed fellow star, Hareem Farooq.
While Ahsan asked her about this during the show, Mehmood shared, "they asked me a question in which they said if you have a car and it has three seats, and they gave me a list of names, who you will take along, the names he mentioned all were my friends with the exception of Hareem. They asked me why I wouldn't include Hareem in the car so I cracked a little joke and said, 'She won't fit.'
Furthermore, Faryal shared that, "Hareem took offense at that. Of course, it was a joke. Why would I make fun of anyone?" Moreover, she said, "I was fat once and used to be not able to fit anywhere."
She also said, "There was nothing to take so personally. Just lose some weight, it's not that hard."
Faryal Mehmood justifying body-shaming jokes, casually!
She added, Even if she doesn't lose weight, she's doing really well. People consider body-shaming bad but because I've been through the journey, I know what body-shaming does. It is bad, but if ex-fat people crack a joke, it's not a big deal., 'chill karo.' If I had always been thin, then it would have been bad. If I've lost weight then I can say it, because I know anyone can lose weight."
Later during the show, she said, "Just because I replaced Sonya Hussain for her movie, she suddenly became unaware of my name and my presence. I am the same person. Who fortunately replaced her. She body-shamed me. I called her out and then it became a 'lambi behes.' But despite that, call it professional jealousy, but I love Sonya!
Watch the show here,
Celebrities – despite their professional jealousies – have a large social presence and reach. However, where women are screaming for eradicating taboos like body shaming and helping each other to overcome body dysmorphic disorder (BDD). Comments are jokes like these can hurt sentiments!
Have something to add to the story? Comment down below!