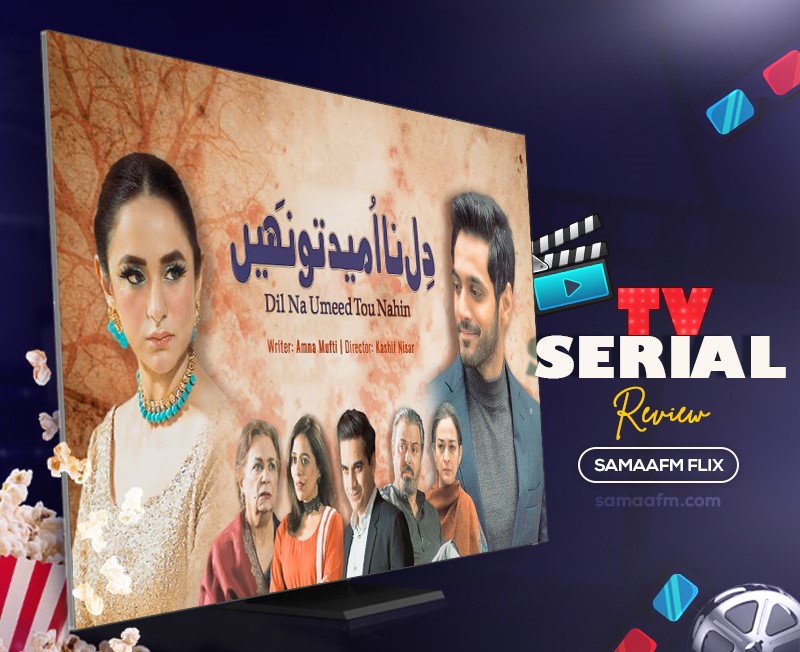 Friday Flix Drama Review: Dil Na Umeed Toh Nahi
posted by:

Zainab Naseem

1 Comment
Pakistani society has problems deeper rooted in its foundation. At this point we have been seeing problematic saas-bahu, chick flic, Rona dhona is our dramas but few writers have taken the torch of enlightenment and leading the way forward. Some of the topics in our society are real but still brushed under the carpet very casually and considered taboo. Finally, the new-age writers are breaking the stereotype bravely. Amna Mufti is one of those writers whose drama Dil Na Umeed Toh Nahi touches many dilemmas of our society.
Dil Na Umeed Toh Nahi cast and crew
Written by Amna Mufti, Dil Na Umeed Toh Nahi is a TV One and Kashf Foundation's production. The drama is directed by the maestro Kashif Nasir. The stellar cast includes Yasra Rizvi, Yumna Zaidi, Wahaj Ali, Omair Rana, Naumaan Ijaz, and, Samiya Mumtaz.
Dil Na Umeed Toh Nahi Storyline
The story spins around Sumbul (Yumna Zaidi), Zulfi (Omair Rana), Savera (Yasra Rizvi), and Jamshed (Wahaj Ali). While the storyline is set in the present, two equal tracks show Sumbul's history just as the narrative of another lady whose current character is obscure. The present girl's parents are played by Noorul Hassan and Samiya Mumtaz. Although Nouman Ijaz is essential for the cast, he is yet to show up on the show.
Also Read: Friday Flix Series Review: Suno Chanda
It shows illegal human trafficking, child abuse, male-centric society, the impacts of Polio difficulty on little kids and their families – the issues resound intensely with a general public who is living next to each other with awkward and uncomfortable realities that are frequently hidden away from plain view. We can't get running far based on what is our own – we should possess it one day, and soon, with the goal that the way toward remaking, correcting wrongs, and 'not living outside of reality is started eventually.
The PEMRA notice
Furthermore, the saddest reality to digest is that the drama with so many dark realities of society got notice from PEMRA, due to its bold script. Even though according to the writer Amna Mufti, she knew she had this coming. For similar reasons, ARY, Digital, and GEO Entertainment rejected the script.
Read More: Friday Flix Drama Review: Khaani
In conclusion
Despite the rejection, the drama instantly caught the right attention. Kashif Nisar – who has masterpieces like Ranjha Ranjha Kardi, Dar Si Jaati Hai Sila, and Inkaar under his belt – did justice with his sharp direction. Filled with power-packed performance and beautiful storytelling. As a result, DNUTN dissects society's sad realities perfectly. It is a definite binge for us!
Have something to add to the story? Comment down below!
Comment on "Friday Flix Drama Review: Dil Na Umeed Toh Nahi"