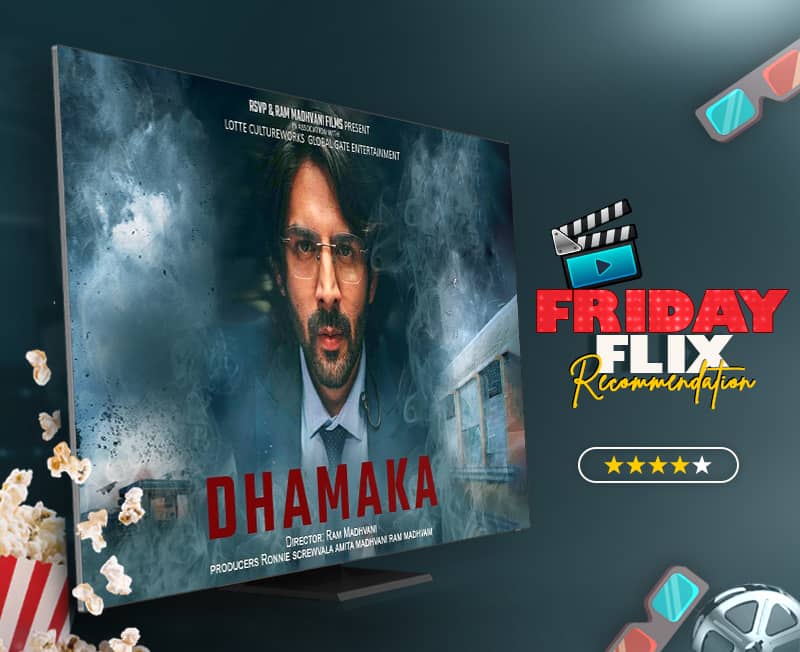 Friday Flix Movie of the Week: Dhamaka
posted by:

Zainab Naseem

No Comments
Journalism ethics with thrillers – a genre
Thrillers are a genre of film that, regardless of screen size, one enjoys if it is well-made. Dhamaka, starring Kartik Aaryan, Mrunal Thakur, and Amruta Subhash, pokes fun at news organizations that are more concerned with the 'business of news' than with journalism and ethics.
'Dhamaka,' an adaptation of the Korean film 'The Terror Live.' The movie depicts an all-too-familiar conflict between TV networks' ravenous desire for ever-increasing ratings and ordinary people with little financial and social clout. These are folks who have escaped the clutches of greedy businesses posing as media outlets that solely sell sensation. Some of these folks, ironically, still believe that news anchors are oracles. It's a fascinating concept, but it's let down by the clumsy execution.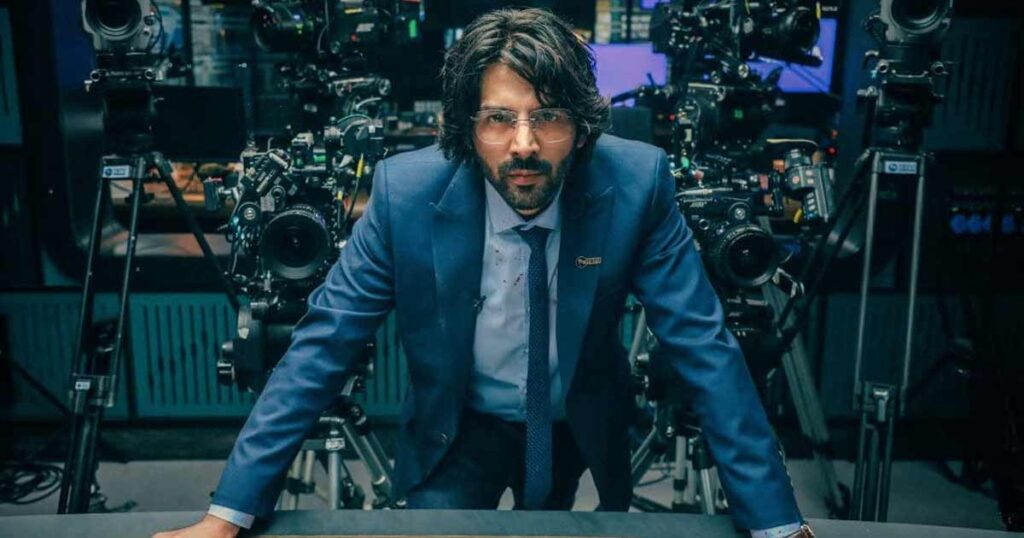 Dhamaka storyline
The story features Arjun Pathak (Kartik Aaryan) as a cynical, dissatisfied, and egoistic ex-prime time news channel show anchor. Arjun has been 'demoted' to a media company's Radio Jockey due to 'ethical' and 'behavioral' difficulties by the management. His personal life has also taken a turn for the worst. His wife Soumya Mehra Pathak (Mrunal Thakur) has filed for divorce on mutual consent. Soumya is a senior correspondent for the same organization as Arjun – TRTV – and is known for being a journalist who respects the standards of journalism in her job.
Also Read: 111 Best TV shows of all time
A threat on a prank call
Arjun receives n threatening call on his radio broadcast one day, threatening to blow up Mumbai's Sea Link in ten minutes. Arjun dismisses the call as a prank and, in an error of judgment, encourages the caller to prove it. As the caller detonates the first bomb put on the Sea Link, Arjun's life takes a dramatic change.
Arjun, seeing this as an opportunity to make a comeback, chooses not to alert the police about the caller and instead strikes a deal with the channel's boss, Ankita Malaskar (Amruta Subhash), to return his prime-time position in exchange for this exclusive news. She agrees, enticed by the chance to boost the channel's ratings.
Kartik Aaryan saved the many loopholes of Dhamaka
The lead actors' acting is a highlight of the film. Kartik Aaryan, Mrunal Thakur, and Amruta Subhash deserve praise for their portrayals of their respective characters. It's encouraging to see Kartik deviate from his usual role as a romantic hero. His character is perpetually torn between ethics, success, and the spotlight. When he transitions through his crucial line, jo kahunga sach kahunga, he reveals Arjun Pathak's hypocrisy (Whatever I say, will be the truth).
Ankita Subhash takes on the role of a ruthless and manipulative channel president who reminds her colleagues, "We are not doing journalism." We're in the news business! Mrunal Thakur (who has been credited in roles as a special appearance!) gets her due in screen time – which does not look to be insignificant. She has a firm grasp on her image as a moral and ethical journalist.
Also Read: Friday Flix Series of the Week: Silicon Valley
The confusion and the loopholes
The film is directed by Ram Madhvani, who also co-wrote the script with Puneet Sharma. It depicts what's wrong with the media industry. However, there are significant plot holes that go unresolved in the endeavor. What is the terrorist's route to the Sea Link and other locations? Despite the antagonist being a chemical explosive expert, the writers appear to be confused with the different types of explosives. The picture succeeds as a thriller because of its plot, but the grip loosens as it progresses. The storyline will make the audience think of A Wednesday. It's a difficult task to complete.
Watch the trailer here
Final Verdict
The acting, without a doubt, rescued the day. From Pyaar ka Punchnama to Dhamaka, Kartik Aaryan has developed into a fantastic actor. His parts have become more defined, and his acting talents have improved. The film has some big plot problems, but it still manages to stay on trend, and a media professional can relate it to a commercial perspective.
Rating: 7/10
Have something to add to the story? Comment down below!