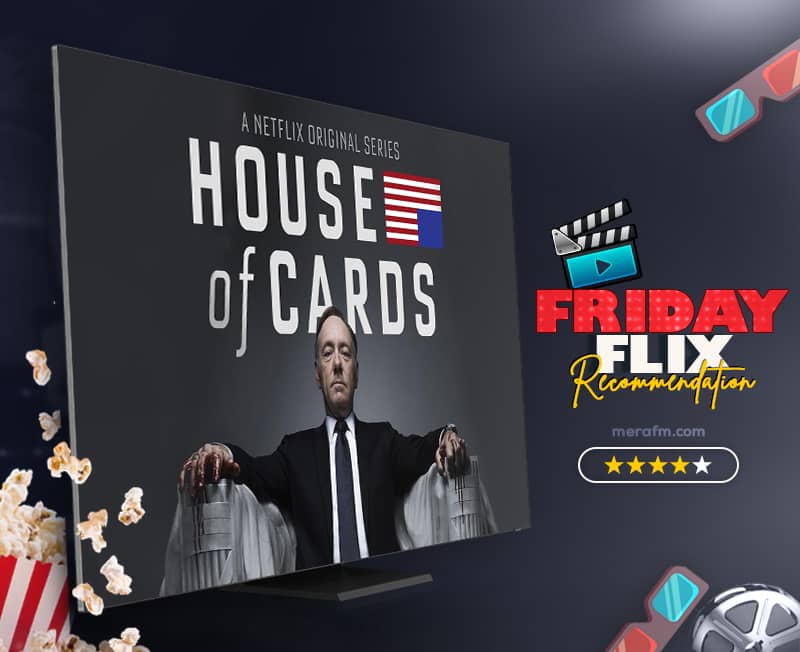 Friday Flix Series of the Week: House of Cards
posted by:

Zainab Naseem

No Comments
House of Cards
The series House of Cards premiered on Netflix on February 1, 2013. The drama was based on Michael Dobbs' 1989 novel House of Cards, which was adapted from the British series (of the same name) in 1990. Beau Willimon adapted the series for television. The series won Primetime Emmys for Outstanding Cinematography for a Single-Camera Series ("Chapter 1"), Outstanding Directing for a Drama Series ("Chapter 1"), and Outstanding Casting for a Drama Series, as well as nominations for Outstanding Drama, Outstanding Lead Actor in a Drama Series (Spacey), Outstanding Lead Actress in a Drama Series (Wright), and Outstanding Single-Camera Picture Editing for a Drama Series (Wright).
House of Cards storyline
The series follows Frank Underwood (Kevin Spacey), an amoral politician and Democrat from South Carolina's 5th congressional district, and his equally ambitious wife Claire Underwood, who lives in Washington, D.C. (Robin Wright). When Frank is passed over for the position of Secretary of State and House Majority Whip, he devises a complex scheme with the help of Claire to gain power. The show explores topics such as harsh pragmatism, deception, treachery, and power.
Also Read: Friday Flix Series of the Week: Peaky Blinders
What makes it unique?
The series is clever, a lot smarter than the majority of the existing series. It's clever because it's multi-layered and the writing is tight. Despite its tight-knit nature, it is very doable. Even if you've lost part of the plot's complexity, House of Cards is still worth watching… allowing for a re-viewing at a later date.
Also Read: Friday Flix Series of the Week: Dexter
House of Cards was a tremendously popular series that only grew in popularity. As the series progresses, more and more individuals are switching to Netflix, and the company's original series are gaining traction. The series gave Netflix the impetus it needed to become a big player in the realm of original content.
Why did House of Cards get canceled?
Netflix ended its connection with Spacey in 2017 when sexual misconduct claims surfaced. Without his involvement, the sixth (and final) season was created and released in 2018.
Final Verdict
House of Cards is a fantastic, yet dense, series. When you think the series can't go in a different route or that Frank has been thrown a curveball, it turns out it was all part of the plan. When you see a show like this, you can usually predict where it will end up. This show might go in two different paths, in my opinion. Frank either burns for his sins or, more frighteningly, Frank manages to keep it hidden, becomes a fantastic president, and no one ever knows the truth…which probably happens a lot in Washington. It's a show that you can't stop watching. If you watch House of Cards, you may find yourself glued to the couch for a long time.
Watch the trailer:
Have something to add to the story? Comment down below!