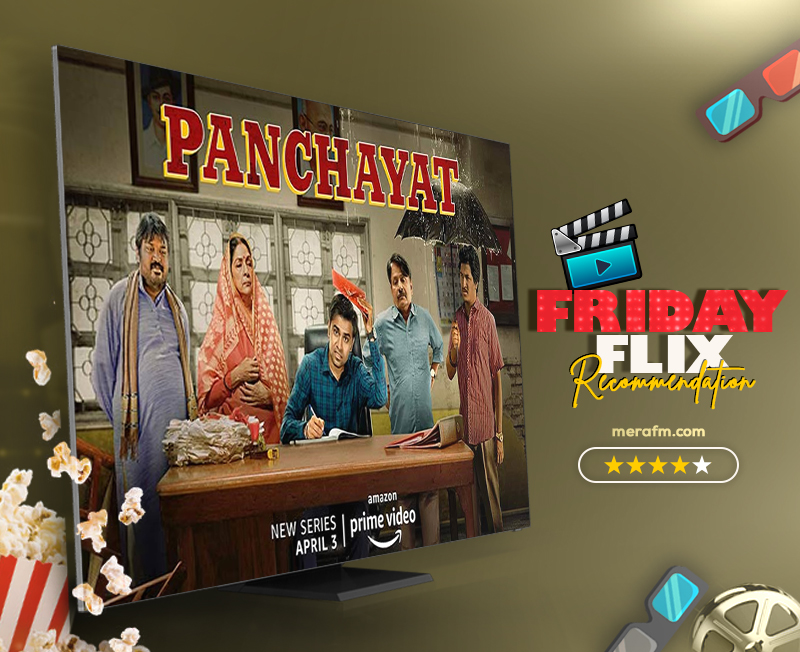 Friday Flix Series of the Week: Panchayat
posted by:

Zainab Naseem

No Comments
TVF's Panchayat
Welcome to the Panchayat! a location where you may talk about all of your "maslay" and find a solution. And if you don't get a response, you may get a deadline… But why do you need a deadline to have a good time? One might wonder. Let's rewind to one of TVF's best, "Panchayat," which stars our favorite "Jeetu Bhaiyaa" as Abhishek Tripathi!
Also Read: Friday Flix Series of the Week: Pitchers
Panchayat Cast
Panchayat's cast includes Jitender Kumar as Abhishek Tripathi, Raghubir Yadav, Chandan Roy, Neena Gupta Biswapati Sarkar, Pooja Singh, and Faisal Malik in lead roles.
Panchayat storyline
Panchayat is the story of Abhishek Tripathi who joined as "Suchiv Ji" aka secretary of the panchayat of Phulera district, (A rural area in Uttar Pradesh. Phulera is a quick solution for Abhishek till he passes his CAT examinations and is accepted into an IIM. But first, he needs to find out how to get enough light to study at night and prepare his own meals. Through his eyes, we experience life in Phulera as rural, monotonous, and laced with simplicity.
Also Read: Friday Flix Series of the Week: Made In Heaven
Brij Bhushan aka Pradhan Ji (Raghuvir Yadav), along with Vikas (Chandan Roy) and Praladh (Faisal Malik), becomes Abhishek's family after he struggles to fit into village life at first. The actual Panchayat Pradhan was Brij Bushan's wife "Madam" (Neena Gupta), but she delegated the title to her husband to handle local matters. Throughout the series, Abhishek learns how to live in a rural setting while maintaining his composure!
Comedic brilliance at its best!
The well-timed conversations and circumstances that keep you laughing throughout Panchayat are what keeps it ticking. There are no significant dramatic moments, but the slice-of-life approach with humor and the accompanying music score well.
Also Read: Friday Flix Series of the Week: Mismatched
The script (Chandan Kumar), which wonderfully depicts the essence of rural life, and the performances by a brilliant cast are ultimately the trump cards here. The characters' eccentricities provide an excellent counterpoint to each other while remaining realistic and, luckily, not one-dimensional.
Also Read: Friday Flix Web Series of the Week: Kota Factory
Final Verdict
Abhishek Tripathi, played by Jitendra Kumar, is effortlessly convincing as a city guy attempting to make his way through rustic life. His facial gestures and eyes brilliantly reflect Abhishek's range of emotions, from loneliness to boredom to frustration. As the 'Pradhan Pati,' Raghubir Yadav is a joy to see. Despite her limited screen time, Neena Gupta gives a strong performance, and Chandan Roy shines as Vikas, Abhishek's assistant, with his one-liners.
Watch the trailer here:
Rating: 4.5/5
Have something to add to the story? Comment down below!