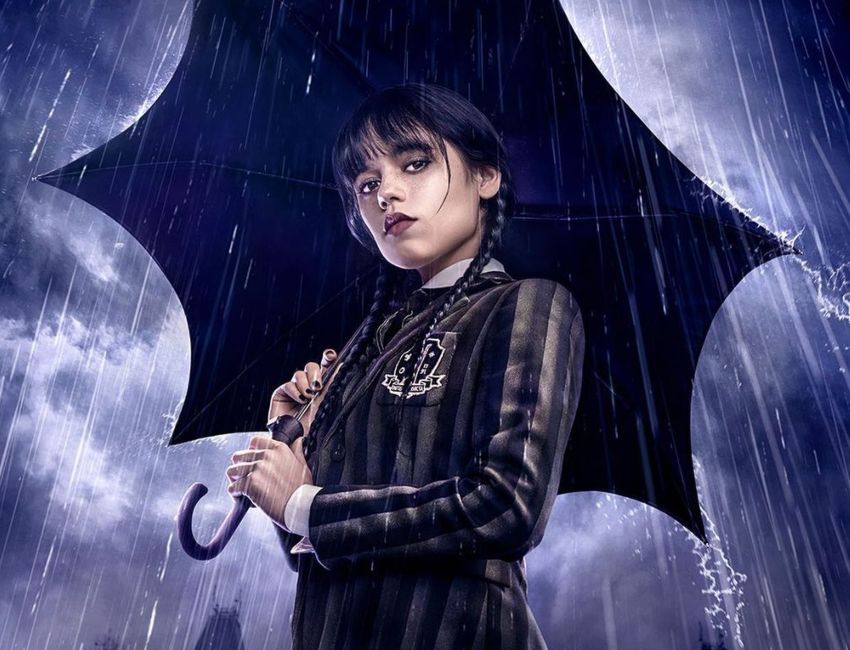 Friday Flix Series of the Week: Wednesday
posted by:

Zainab Naseem

No Comments
Wednesday Netflix
Wednesday, a Tim Burton-directed Addams Family spinoff has set the record for the most hours watched series on Netflix The show has received praise from both audiences and critics, including longtime fans of the creepy, kooky, mysterious, and spooky.
Casting of interest!
It was written and directed by Alfred Gough and Miles Millar. It stars Jenna Ortega as the title character. Furthermore it stars, Catherine Zeta-Jones, Luis Guzmán, Isaac Ordonez. Also Gwendoline Christie, Riki Lindhome, Jamie McShane, Fred Armisen, and Christina Ricci in supporting roles. Tim Burton, who also serves as executive producer, directs four of the eight episodes.
From Lurch to Thing, the Addams Family is all present, albeit briefly. Catherine Zeta-Jones honours Morticia with commanding physicality and mischievous delivery. Meanwhile Luis Guzmán is a smart Gomez Addams who focuses on making him a great father. Not only that, Isaac Ordonez bring an unintentional sweetness to Wednesday's younger brother Pugsley.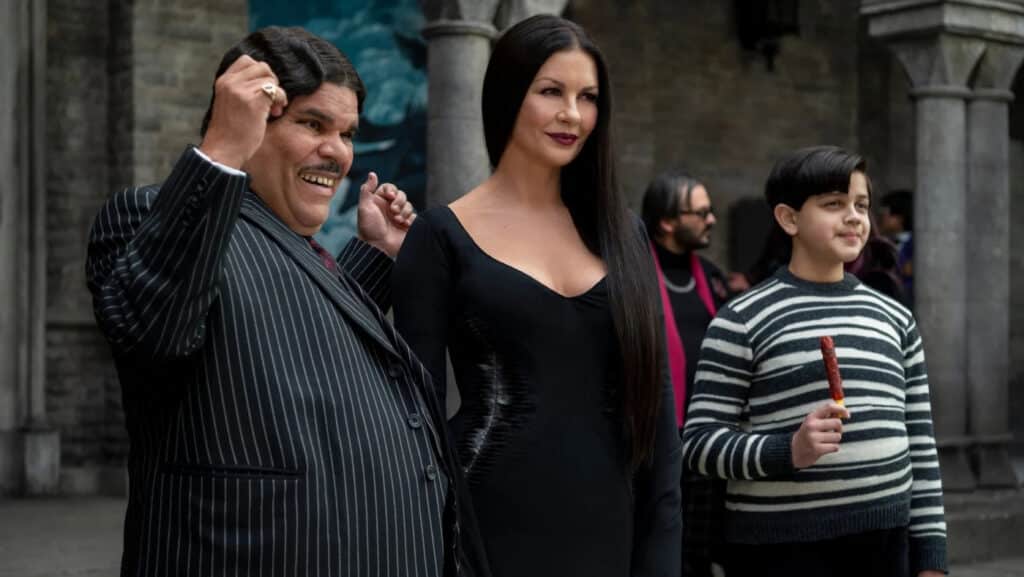 Wednesday Storyline
The story of Wednesday revolves around the titular character, who attempts to solve a monster mystery at her school. The monochrome heroine (played by the extremely talented Jenna Ortega) is shipped off to Nevermore Academy, a boarding school for outcasts, after a bloody piranha incident.
Nevermore, a school for werewolves, sirens, gorgons, and other strange students, is run by the unsettlingly cheerful Principal Weems (an exceptional Gwendoline Christie with elegant, upbeat Professor Snape energy, constantly comparing Wednesday to her mother back in the day).
The marvellous new character addition
Beyond the Addams Family, Wednesday's slew of new characters propels our gloomy teen protagonist's story into a new realm, complete with multiple mysteries to solve — one of which incorporates the famous Addams Family double finger snap in a Pointing Leonardo DiCaprio-esque way.
At the heart of Wednesday's mysteries are secret societies, unsolved murders, and a good old-fashioned monster hunt — as well as the possibility that a creature walks among them.
The celebration and education of outcasts!
Wednesday, like most of Burton's work, revolves around the theme of outcasts. Within society, within social groups, and as representative of our eponymous heroine and her eerie family. With the tension between the Nevermore school and the "normie" residents of Jericho, Wednesday broadens the concept of outcasts to discrimination and generational prejudice.
Also Read: Friday Flix Movie of the Week: Mr. Harrigan's Phone
Jenna Ortega as Wednesday Addams!
Wednesday's fearlessness and lack of emotions are crucial to her rejection of 'nice girl' behaviour. Not just that, it's frustratingly new to see a teen girl revel in misogynist discomfort and call out people's idiotic behaviour in front of them.
Moreover, Ortega's jaded monotone is addictively compelling. Ortega is such a gifted performer that she is able to forge a genuine touching connection with a severed hand, the Addams Family's beloved Thing, whose role in the show is one of the fresher aspects despite the fact that his body is absent.
Final Verdict
The entire eight-part series is brilliantly directed and acted. Additionally, it must be seen once to determine whether it lived up to the hype that surrounded it in a matter of days! The series is available on Netflix.
Also Read: Friday Flix Series of the Week: Locke & Key
Rating: 4.5/5
You can watch the trailer below,
Have something to add to the story? Comment down below!