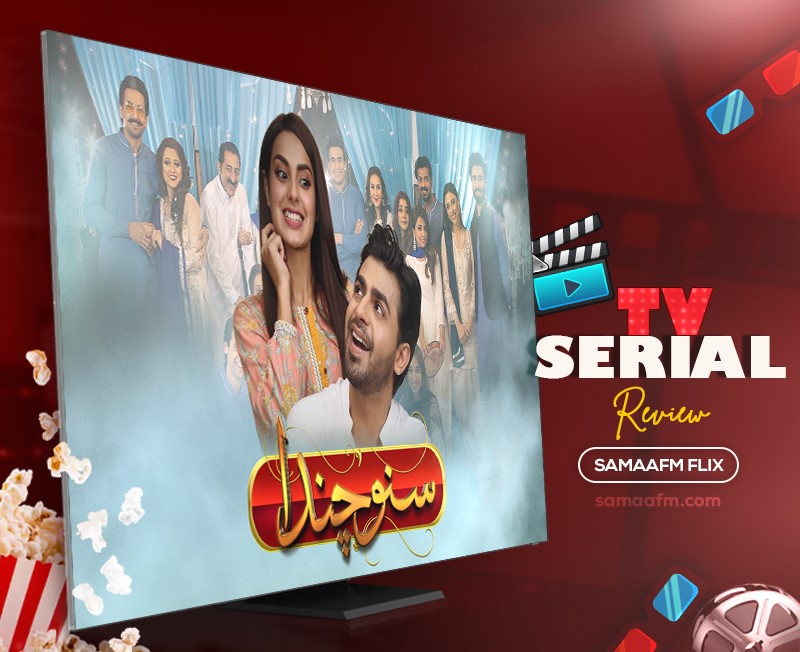 Friday Flix Series Review: Suno Chanda
posted by:

Zainab Naseem

No Comments
Pakistan is blessed to have such dramas which steal the limelight in all the good ways. With an engaging storyline and brilliant cast performance, one drama became the highlight of the 2018. Featuring Farhan Saeed and Iqra Aziz, Suno Chanda is Hum TV's Ramzan special. It spins around the tale of two cousins, who are compelled to wed each other by their one cheerful family. This family-arranged show is an ideal post-Iftar treat with some quality humor and unending family drama.
Suno Chanda cast
Suno Chanda has a stellar cast that includes Iqra Aziz, Farhan Saeed in leading roles. The addition cast includes Farhan Ali Agha, Samina Ahmed, Nadia Afgan, and Farah Shah. Moreover, the drama was graced by Tara Mahmood, Mashal Khan, Raza Talish, Ali Safina, Mohammad Ahmed, Adnan Shah Tipu, and Nabeel Zuberi.
Directed by Ahson Talish and written by the 'Chupke Chupke' famed Saima Akram Chaudhry. The drama is produced by MD Productions for Hum TV.
Suno Chanda storyline
The series spins around two cousins, Arsalan Jamshed Ali (Farhan Saeed) and Ajiya Nazakat Ali (Iqra Aziz). Both Jiya and Arsal are into Nikah would prefer not to get their 'rukhsati' – the ceremony where you live together after Nikah – done because of personality conflicts yet are bound by the family to respect their dying grandfather's wish. Furthermore, Jiya wants to pursue her dreams after joining the London School of Economics for higher examinations after her BBA. However, Arsal wants her to stay.
Read More: Is there a Chupke Chupke season 2? Osman Khalid Butt reveals
Bi Jaan (Samina Ahmad), the head of the family is Arsal and Jiya's grandma with their two sons Jamshed Ali and Nazakat Ali. Tara Mahmood who played the role of Masooma was the wife of Jalal Khan (Adnan Shah Tipu) They live in Peshawar. Jamshed Ali married Shahana (Nadia Afgan). On the other hand Nazakat Ali and Naeema (Farah Shah) are a couple. Similarly, Jiya also has a younger sibling Daniyal Nazakat Ali (DJ) who is a journalist. As a result, he is consistently on sting operations making recordings of relatives and giving out breaking news.
The cute relationship of Jiya and Arsal
Farhan Saeed and Iqra Aziz have brilliantly depicted the love-hate connection between their characters. Additionally, their superbly delivered dialogues and mocking remarks became the highlight of the show. The slight inclination towards each other with a fight is doubtlessly engaging!
Despite the theme, the story has so much flavor and experimentation that you watch something new and fun in each episode. In addition to that, the show got immense appreciation and love from the audience. That led Saima Akram Chaudhry to write another season for the drama. Season 2 featured the life and dynamics of Arsal and Jiya after their rukhsati, above all with the same storyline, challenges, hilarious acting, and fun dialogues.
Listen to the OST below,
Is Suno Chanda on Netflix?
Suno Chanda is currently not available on Netflix, but you can watch it on YouTube.
On the whole, Suno Chanda became a Ramzaan treat of 2018 – 2019. Arsal and Jiya's on-screen chemistry was cute and the audiences surely love it.
Have something to add to the story? Comment down below