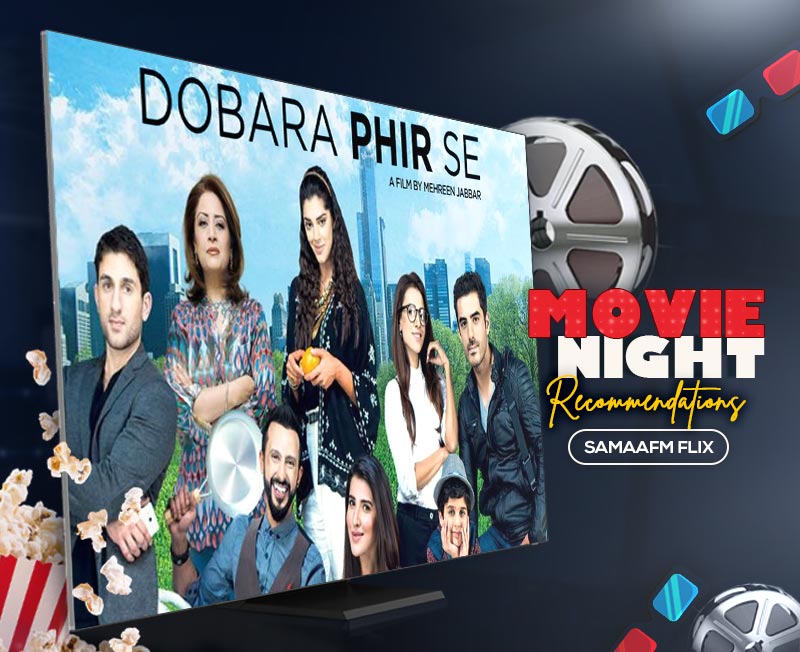 Friday Flix Movie Review: Dobara Phir Se
posted by:

Zainab Naseem

No Comments
Film is a significant medium no doubt. Right when a collection of simply just moving picture are amassed in a philosophical story which expand in coherence and screened on a separate and overpowering surrounding, it can save lives and change perspectives for a bigger scope. Dobara Phir Se is one of Mehreen Jabbar's directorial creations which is not your average boy-meets-girl story. We all know Mehreen Jabbar is no jibber-jabber when it comes to melodrama. Her stories are close to reality and her attention to detailing is what makes her films unique.
Cast and Crew
Dobara Phir Se is 2016 romantic drama film. The movie cast includes Ali Kazmi, Sanam Saeed, Hareem Farooq, Adeel Hussain, Tooba Siddiqui, Shaz Khan, and Atiqa Odho. It is directed by the Daam, Doraha, and Jackson Heights' famed Mehreen Jabbar. written by Bilal Sami.
Plot – Dobara Phir Se
Dobara Phir Se recounts a basic tale about the deficiencies and entanglements of advanced love and connections. The film looks like a simple boy-meets-girl sort of story, however, it isn't actually just about as straightforward as that.
The story rotates around Hammad (Adeel) who plays a single man living in New York and is a companion with Saman (Sanam) and her sweetheart Vassay (Ali). He befriends Natasha (Tooba) and Zainab (Hareem) through Saman. Zainab, an illustrator by profession, is in a difficult marriage. In the environs of New York, as the story gradually advances, Hammad and Zainab come nearer. Nonetheless, Hammad battles with his affections for Zainab and his relationship with Natasha.
Together-forever? Not really
In the long run, Zainab becomes available and Natasha gets dumped. So begins the film's core sentiment. We see Hammad and Zainab get together, be-apart, and beat a progression of snags to get together once more. The occasions of Dobara Phir Se follow this somewhat unsurprising example, and before its finish, it's genuinely simple, to sum up the film in a line or two. However, doing so is excusing every one of the little twists in the story that is so all-around woven in the story that they don't actually point out themselves.
Marriage not a stigma
Bilal Sami's storyline is a win. Zainab has a kid Zaid and her marriage still falls apart. But this was not the sole focus of the storyline. She got divorced during the movie and this not being the whole focus is what makes the movie special. The haw-haye element was not added from the society, so the detail of other relationships and attractions despite being into a troubled marriage was not a stigma at all. Mehreen was cleared in her directorial goals that they won't touch the issue to make it a highlight of the movie. And she achieved the goal.
The colourfulness
Sanam Saeed who played Saman is a lively girl, full of life. A Spunky happy girl, she takes no BS from the world and dances her way in to her own wedding. The colourful element of the movie made it equally lively and bouncy.
The song Lar Gaiyaan in particular became the Mehndi dance anthem for every wedding up till now!
There are few apparent shortcomings though. Despite taking a deeper look at relationships, Dobara Phir Se lacks interesting characters, intelligent dialogue and exciting sequences to make it big. This modern-day story of young folks dealing with love, friendship and heartbreak could touch hearts and minds if only there was a charming narrative, cultivated characters and meaningful dialogue.
The problems
A few apparent problems which I found during the movie were the lack of powerful dialogues. Though we had seen Mehreen's plays have powerful dialogues that go into your soul through and through. But since this is Sami's story, we won't blame it to Mehreen this time. A little addition to intelligent dialogues would have been better.
Perhaps the casual movie touched the idea of complex relationships pretty well and with an ensemble cast it turned out amazingly well. The movie was brilliantly shot and the locations and screenplay was fantastic, so all is well.
IMDb: 6.6/10
RECOMMENDED MOVIES
If you like this review you can also check our Friday Flix segment