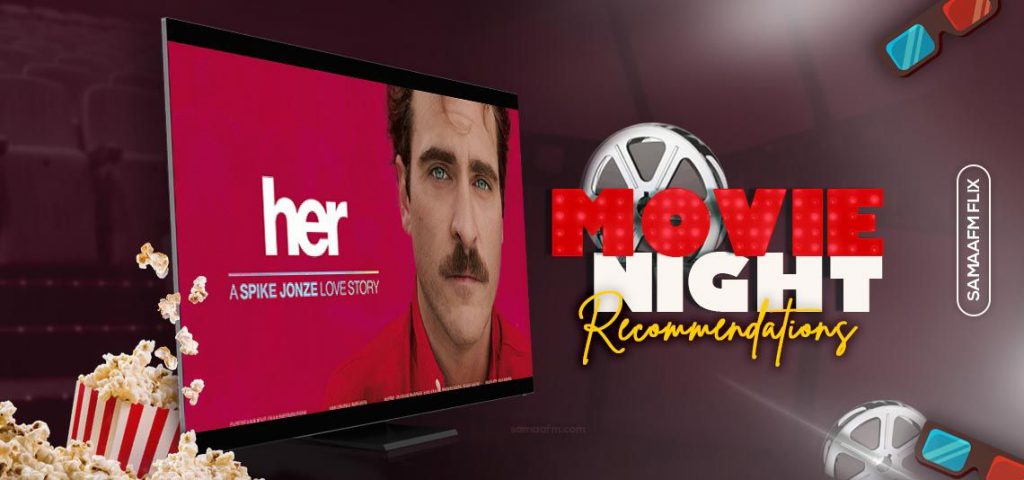 Friday Flix Movie Review: Her
posted by:

Abdul Latif Dadabhouy

No Comments
This week's Friday Flix Movie Review features a 2013 American science-fiction romantic drama film Her.
Disembodied, but oh! What a voice. Sometimes when you feel an overwhelming feeling of detachment from every emotion, you feel connected with something else. A deeper connection within, what if I say that connection happens with an artificially intelligent virtual assistant? Ironic, isn't it? The movie Her has everything into it; love, emotions, helplessness, and more… 
Cast and Crew
Her's cast includes Academy Award winner Joaquin Phoenix, Scarlett Johansson, Amy Adams, Rooney Mara, Olivia Wilde, Chriss Pratt, Soko, Matt Letscher, Luka Jones, Spike Jonze, Portia Doubleday, and others. The movie is written and directed by Spike Jonze, and the cinematography is done by Hoyte van Hoytema.
Her Movie – Plot
Joaquin Phoenix is Theodore Twombly is an ordinarily tragic man in geek displays, frowzy mustache and a belt up to his navel (the future, it ends up, is the place where it is supposed to be). Unfit to proceed onward from the end of his union with his wife Catherine (Rooney Mara), he picks to turn on the female-voice choice while downloading the best in class 'operating system 1' framework onto his PC and meets 'Samantha' (as voiced by Scarlett Johansson).
In love with an operating system
Programmed to modify to his needs, Samantha always gets him. She re-organizes his confused sad self and generally gets his life in order. He, in turn, is soon enchanted by their easy intimacy, fuelled by late-night talks about big things. Via earpiece, handset (or "portal"), and omnipresent Wi-Fi they need never part. Samantha convinces Theodore to go on a blind date with a woman, with whom a friend has been trying to set him up.
The date goes well, but Theodore hesitates to promise when he will see her again, so she insults him and leaves. Theodore mentions this to Samantha, and they talk about relationships. Theodore explains that, although he and his neighbor Amy dated briefly in college, they are only good friends, and that Amy is married.
In all but bodily presence, Theodore and Samantha are dating, although the intimacy proves somewhat unconventional (Jonze conceives lively variations on verbal intimacy). In other words, they are fully compatible. So yes, you could think of Her as an aesthetic reboot of his Electric Dreams.
The feeling of everything
Confined in Theodore's discreet presence, Phoenix is a model of sudden and expectation restriction. By far most of his presentation is confined to shaking and recoiling in close-up. Furthermore, Johansson's imposing voice, if recognizable (you can't resist the urge to picture her), accomplishes an astounding assortment of states of mind: pleasure, interest, curiosity, delight, happiness…
The film is elusive, a keen romantic comedy that catches the extravagance of beginning to fall in love, and the unavoidable disappointment. Set in a not-so-distant future that has strong tones and a marginally retro-look—flip-telephones that take after little picture casings or cigarette cases—its reality seems unique yet reassuringly natural, which helps the film play as a reasonable sentiment rather than some amiable variant of Catfish. Samantha is even modified to have a funny bone, and she helps dismal pitiful Theodore, who's going to be separated.
 

 

 

View this post on Instagram

 

 
The paradox of silent connections
But the movie resonates more deeply because Spike Jonze captures the paradox of our connection to devices that can talk and text back: we can be alone with a touchscreen yet feel connected to a whole disembodied community; spill our opinions and interact on Facebook yet still feel hidden; have online relationships that are both soothing and sometimes false.
Samantha may be Theodore's romantic ideal, but her emotions are not invested in his soul. And it's not even science fiction. Samantha's responses are based on algorithms, She is a system that only accumulates facts, and she never really will know anything more than that. This generation might be a tech-geek, but still, there will be no comparison of human emotion to a machine. However, Samantha will not give any stupid answer even if she is built by a human.
The movie is beautifully bound by emotions, which are artificial but felt real throughout and overall raises a question. Does Samantha's reality matter? A creepy element that involves is how technology may be able to seduce us through different means, or it raises another question; are we 'this' alone to be emotionally dependant on an A.I.?
So, are you still thinking to watch any other movie this weekend? Go for this one. And let us know in the comments how you did like it?
IMDb: 8/10
Rotten Tomatoes: 94%
Empire: 4/5
RECOMMENDED MOVIES
If you like this review you can also check our FridayFlix segment