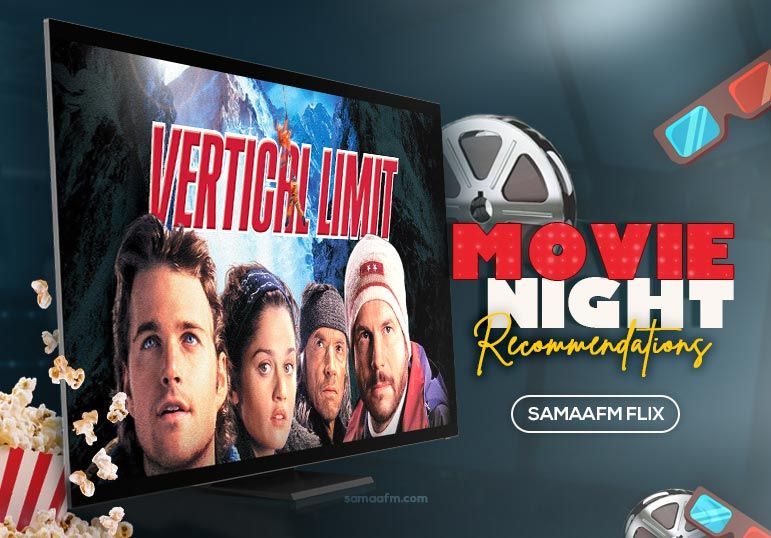 Friday Flix Movie Review: Vertical Limit
posted by:

Abdul Latif Dadabhouy

No Comments
If you are passionate about climbing or trekking you know, it's all about survival, it's the man against nature, imagine the whole situation on high altitudes! It is not easy, definitely not easy. One storm or one blizzard over the steep mountain and you are all under the atrocity! The movie we are going to review today is all about climbing the "Savage Mountain" Godwin Austen K2!
Godwin Austen K2
K2, at 8,611 meters (28,251 ft) above sea level, is the second-highest mountain in the world. The mountain also is occasionally known as Chhogori or Mount Godwin-Austen. Other nicknames for K2 are 'The King of Mountains and The Mountaineers' Mountain.' Located on the border on the Pakistan-China border between the Gilgit Baltistan region. K2 is also known as the Savage Mountain after the climber George Bell in 1953 told reporters, "It is a savage mountain that tries to kill you." One of the five highest mountains, K2 is the deadliest. K2 is the only eight-thousand meters peak that has never been climbed from its eastern face. The northern location makes it more susceptible to inclement and colder weather. The peak has almost been climbed from all its ridges. Approximately out of every four, one dies while descending from the summit. K2 was climbed for the first time by the Italian climber duo Lino Lacedelli and Achille Comagnoni in 1954 led by Ardito Desio. In January K2 became the final eight-thousander to be summated in winter by Nepalese Sherpas team.  
 

 

 

 

View this post on Instagram

 

 

 
The movie Vertical Limit is also all about survival when the mountain was being savage and trying to kill them.
Cast And Crew
Vertical Limit is a 2000 Thriller/Drama. The movie is written by Robert King, and directed by Martin Cambell. The movie cast includes Chris O'Donnell, Bill Paxton, Robin Tunney, Scott Glenn, Izabella Scorupco, Temuera Morrison. The cinematography was done by David Tattersall and the screenplay is by Robert King and Terry Hayes.
Vertical Limit Plot
While moving in Monument Valley, kin Peter (Chris O'Donnell) and Annie Garrett (Tunney) lose their dad, Royce (Stuart Wilson): After two falling climbers leave the family hanging, Royce powers Peter to cut him free to save Peter and his sister. After four years, Peter has resigned from climbing and become a National Geographic photographer; however, Annie has become an eminent climber. Their relationship is stressed, as Annie actually reprimands Peter for the demise of their dad. Peter reunites with Annie at the K2 headquarters, where Annie is arranging a highest point endeavor on K2. The undertaking is subsidized by well off industrialist Elliot Vaughn (Paxton). Their group incorporates Annie, Vaughn, prestigious climber Tom McLaren (Nicholas Lea), mountain dweller Ali Nazir, and one other.
The Battle of Life And Death
The night prior to the ascension, Vaughn arranges a party. The celebration is hindered by isolated Montgomery Wick (Glenn), supposedly the preeminent K2 expert, who verbally challenges Vaughn. It's subsequently uncovered that Wick's better-half, an undertaking guide, died during Vaughn's past endeavor.
Vaughn claims they were hit by a blizzard and Wick's significant other died of aspiratory edema since she failed to remember her stock of dexamethasone. Wick has never accepted that story and has gone through years attempting to discover his wife's body. During the current ascension, Vaughn powers McLaren to proceed notwithstanding a radio admonition from headquarters of moving toward the storm. A torrential slide happens, and Annie, Vaughn, and McLaren become caught in a crevasse, while the other two died. Radio contact is lost, yet Peter hears Annie utilizing static and Morse code to flag that they are alive.
Miscalculations of Egos and Judgements
A very evident part of that movie that how it shows the Storm that depicts the egos and misjudgments of the characters. How wrong decision making can cause DEATH in mountains! Nature is pretty brutal when angry. Vertical Limit shows that deaths happen on the mountain with slight misjudgment. One way or another, people die!
The Introduction of Nitroglycerin
One thing that became an interesting part of the plot was where the plot introduces nitroglycerin. It detonates according to the requirement of the plot. The movie introduces nitro to rescue Annie and the team who got trapped in the crevasse. The lead actor gathers the group of climbers to [mainly take them to a suicide rescue mission] over K2 near Bottleneck. They bring Nitro with them. Which personally I thought was a very bizarre idea, because this could harm or possibly kill the ones who are trying to survive minute by minute [trapped] under kilos of snow! Explosives are used on the mountains to break-lose avalanches. But the movie took awful turns with nitro as its exposure to the sun became an issue!
The Nitro used in Vertical Limit was not a sincere element and definitely a very silly addition to have taken by every member to the rescue mission. But the movie throughout connects with you and hook you with the thriller. The sibling care and love was the most special part of this movie and the love and bond they share became a connecting highlight!
Pakistan proudly owns K2, It is a gorgeous mountain. Climbers like Nazir Sabir, Samina Baig made everyone proud of their achievements; it's not just them we have also lost gems like Ali Sadpara on the way to summit somewhere in the snow… Since it was all about mountains, snow, and sadness this week. You can watch this movie this weekend in honor to present a tribute to their massive accomplishments.
RECOMMENDED MOVIES
If you like this Friday Flix review you can also check these