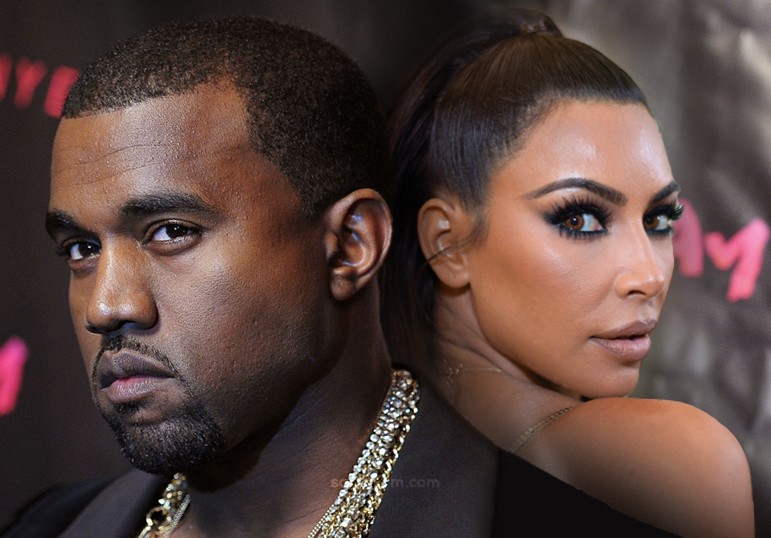 Kim Kardashian And Kanye West Getting A Divorce?
posted by:

Abdul Latif Dadabhouy

No Comments
We have been seeing strong celebrity couples staying together and after a long happy marriage then them splitting up. Sometimes the span is also surprisingly short as well. There was Nicolas Cage's infamous four-day marriage, and Elisabeth Moss and Fred Armisen's eight-month union. Channing Tatum and Jenna Dewan's divorce after meeting in 2006 on sets of Step Up, getting married in 2009, and surprisingly getting a divorce after 9 years of marriage. Usher and Grace Miguel dated for 10 years and got divorced only after two and a half years of marriage. Ben Stiller and Christine Taylor fell in love fast on the sets in 1999 and married the same year. After 17 years the couple sadly announced their divorce. Gwyneth Paltrow and Chris Martin divorced each other after 10 years of marriage with 2 children due to distance and tough work schedules. Last but not least The Big Bang Theory star Kaley Cuoco and Ryan Sweeting getting a divorce after 21 months of marriage as Ryan became addicted to prescribed painkillers.
With all these sad divorces, another one is making headlines now. And that too is of Kim Kardashian and Kanye West. After almost a decade of being together, Kim Kardashian and Kanye West's marriage may be coming to an end anytime soon.
Multiple sources confirmed that the "Keeping Up With the Kardashians" star is preparing to file for divorce from her rapper husband, whom she married in May 2014.
Kim Kardashian
Kimberly Noel Kardashian West is known as an American media personality, socialite, model, businesswoman, and entertainer. Kardashian picked up media attention as a friend and beautician/stylist of Paris Hilton and her appearance in the E! Reality show "Keeping Up With The Kardashians," alongside her family. Kardashian has developed an online and social media presence, including hundreds of millions of followers on Twitter and Instagram. Her relationship with rapper Kanye West has likewise gotten huge media inclusion; the couple wedded in 2014 and have four children together. In recent years, Kardashian has focused on her own businesses by founding KKW Beauty and KKW fragrance in 2017. In 2019, she launched Skims which was previously called Kimono but the name was changed due to immediate kickback. Time magazine included Kardashian for their rundown of 2015's 100 most influential people. Both critics and admirers have depicted her as representing the idea of being celebrated for being acclaimed. She was accounted for to be the most generously paid reality show star of 2015, with her assessed complete income surpassing US$53 million.
The Divorce Buzz!
Multiple sources concluded that their divorce filing "is imminent." "They are keeping it low-key but they are done," one source said. "Kim has hired [top celebrity divorce attorney] Laura Wasser and they are in settlement talks."
"He knows that she's done. She has had enough, and she told him that she wants some space to figure out her future," a source shared with PEOPLE, adding that West, 43, is bracing filing but does not know when. Fans were left wondering what came as the last straw for the pair, which was once hailed as one of the strongest power-couples of Hollywood.
The Calabasas Home
Another rumor popped the separation is because of their Calabasas home, Celebrity reports sources further says that the two paid $40million for the house and then dropped another whopping $20 million for the renovations. Kim is trying to get Kanye to turn over the Calabasas house to her because that's where the kids are based and growing up. That is their home. And also that Kim owns all the land and adjoining lots around the house but Kanye owns the actual house. They've both put a lot of money into renovating it. The insider further told that this isn't the first time they've been talking about a split, but this time it is way, way more serious. Kim also hasn't been seen wearing her wedding ring for a while now, and Kanye remained at his $14 million Wyoming ranch over the holidays instead of spending it with the Kardashian family, who drew criticism for their extravagant celebrations. Kim has done much in the past to protect and help Kanye deal with his mental health struggles. The divorce is probably happening because Kim has grown up a lot.
The Kimye Twitter Drama
In June 2020, during the clash of Kimye on Twitter, the couple was mad-cap crazy against each other and Kanye dealing with anxiety and then apologize later for his spiraling publicly for his wife, she flew to Wyoming to meet Kanye and broke loose in the car having a meltdown. Kim was very emotional about everything and also exhausted. According to citing, they said that she felt very hurt by Kanye. She has tried to reach him multiple times and he just ignored her. It's all a bad situation. She decided to fly to Cody to speak with him in person. She doesn't want to be ignored anymore.
One source cited bluntly, "She is serious about taking the bar exam and becoming a lawyer, she is serious about her prison reform campaign. Meanwhile, Kanye is talking about running for president and saying other crazy s–t, and she's just had enough of it."
Well, this feels like a lot, even for the fans to read, let alone the couple to have faced. We really hope they sort this out peacefully and be powerful again.
---
READ MORE: KYLIE JENNER BECOMES THE HIGHEST PAID CELEBRITY ACCORDING TO FORBES!