Kylie vs Minal: Who did the fruit salad better?
posted by:

Zainab Naseem

No Comments
Kylie vs Minal: The fruit platter fiasco!
Netizens went crazy after American reality TV star and model Kylie Jenner's Instagram story was posted by Pakistani actress Minal Khan under her own name.
The 'Nand' star shared a beautiful photo of "her own" breakfast on Monday morning. Social media users quickly recognised that Khan had simply cropped the model's name from the image.
Twitter had in fits over fruit platter fiasco
Netizens weren't sure "whether to laugh or get shocked" because the influencer had a sizable fan base and was emulating a celebrity who had a larger fan base.
One person revealed that she has a "passion for look fancy and elite" A commenter sincerely questioned Khan's belief that Pakistanis follow Jenner for her to pull off such an act.
Also Read: Inside Minal Khan and Ahsan Mohsin's grandiose wedding ceremony
A user shared,
Another user added,
Furthermore, another user added that they are simply besties and having lunch together,
That is, we presume, one possibility among an infinite number in Kylie vs Minal.
Another one shared a prompt picture from Mr. Bean,
The Lockdown actress attempted to defend her behaviour while also reposting a fan's Instagram post.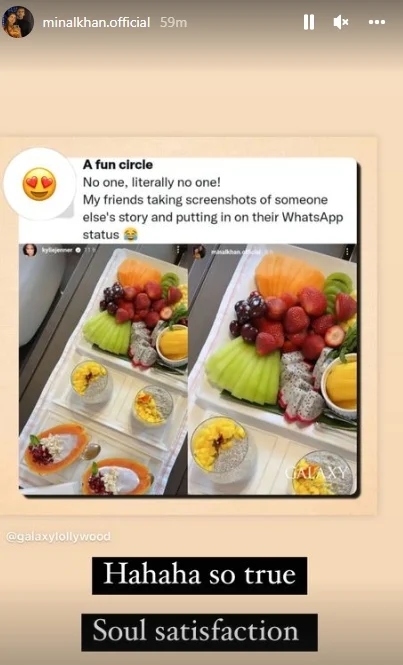 Have something to add to the story? Comment down below!