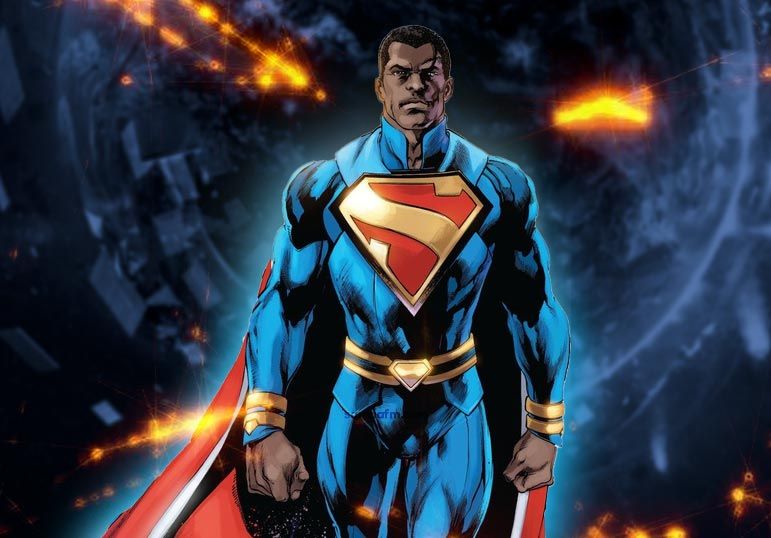 New Superman movie could introduce a black superman
posted by:

Abdul Latif Dadabhouy

No Comments
DC Comics
DC Comics is one of the largest and oldest American comic book companies. The majority of its publications take place within the fictional DC Universe and feature numerous culturally iconic heroic characters, such as Superman, Batman, and Wonder Woman. The universe also features well-known supervillains who oppose the superheroes such as Lex Luthor and the Joker. The company has published non-DC Universe-related material, including Watchmen, V for Vendetta, Fables, and many titles under their alternative imprint Vertigo.
The black Superman – Calvin Ellis
Black Superman, also known by his civilian name 'Calvin Ellis,' was actually based on a popular former US president. "Inspired by Barack Obama, this iteration of Superman is also President of the United States of America, and uses his superpowers to directly confront global politics, alongside his own iteration of the Justice League that includes Wonder Woman, Nubia," DC Comics recently said.
A new black Superman in making for DC comics?
The new way to deal with the famous hero was as of late declared and will be initiated by J.J. Abrams and Ta-Nehisi Coates. The Hollywood Reporter recommended 'this new Superman project is expecting to star a Black Superman' and there could be a very notable name cast for the job.
Michael B. Jordan has recently communicated his interest in playing Superman in a film and the one he explicitly was keen on was Calvin Ellis.
Regardless of whether Jordan will seize the desired part in the new task is yet to be seen, albeit the 34-year-old is supposed to be high on the rundown of possible applicants.
There's not much else known about the forthcoming project, but The Hollywood Reporter said, "it's possible that this will be another version of Clark Kent, but more intriguing is the possibility that it will be either Calvin Ellis or Val-Zod, Supermen from within DC's comic book multiverse."
J.J. Abrams will produce the project under his Bad Robot banner, while Hannah Minghella will serve as producer. Ta-Nehisi Coates said in a statement to Shadow & Act, "To be invited into the DC Extended Universe by Warner Bros., DC Films and Bad Robot is an honor.
"I look forward to meaningfully adding to the legacy of America's most iconic mythic hero."
Abrams was also very excited and showed his gratification by saying that, "There is a new, powerful and moving Superman story yet to be told. We couldn't be more thrilled to be working with the brilliant Mr. Coates to help bring that story to the big screen, and we're beyond thankful to the team at Warner Bros. for the opportunity."
Toby Emmerich, Chairman, Warner Bros. Pictures Group said of the reboot and Coates' involvement said, "Ta-Nehisi Coates's Between the World and Me opened a window and changed the way many of us see the world. We're confident that his take on Superman will give fans a new and exciting way to see the Man of Steel."
Related
– DAREDEVIL IN SPIDER-MAN 3: CHARLIE COX JOINS MARVEL CAST
– WONDER WOMAN 1984 SEQUEL IS ALL SET TO RELEASE THIS CHRISTMAS