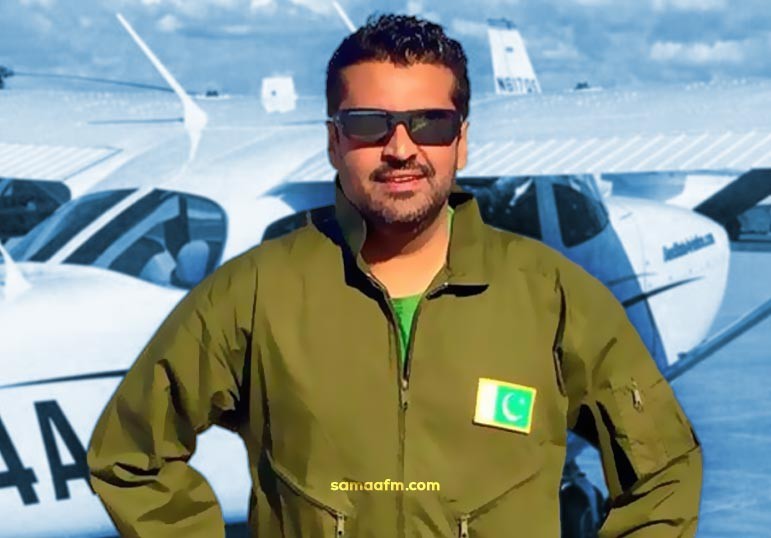 Pandemic Has Kick-Started Digitalization In Pakistan – Fakhre Alam
posted by:

Abdul Latif Dadabhouy

No Comments
The 90s people must have known Fakhre Alam, let me jog your memory "Mundiyo, Kuriyo oh bhangra pao," now you must have gotten the idea who am I going to introduce, the very famous artist-cum-pilot, Fakhre Alam.
Fakhre Alam
Fakhar-e-Alam is a Pakistani actor, TV host, VJ, and artist, popular among the 90s youth for presenting the bhangra-rap combination type of music in Pakistan. Born on 19 January 1976 in Islamabad, he spent his childhood in Lahore prior to moving to Islamabad. He did a great deal of traveling directly from the earliest starting point as his dad worked in the Foreign Service of Pakistan. He began his schooling in Islamabad and afterward went to school in the USA. Following a couple of long stretches of U.S. education and exposure, he got back to Islamabad to complete his education. He also went to Government College University (Lahore). A short time later, he moved to Karachi and for the most recent 15 years is living in Dubai, UAE as an abroad Pakistani since 2004. He has garnered much of attention by being the pioneer of bhangra-rap music culture in Pakistan. As of now, he is considerably more mainstream for facilitating TV shows and showing up in military/government-sponsored music shows.
Professional Career
Fakhar e Alam began his profession on TV screen as a presenter in Pakistan's first since forever pop outline show 'Music Channel Charts'. The universally acclaimed director, Yasir Akhtar dispatched his profession through 'Music Channel Charts'. After the accomplishment of Music Channel Charts, he was offered Pepsi 'Top of the Pops' as presenter. He additionally showed up in a famous song as a rapper in 'Pyar Diyan Gallan' which was composed, created and made by Mohammad Ali, Sheheryar Kureshi (Fringe Benefits) and Yasir Akhtar. After the accomplishment of 'Music Channel Charts', Fakhar got an offer for a film called 'Very Good Dunya Very Bad Log'. Alam met with amusement in 1993 when he launched a rather unusual single "Bhangra Rap". These were early long stretches of video music in Pakistan and nearly anything sold. The single was likewise communicated on MTV. A past pop band, Strings were the primary Pakistani band to show up on MTV in 1988.
Falam's Production House
Upon his arrival in Karachi, He was known as "Falam" at that point and was offered the situation of a CEO, in an electronic media marketing company. He took the offer and remained with the organization for a very long time. He at that point launched his own production house, called Industree Productions. He has additionally filled in as the administrator of Sindh Board of Film Censors from 2013 to 2016. Most as of late, in 2018, he turned into the primary Pakistani to circumnavigate the globe solo in what he called Mission Parwaaz.
While giving his interview to RJ Sara Baloch, Fakhre Alam talked in length about how technology over the years has evolved, and that too in competition with each other. He continued with how science used to be a passion for Muslims, we have the greatest scientist, all Muslim and now unfortunately we have lost the essence, we used to be way ahead of our times in terms of technology but now this love for knowledge element has diminished in us. And we are now stuck in moon sightings where the world has gone to space!
He showed his disappointment over how education has only become an option for job-hunt, he stressed that "The thirst for knowledge should never end."
A successful aeronautical circumnavigation of the globe has these requirements.
1. A total minimum distance of 26000 nautical miles is covered and is flown through all medians.
2. Only one plane can be used. Pilot cannot change the plane at any point of the journey.
3. Pilot must start and end the journey from the same airport.
Fakhre Alam completed his around the world journey on a plane in three years, while talking about his challenges, he said how difficult it was for him to manage weather conditions but a good pilot knows his strategy, and being solo was another added challenge, but he had the wish to complete this dream of his and become the first person to have actually done this. He also said that this is my gift for Pakistan. I represent my country like everyone does for their respective countries.
"My parents had different dreams for me when I was a kid, like every parent, I could have been a lawyer or a CSS officer like my parents wanted, instead I kickstarted my career as an artist, in hiding." I faced a lot of "daantain" from my father but eventually he realized my potential and now "here I am."
Watch the whole interview below
RJ Sara Baloch hosts Chill Karo on SAMAA FM 107.4 every Saturday and Sunday, 5:00 pm to 8:00 pm.
---
READ MORE: KHALIL UR REHMAN QAMAR IS AN ANGRY MAN – SHEES SAJI GUL