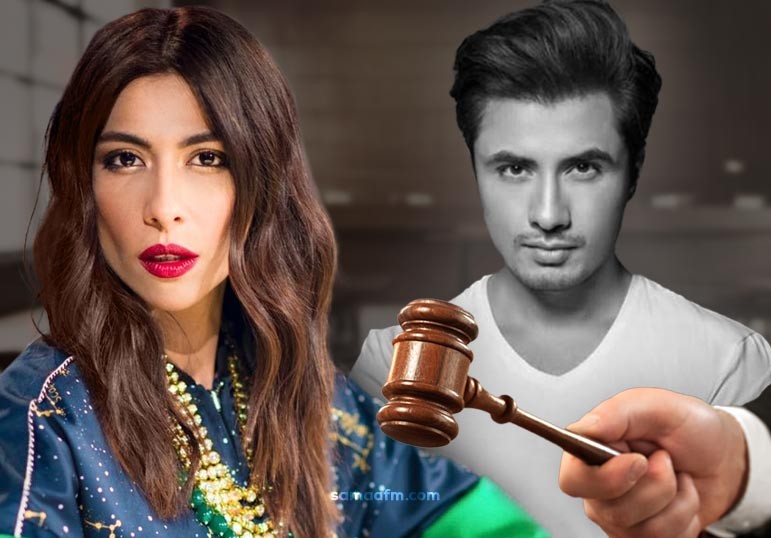 Supreme Court Admits Meesha Shafi's Plea Against LHC Decision!
posted by:

Abdul Latif Dadabhouy

No Comments
The Supreme Court (SC) on Monday acknowledged for preliminary hearing vocalist Meesha Shafi's request documented against the Lahore High Court's (LHC) request in the sexual harassment case against the artist Ali Zafar.
The Shafi-Zafar Harassment Case, history Since 2018
The case first emerged during the summers of 2018, when a few of Meesha Shafi's Tweets surfaced on her Social Media account and she Tweeted against the singer and fellow artist Ali Zafar, on sexual harassment.
Meesha Shafi's Stance
This stirred a movement of people coming out with their own similar experiences. According to Meesha Shafi, she stated in the court that, "First time it was at the house of the plaintiff's father-in-law where he (Ali) sexually harassed me," Ms. Shafi said in her testimony before the court during the hearing of a defamation suit against her, filed by Zafar. She submitted the documents under the court which includes duplicates of her tweets through which she detailed the occurrences of the inappropriate behavior and sexual misconduct as the offended party. As indicated by her assertion, she was alongside her husband when she visited the place of the plaintiff's father-in-law for a get-together. She said Zafar groped her inside the house while her husband was outside with his friends.
The vocalist further said she revealed to her husband about the occurrence, nonetheless, prevented him from any prompt response. "I was scared and confused. I didn't need any fight," she stated, adding that her husband is a trained boxer. About the supposed incident that happened during a jam session, Ms. Shafi said she stayed under trauma for a while after the occurrence. As per Meesha Shafi, she had disclosed to her manager about the occurrence and furthermore the agreement manager of Pepsi about declining to keep working with the plaintiff. She said it was not a planned move to make public the incidents of sexual harassment. "I spoke for my protection only," she added.
Ali Zafar's Stance
On the other hand, in November 2018, Ali Zafar had filed a defamation complaint with the FIA cybercrime wing, alleging that many social media accounts were posting "threats and defamatory material" against him. He provided details of some Twitter and Facebook accounts to support his claim. Zafar had alleged that many fake accounts had been created to launch a campaign against him weeks prior to Meesha Shafi's allegation of sexual harassment against him in April 2018. He stated that most of these fake accounts were allegedly connected to Ms. Shafi. A Twitter account @nehasaigol1, which posted 3,000 defamatory tweets against me and my family only in one year, [was] created 50 days before Meesha's allegations of sexual harassment," the singer-actor told FIA with documentary 'evidence.'
Meesha had appeared before the FIA with her team of lawyers in December 2019. The FIR states that Shafi failed to produce any witness in favor of her allegation (of sexual harassment) against Ali Zafar. Furthermore, Leena Ghani was also summoned, but she did not turn up and sent her written statement which was not found satisfactory.
"She [Ms. Ghani] was found involved in publicly posting defamatory content against the complainant on Twitter on April 19, 2018. Fariha Ayub and Maham Javaid were also summoned four times but they did not turn up to join the inquiry. Iffat Omar appeared but did not record her statement with the request to give her time, but despite repeated requests failed to record her statement," the FIR says. Similarly, Ali Gul Pir and Humna Raza also failed to provide any satisfactory statement for the allegations against Ali Zafar.
On the basis of untrue and baseless allegations of sexual harassment against, Ali Zafar on Twitter. Ms. Shafi, according to the court was liable to issue an apology based on the tweet within 14 days after the court hearing in October, and also was issued a decree directing her to pay 1billion as damages to Ali Zafar for the humiliation and pain he faced throughout.
The Now Accepted Plea from Supreme Court For Meesha Shafi
A new ray of hope has emerged as the Supreme Court accepted the plea under laws and judiciary. A three-judge bench of the apex court led by Justice Mushir Alam recently issued notices to respondents Ali Zafar and Advocate General Punjab. Previously, the plea was rejected on technical grounds, stating that as Shafi and Zafar "did not have an employer-employee relationship", the case could not be heard [in that forum]. The complaint was filed under the Protection Against Harassment of Women at Workplace Act, 2010.
Shafi had then requested against the choice before the Punjab lead representative, whom her lawful group considered the skilled position to survey any choices made by the supervisor. Nonetheless, the Punjab lead representative additionally maintained the supervisor's choice in July 2018, excusing her solicitation on specialized grounds. Shafi consequently moved toward the LHC to challenge the lead representative's choice, where the LHC additionally embraced the ombudsperson's choice.
During the present procedures, Shafi's counsel told the court, "The [Lahore] High Court decided that Meesha Shafi was not an employee." "Students at educational institutions are also harassed, and they are not employed by educational institutions. Is harassment not to be prosecuted?" he contended.
Women Rights activist Nighat Dad also tweeted,
The hearing was adjourned for an indefinite period for now. Shafi wrote on Twitter on January 10, "Tomorrow, the Supreme Court of Pakistan hears my appeal on whether I, a 'self-employed person' have a right, as per the law, to be heard after being harassed and therefore expect justice on merit as an equal citizen. If ruled in my favor, this will be a landmark judgment in the history of Pakistan, determining those that are self-employed, as having the same rights to complain and seek justice as any other."
We are as hopeful as Meesha Shafi now that how justice is going to prevail, what would the results be, and in whose favor.
---
READ MORE: BOHEMIA PRAISES POWERFUL PERFORMANCE BY MEESHA SHAFI!