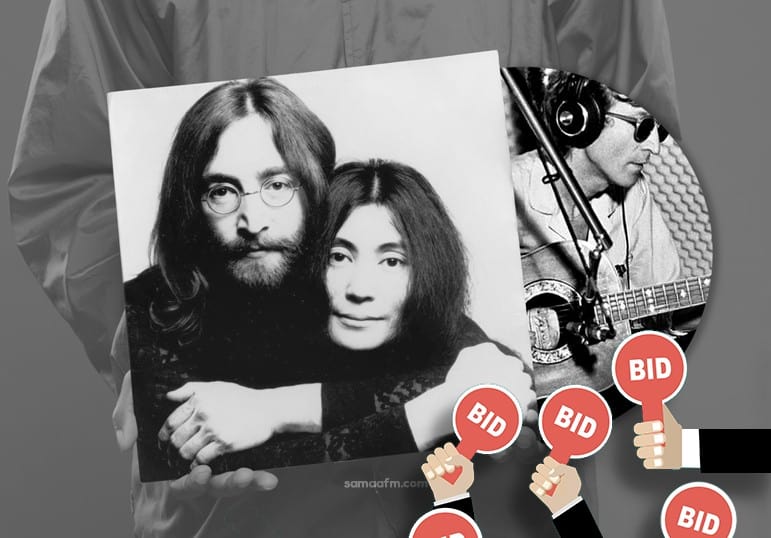 The signed album of John Lennon for his killer is up for auction!
posted by:

Zainab Naseem

No Comments
Fame and death, there's just something strange about it that goes together, the popular consciousness. Many artistes throughout the history have lost their lives tragically. Be it suicide or murder, most of them died young. Kurt Cobain, Amy Winehouse, Chester Bennington are just a few names along with John Lennon who lost their lives while contributing to the music industry.  
Beatles – The Pioneers of Rock and Pop
The Beatles is an English rock band from Liverpool was formed in 1960. The group, whose best-known line-up comprised John Lennon, Paul McCartney, George Harrison and Ringo Starr, are regarded as the most influential band of all time. The pioneers of Rock and Pop as their sound contains elements of classical music and traditional pop in innovative ways; the band later explored music styles ranging from ballads and Indian music to psychedelia and hard rock. The band revolutionised many aspects of the music industry and were often represented as leaders of the era's youth and hoarders of many sociocultural movements.
The Beatles and solo work by John Lennon
Lennon, also throughout his career worked as a solo artist. His songs Dreams, Imagine Jealous Guy, Oh My Love, Gimme Some Truth and Mind Games were all worldwide hits apart from his musical contributions with the band.
Double Fantasy by John Lennon and Yoko Ono
Double Fantasy is the fifth album by John Lennon and his wife Yoko Ono, released in November 1980 on Geffen Records. The Album was produced by John Lennon, Ono and Jack Douglas. The final album features songs from both Lennon and Ono, largely alternating between the two in its track listing.
The Album copy of "Double Fantasy" that John Lennon signed for Mark David Chapman a few hours before his death on December 8, 1980 is being sold by a private collector through New Jersey-based Goldin Auctions.
The album signed by one of the Lead vocalists John Lennon for his assassin 40 years ago is now up for auction in New York, as his widow Yoko Ono and former Beatles band member on Tuesday paid tribute to him.
The bidding stood at $450,000 on Tuesday, but a spokesman said the auction house expected it to sell for about $1.5 million at the close of the online auction on Saturday.
The album was initially introduced as evidence in Chapman's murder trial. It has been acknowledged as an item that has drawn both bidding interest and criticism.
The Murder
Before his tragic murder Lennon, left his apartment accompanied by his wife Yoko Ono, around 5:30pm. They both were headed to the Plant Recording Studio to work on her new single Walking On Thin Ice, when Lennon was stopped to sign Mark Chapman's copy of their recent album.
Chapman waited outside Lennon's apartment shortly before 11 p.m. when the ex-Beatle returned with his wife Yoko and he shot him five times. Before his arrest, Chapman placed the signed LP in a flower planter outside the Dakota.
Fellow Beatles band member Paul McCartney also tweeted; "A sad sad day, but remembering my friend John with the great joy he brought to the world."
On the occasion the singer's wife Yoko requested for peace and gun law reform and shared a photograph she took of Lennon's blood-splattered eyeglasses, with the hashtag Enough is Enough, "Over 1,436,000 people have been killed by guns in the US since John Lennon was shot and killed on December 8, 1980."
Reminiscing the band's memories and playing back to back Beatles song wouldn't be a bad plan today!
---