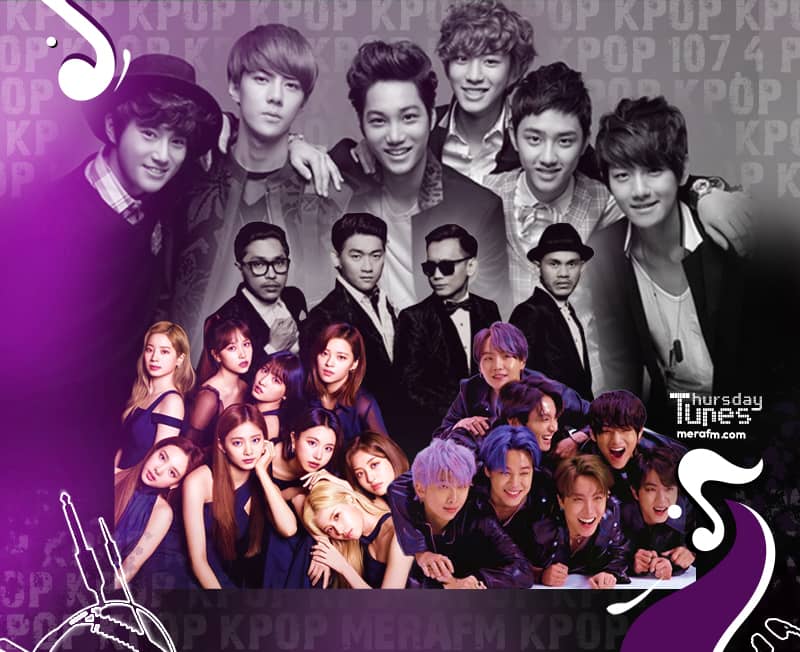 Thursday Tunes: K-pop, a global phenomenon!
posted by:

Zainab Naseem

4 Comments
The global Korean wave or K-pop
It's known as Hallyu or the Korean wave, and it refers to the idea that South Korean pop culture has grown in prominence to become a major driver of global culture, as evidenced by everything from Korean dramas on Netflix to Korean skincare regimens dominating the cosmetics industry to delectable Korean tacos on your favorite local menu. The ever-growing popularity of K-pop — short for Korean pop music, of course — is at the heart of Hallyu.
Thanks to its peculiar blend of addicting songs, sleek choreography and production values, and an endless parade of handsome South Korean artists who spend years in harsh studio systems learning to sing and dance in synchronized perfection, K-pop has become a really worldwide phenomenon.
The expansion of the K-pop
Hallyu has been growing for two decades, but in the last five to ten years, K-pop has been more apparent to global audiences. Since the Wonder Girls first cracked the Billboard Hot 100 chart in 2009 with their crossover hit "Nobody" — released in four languages, including English — South Korean artists have hit the chart at least eight times, and the export of K-pop has inflated the country's music industry to an impressive $5 billion industry.
Also Read: ThursdayTunes: going back to the golden music era of the 80s
Why K-pop music is so popular?
K Pop, or Korean pop music, is one of the most thrilling aspects of this fascinating foreign culture. If you've seen the video for "Gangnam Style," you might think you know a little about K Pop, but it's much more than that.
K Pop stands out from other genres due to its innovative approaches to music videos, understanding of what it means to be skilled, and sheer hard work. Here are some of the reasons why K-pop is so popular.
Costumes and Colours
The innovative use of costumes and color in music videos is one of the things that K Pop excels at. When North America was only beginning to be industrialized hundreds of years ago, Asia already had a thriving art and graphics sector.
As a result, it's no wonder that Asian pop culture, including music videos, is frequently highly sophisticated and well-considered. The use of special effects, make-up, clothing, and other elements is always in service of a larger theme and concept. If you don't trust me, listen to this BTS track,
Vibrant personas
The quirky, lavish, and eye-popping personalities of K Pop are also well-known. K-pop singers, or "idols" as they are known in Asia, have a talent for sticking out from the crowd and pushing the boundaries of self-expression.
Fashion sense
Similarly, K pop artists give fashion a whole new meaning. Their real-life costumes and styles frequently outshine those of western celebs in terms of passion and creativity. K-pop stars aren't afraid to make a splash, and they have a distinct way of interpreting current events.
Also Read: Thursday Tunes: All about Spotify Wrapped 2021
Take G-Dragon, a well-known member of the boy band Big Bang who is now a successful solo artist. G- Dragon is a regular trendsetter and overall fashion icon, not alone for his exceptional musical abilities.
What are the famous K-pop bands?
The bands listed below are often regarded as the most popular and successful in the world. Numerous K-pop bands have taken the world by storm since "Gangnam Style" went viral in 2012! So, let's have a look at some of the most prominent K-pop groups!
BTS
Famous K-pop BTS (Bangtan Boys) is a South Korean boy band that was formed in 2010 and debuted in 2013 under the Big Hit Entertainment label. Jin, Suga, J-Hope, RM, Jimin, V, and Jungkook are part of a septet that co-writes and co-produces a lot of their own material. They are highly famous among Pakistani fans. Their fans are called "Army."
Also Read: BTS drop 'Cooler' and 'Sweeter' remixes of 'Butter'
EXO
Xiumin, Suho, Lay, Baekhyun, Chen, Chanyeol, D.O., Kai, and Sehun are members of Exo. It is a South Korean- Chinese boy band headquartered in Seoul. SM Entertainment established the band in 2011 and they made their debut in 2012. Exo has received numerous awards during their career, including five consecutive Mnet Asian Music Awards Album of the Year awards and two consecutive Melon Music Awards Artist of the Year awards, and have performed over 100 concerts spanning four headlining tours and multiple joint tours.
Blackpink
Blackpink is the highest-charting female Korean band on the Billboard Hot 100, with "Ice Cream" (2020) hitting at number 13, and on the Billboard 200, with The Album (2020), which is also the first-ever album by a Korean girl group to sell more than one million copies. They were the first Korean female group to join and top Billboard's Emerging Artists chart, as well as the three times they topped the Billboard World Digital Song Sales chart.
Throughout its history, Blackpink has set various online records. Their music videos for "Kill This Love" (2019) and "How You Like That" (2020), respectively, broke three and set two Guinness World Records for the most-viewed music video within the first 24 hours of release.
Itzy
Itzy is a JYP Entertainment girl group consisting of members Yeji, Lia, Ryujin, Chaeryeong, and Yuna. The band becomes only the third South Korean girl group to reach the top of the purchase-only list with their debut No. 1 on the Billboard Top Album Sales chart.
TWICE
JYP Entertainment founded TWICE, a South Korean girl group. Nayeon, Jeongyeon, Momo, Sana, Jihyo, Mina, Dahyun, Chaeyoung, and Tzuyu are the members of the group. Twice was developed as a result of the television show Sixteen (2015).
The band rocketed to stardom in the United States in 2016 with their track "Cheer Up," which reached number one on the Gaon Digital Chart, becoming the year's best-selling single, and received "Song of the Year." Twice sold over 1.2 million units of their four EPs and the special album just 19 months after their debut. Twice sold over 3.75 million albums in Korea in 2019 after releasing their seventh EP, Fancy You. The band has sold over 10 million albums as of December 2020.
So which is your favorite K-pop music band?
Comment on "Thursday Tunes: K-pop, a global phenomenon!"