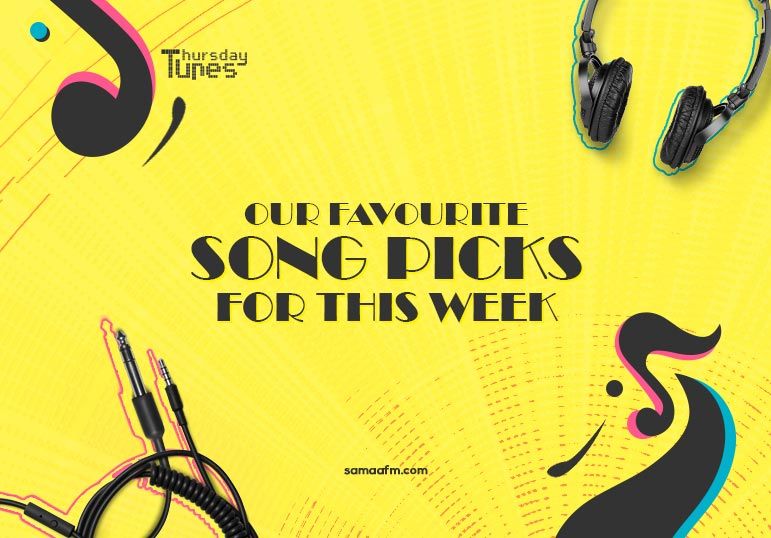 ThursdayTunes: Our Favourite song picks of the week
posted by:

Uzair Ahmed

No Comments
After a busy Valentine's Day [week] with your loved ones, we are back with our usual hustle, basic routines, and usual music playlists for the week. With this as we are on the edge of the weekend, we have lined up a few song-picks so you could enjoy in your car and blast your speakers at home [please don't let the neighbors knock on your door].
Drivers License – Olivia Rodrigo
Garnering fame as an actor from Disney's High School Musical: The Series, Olivia Rodrigo is also a singer and a songwriter, including the show, 'All I Want.' So Olivia is not unknown to people and this time she didn't fail to amaze the audience with her debut single 'Drivers License.' In a beautiful, yet simplistic-sounding song, Olivia tells a tale of heartbreak and reminiscence. Her song made it to the top at the Billboard music chart!
Drivers License by Olivia Rodrigo Lyrics
♪I got my driver's license last week
Just like we always talked about
'Cause you were so excited for me
To finally drive up to your house
But today I drove through the suburbs
Crying 'cause you weren't around♪
Positions – Ariana Grande
The opening track of Ariana Grande's latest album, 'Positions', sets a precedent for the entire record. Also manages to take a place on the Billboard. The lyrics pop in with a string-laden R&B jam that sees Grande's distinctive vocals flutter over lush, sugary orchestration. The song is a major vibe. Her signature style and personality shine throughout the song, and should definitely be on your playlist.
Positions by Ariana Grande Lyrics
♪Switchin' the positions for you
Cookin' in the kitchen and I'm in the bedroom
I'm in the Olympics, way I'm jumpin' through hoops
Know my love infinite, nothin' I wouldn't do
That I won't do, switchin' for you♪
Lonely – Justin Bieber & Benny Blanco
A rather modest, short, and beautiful creation from Justin Bieber & Benny Blanco is a two-and-half minutes song that seems to be a very personal song of Justin's career. Written by Blanco, Finneas, and Bieber himself. Lonely provides and reflective story, with beautiful vocals, expressive tones, and brilliant storytelling, this song is slow and sweet. In the first verse, he sings, "Maybe when I'm older, it'll all calm down / But it's killin' me now." He goes on to drop the f-bomb. The chorus is simple, highlighting the titular lyric Lonely. In the second verse, he continues his honesty regarding fame, "And everybody saw me sick. And it felt like no one gave a shit. They criticized the things I did as an idiot kid."
Lonely by Justin Bieber & Benny Blanco Lyrics
♪Everybody knows my name now
But somethin' 'bout it still feels strange
Like lookin' in a mirror, tryna steady yourself
And seein' somebody else
And everything is not the same now
It feels like all our lives have changed
Maybe when I'm older, it'll all calm down
But it's killin' me now♪
What You Know About Love – Pop Smoke
This song is an upbeat rap addition to this list, late Pop Smoke [murdered during a robbery] gave a banger before his death, and the song was dedicated to his girlfriend. The song began climbing the Billboard charts after going viral on TikTok. His music was streamed over 191,500,188 times in 2020, making him SoundCloud's most-streamed artist of 2020.
What you know about love by Pop Smoke Lyrics
♪She said, "What you know 'bout love?" (I'll tell you everything)
I got what you need (oh)
Walk up in the store and get what you want (go get it)
You get what you please♪
Levitating – Dua Lipa ft. DaBaby
Your playlist will be incomplete without Dua Lipa. Dua released her songs during the lockdown and made it clear that she can do it better, they practically owned 2020! This song will definitely take you to the club because it is a dance mix! Smashing the 8th position on the Billboard chart, DaBaby complimented with Dua's voice, and the vocals blend and harmonized perfectly transporting you in the 80's musical era!
Levitating by Dua Lipa ft. DaBaby Lyrics
♪If you wanna run away with me, I know a galaxy
And I can take you for a ride (for a ride)
I had a premonition that we fell into a rhythm
Where the music don't stop for life (for life)
Glitter in the sky, glitter in my eyes
Shining just the way I like (I like)
If you're feeling like you need a little bit of company
You met me at the perfect time♪
So, what are you planning to listen to this weekend?
---
RELATED
If you like this you can check these below
– Your Valentines Day Mix Tape
– Songs You Should Loop And Listen For The Weekend
– The New Single By Abdullah Qureshi Is An Ode To Heartbreak