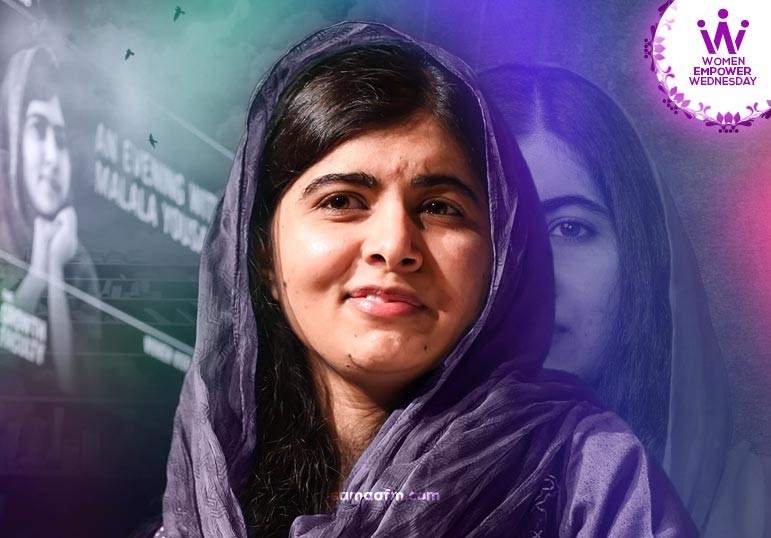 Women Empower Wednesday: A Remarkable Inspiration Malala Yousafzai
posted by:

Abdul Latif Dadabhouy

No Comments
The Stereotype of Male and Female Education
Obtaining a higher level of education is not an easy path. In Pakistan, women are not allowed to work outside of their homes, making it very difficult to get a job. Furthermore, even after jumping over all the obstacles. Once a woman obtains a higher education, she has to deal with gender discrimination in the workplace. Many women will find that it is not easy to find well-paid or managerial jobs even with a college degree. But out of all these women, one has still clawed her way out. She made education possible for many of the women. That strong girl is, Malala Yousafzai!
Malala Yousafzai
Malala Yousafzai is a Pakistani activist for women's schooling and education and the youngest Nobel Prize laureate. She is known as a basic human rights advocate. Particularly the education of women and kids in her local Swat Valley in Khyber Pakhtunkhwa, northwest Pakistan. Where the nearby Pakistani Taliban prohibited young girls from going to school. Her advocacy has developed into a global developmental movement. Previous Pakistani Prime Minister Shahid Khaqan Abbasi, has become "the most prominent citizen" of the nation.
The daughter of educationist Ziauddin, Yousafzai, Malala was destined to a Pashtun family in Mingora, Khyber Pakhtunkhwa, Pakistan. Her family came to run a chain of schools in the area. Considering Muhammad Ali Jinnah and Benazir Bhutto as her good examples, she was especially motivated by her dad's thoughts and philanthropic work.
In mid-2009, when she was just 11 years old. Malala composed a blog under a pen name the BBC Urdu itemizing her life during the Pakistani Taliban control of Swat. The accompanying summer, columnist Adam B. Ellick made a New York Times documentary about her life as the Pakistani military intervened in the locale. She rose to prominence, giving interviews on paper and on TV. Desmond Tutu also designated her for International Children Peace Prize.
Malala Yousafzai Shot by Taliban
On 9 October 2012, while on a bus in the Swat District. Pakistani Taliban shot Malala and her two friends. They fled the scene afterward. That was a reprisal for her activism. She was shot in the head was admitted to Rawalpindi Institute of Cardiology. Her condition later improved enough for her to be moved to the Queen Elizabeth Hospital in Birmingham, UK.
 

 

View this post on Instagram

 
The endeavor in her life started a worldwide outpouring of help and support for Yousafzai. Deutsche Welle announced in January 2013 that Yousafzai may have become "the most acclaimed teenager in the world". Weeks after the attempted murder, Muslim clerics in Pakistan gave a fatwā against the individuals who attempted to kill her.
 

 

View this post on Instagram

 
Achievements of Malala
Following her recovery, Yousafzai turned into a prominent activist for the right to education. She becomes the author of 'I Am Malala' which turns into a worldwide bestseller. She also established the Malala Fund in 2013 with Shiza Shahid. Malala is also the beneficiary of Pakistan's first National Youth Peace Prize and the 2013 Sakharov Prize.
In 2014, she was the co-beneficiary of the 2014 Nobel Peace Prize, alongside Kailash Satyarthi of India. At the young age of 17 at that point, she was the youngest-ever Nobel Prize laureate. In 2015, Malala shows up in the Oscar-shortlisted documentary 'He Named Me Malala.' Issues of Time magazine highlighted her as perhaps the most powerful and influential person all around the world.
Canada grants her Canadian citizenship in 2017 and she becomes the youngest person to address the House of Commons of Canada.
Yousafzai attended Edgbaston High School in England from 2013 to 2017 and graduated with a Bachelor of Arts degree in Philosophy, Politics, and Economics (PPE) from the University of Oxford, where she was an undergrad understudy of Lady Margaret Hall, Oxford, in 2020.
The Malala Yousafzai Scholarship
Pakistani women can get more scholarships under new merit and needs-based programs. The United States Congress passed a bill named after Nobel laureate Malala Yousafzai. In March 2020 the House of Representatives passed the Malala Yousafzai Scholarship Act The US Senate adopted it by a voice vote recently, according to the congress website. President Donald Trump will sign it to law. The current bill requires the United States Agency for International Development to award at least 50% of scholarships to Pakistani women, across a range of academic disciplines and in accordance with existing eligibility criteria.
Malala says, "With more than 130 million girls out of school today, there is more work to be done. I hope you will join my fight for education and equality. Together, we can create a world where all girls can learn and lead."
Malala Yousufzai is surely a gem for Pakistan and a recognized figure for the world!