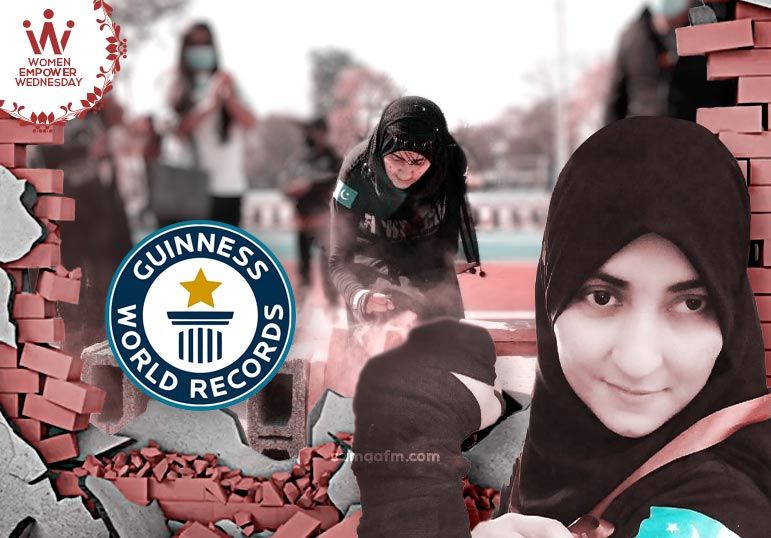 Women Empower Wednesday: Brick Smashing Guinness Record Holder Neelofar Shirazi
posted by:

Uzair Ahmed

No Comments
Standing in presence of 1,000 cement bricks, Shirazi was a bit hesitant before attempting that had been unachieved for so long.
Shattering 150 bricks the previous year, she showed interest in attempting to break a 1,000. "My family, Master Chen, friends and sponsors are all in attendance to support me and their presence is quite supportive" said Neelofar.
A Name In the Guinness Book of World Records folklore
Wearing a dark shirt with a Pakistani flag imprinted on it, Neelofar positioned herself to unleash her powers and at the first shout of her coach, she started shattering bricks one by one. With a flash of her right hand, she completely smashed the initial pair of bricks. Then with successive strikes, the pair of bricks snapped into four and Neelofar focusing on the pivot of the bricks went on shattering them in half.
Thousand bricks broken, a Thousand more to go
It took her almost half an hour to reach the tally and soon, with the final blow, the thousandth brick tumbled down and was praised by her family members and all those in attendance. The crowd soon gathered from the nearby market cheering and encouraging the woman from Battagram, who might never have imagined such a reaction from the crowd. Shirazi, 32, also took home a big paycheck of totaling PKR 50,000.
Sponsor, Imtiaz Ahmed said it was a matter of great pride to host the event which particularly showcased Neelofar Sherazi's talent to the world. "We shall send the complete video recording of the event to the Guinness Book team so that they could include her name as the world record holder in the brick breaking category," he said.
Neelofar, an odd case has also broken down societal taboos associated with women in society. Hailing from an underprivileged state of Khyber Pakhtunkhwa, she successfully set an example for girls who are reluctant to pursue their dreams fearing backlash from society.
Neelofar Shirazi An Inspiration to Many
Currently living in Islamabad, she holds a masters degree in Chemistry and works as an online teacher. However what makes her different from others is her passion for learning the art of brick breaking. Starting to train formally for the event in November 2018, Neelofar spends almost two hours practicing her skills daily, which is still uncommon in Pakistan.
RECOMMENDED
Read more about Women Empower Wednesday and If you like this article you can also check these