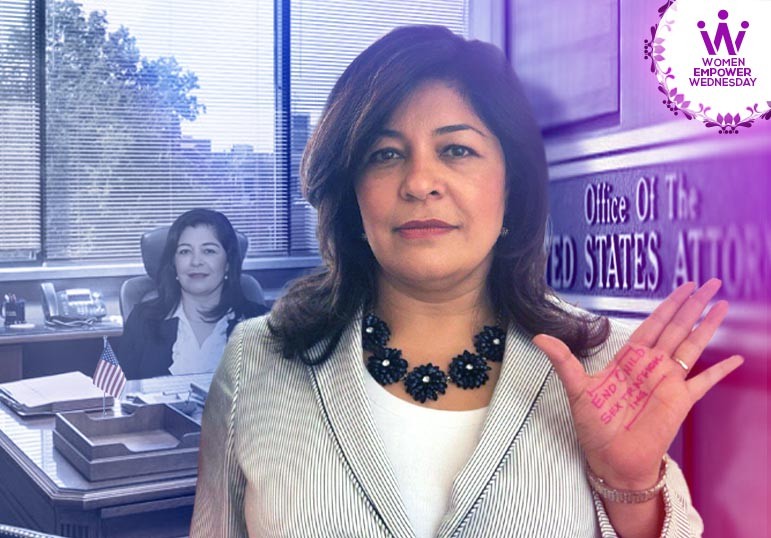 Women Empower Wednesday: Saima Mohsin making marks in the US Attorney Office!
posted by:

Zainab Naseem

No Comments
Let's talk about criminal justice before we congratulate and pay our honor to Saima Mohsin the U.S Attorney Office.
Criminal Justice
Have you ever thought about what Criminal Justice is? Criminal justice is the delivery of justice to those who have committed crimes. The criminal justice system is a series of government agencies and institutions. Its goals include the rehabilitation of offenders, preventing other crimes, and moral support for victims. The primary institutions of the criminal justice system are the police, prosecution and defense lawyers, the courts, and prisons. The criminal justice system consists of three main parts

-Law enforcement agencies, usually the police
-Courts and accompanying prosecution and defense lawyers
-Agencies for detaining and supervising offenders, such as prisons and probation agencies.
In the criminal justice system, these distinct agencies operate together as the principal means of maintaining the rule of law within society.
This is the first time proud moment for Pakistan as the feeling is marvelous and historic in terms of an American-Muslim woman took her first steps in the United States Attorney's office. A moment of pride for many of us as we know the dynamics of our politics over time with the United States, it has been a mix of sweet and sour. And, it is surely not deniable as well. Women's rights and equality have always been one of the major gender disparity problems in Pakistan where women have been seen fighting for them for ages and still are fighting. One reason is that the recognition is low and opportunities are low. But American-Muslim women making their strides in the US is something to feel proud of. As women, this is a setting of a benchmark enough to be recognized as one gender.
Saima Mohsin
Born in Pakistan, Saima Mohsin is now the First Assistant United States Attorney for the United States Attorney's Office, Eastern District of Michigan.
Saima Mohsin is a career prosecutor with significant experience handling a broad variety of cases.  She joined the U.S. Attorney's Office in 2002 and has served in the Violent and Organized Crime Unit, the Drug Task Force, and the General Crimes Unit.  Ms. Mohsin is also an instructor at the National Advocacy Center and frequently teaches Basic Trial Advocacy.  Prior to joining the U.S. Attorney's Office, Ms. Mohsin served as a Deputy Attorney General in the Organized Crime and Racketeering Section of the New Jersey Division of Criminal Justice prosecuting complex organized crime cases, and as an Assistant District Attorney in New York City.  Ms. Mohsin received her Juris Doctor from Rutgers University School of Law in Camden, New Jersey, and her Bachelor of Arts Degree from Rutgers University in New Brunswick, New Jersey.
Saima Mohsin, 52, replaced Matthew Schneider, on this occasion she stated, "It is a great honor to serve the citizens of the Eastern District of Michigan as Acting United States Attorney. I am deeply committed to fulfilling our core mission to faithfully enforce the law and seek justice for all."
Saima Mohsin is a career prosecutor as she has been a professional prosecutor for quite a long while, working since 2002 in the U.S. Lawyer's Office. As a Muslim immigrant of Asian descent, she will carry diversity to a key position that is the chief federal enforcement officer in the eastern piece of the state. Mohsin has served in the US Attorney's Office Violent and Organized Crime Unit, the Drug Task Force, and the General Crimes Unit, the Department of Justice said in an official statement.
Michigan, the place where Mohsin has been appointed has a sizable number of Muslims and a Pakistani-American population with several mosques across the region. The Council on American-Islamic Relations (CAIR), Muslim advocacy and civil rights group, told the Free Press they were not aware of any US attorney or acting US attorney who has been Muslim. Mohsin is also believed to be the first US attorney who is Pakistani-American.
Matthew Schneider on the account said, "I'm extremely pleased to leave this office in the hands of one of the finest federal prosecutors I've ever known, Saima Mohsin. Saima is a dynamic trial lawyer and a talented manager. And, as the first woman, immigrant, Muslim United States Attorney in American history, her service is truly historic. Saima will be an outstanding representative and defender of our community as the Acting United States Attorney."
She is third Pakistani-American in US President Joe Biden's organization as Ali Zaidi has been picked as Deputy Climate Change Advisor in the White House while Salman Ahmad has been delegated as Director of Policy Planning in US State Department.
According to the Detroit Free Press, the Pakistan born lawyer will bring diversity to an important position. Justice needs diversity in many forms, and it should retain and be a source of relief for the people seeking it.
Women Empowerment has a strong root in Michigan Attorney office now, we hope that the system under Saima Mohsin be as a stable as ever. As this will eventually bring peace for everyone.
---
RECOMMENDED
Read more about Women Empower Wednesday and If you like this article you can also check these
– WomenEmpowerWednesday: Sheba Najmi
– WomenEmpowerWednesday: Malala Yousufzai