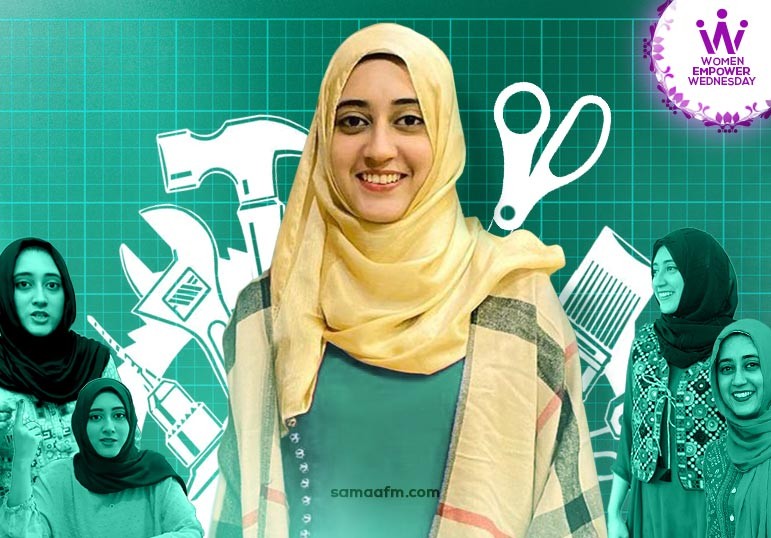 Women Empower Wednesday: The crafty queen Ramma Jafri
posted by:

Zainab Naseem

No Comments
Before we move towards our craft queen Ramma Jafri. Let's discuss how Pandemic has effected us and changed us throughout!
This pandemic of COVID-19 has given us all the greatest breaks of our lives, causing us to sit in our homes all through and causing us to understand that life can enjoy a huge reprieve. In the course of recent months, Covid has tossed numerous organizations into a condition of unrest and vulnerability. Worldwide issues showed up in each area. With that, lives, in general, got halted. From all the schedule the bustling 9-5 timetable, the sluggish morning schedules, the not all those dynamic ways, and not an exceptionally playful way of life, we rather saw a lot in very nearly 15 months!
In this entire range of lockdowns over lockdowns, we have seen digital markets getting on top of their games and online setups getting eyes of the crowd for a huge scope. Youtubers, who make their content at home, got an acknowledgment, not even Youtubers however Tiktokers and Instagrammers. Online videos made our lives simpler, everyone had access to them, and it appears to be simple and a decent alternative for everybody. The significance of digital marketing and content creation turned into a genuine thing and a current and somehow the only reality left for easy cash flow. And reaching out to a wider set of the audience without arriving at that specific spot. Digital Media Content creation is as yet perhaps the most exciting part alongside Social Media marketing. Individuals have mastered the basic skills and abilities and now are making a video (content) happen through recording everyday activities and some with foods, reviews, products un-boxing, online gaming, crafts, etc.
We have seen a big wave of change in Pakistan as well, people getting a sense that how online content creation and marketing works and how to earn from it. During this lockdown, out of many people, a woman managed to catch our attention with her crafts and her fun videos. And we will feature her today, she is Ramma Jafri of the "Craftswomanship."
Ramma Jafri
Ramma Jafri is a filmmaker, cardmaker, and a homemaker, married to another filmmaker from Al-Jazeera. She loves to make DIY and crafty cards at home, and teach people how to make them at home. Since the trends of people giving greeting cards to each other is diminishing these days, Ramma is making sure, no one really forgets it! Her work represents her passion and [trust us on this] SHE IS BRILLIANT at what she does. Now based in Islamabad, Ramma moved to Qatar after her marriage, from Karachi, and she decided to start this craftswomanship during lockdown because she felt the need to share her art with the rest of the world. All she needed was some supplies and some motivation. Coming from a joint-family setup and then settling in to an unfamiliar place is something almost every girl has to go through after the post-marriage life of hers; Ramma transformed her life by making an evident change with her crafts, as she developed new skills.
Ramma Jafri as Craftswomanship
She even owns a YouTube channel with a similar name, where she shares DIY card tutorials and how you can make them, all she does is gather super cute accessories and art supplies from the market, and then it's all the creative juices that flow from her mind on the paper. Her designs are pretty, dainty, and Pinterest-y. We never knew we can make crafty and beautiful cards, all at home. Ramma made them easy to make.
Her cards are beautiful, simple yet very easy to make. You can also try them!
Full-Time Female YouTuber
Ramma shares her daily life activity and the developments that happen in it along with his husband now, and her video topics are fun to watch. Her editing skills being a filmmaker is already very polished, so the transitions are pretty fun for the audience. The most attention-grabbing part of her Youtube videos is the language. She uses both English and Urdu as a medium to communicate to her viewers and that makes it very easy for the 'desi'' audience to understand. Promoting the native language in her content is what makes it unique. Her video sense is usually interactive and simple.
Ramma is not just into crafts all the way, her recent videos can be helpful for people who are learning Youtube and making their content as well, or in need of tips and tricks. Topics such as how to make Youtube Thumbnails, how to pack, grocery tips, etc.
Ramma started off her Youtube journey, with fear like anyone. If someone among us wanting to start a journey as a Digital Content Creator, there is always a learning curve in it. Since we are now seeing a rise in people coming from different backgrounds and venturing into the digital world. This is the time to make your skills shine and present them in front of the world and with slight improvements, you can be an artist, a great DIY star!
---
RECOMMENDED
Read more about Women Empower Wednesday and If you like this article you can also check these
– WomenEmpowerWednesday: Ayesha Chundrigarh
– WomenEmpowerWednesday: Benazir Bhutto