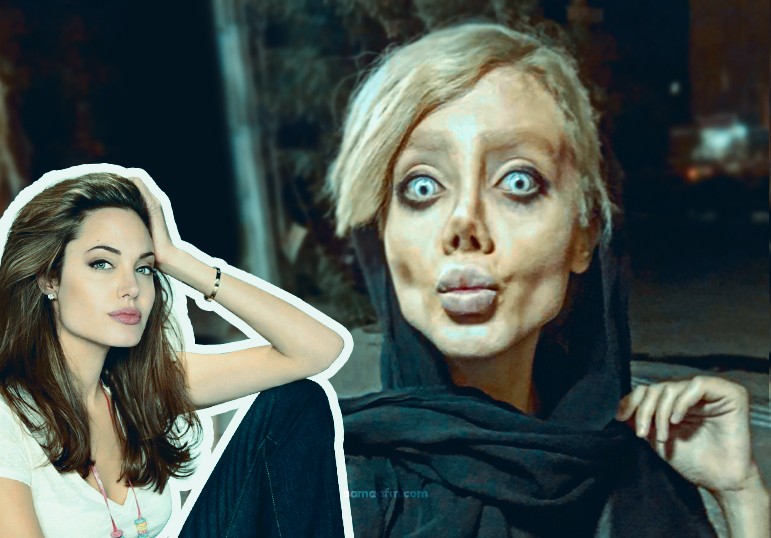 Zombie Look-a-like of Angelina Jolie Sahar Tabar sentenced to jail for 10 years!
posted by:

Abdul Latif Dadabhouy

No Comments
Angelina Jolie look-a-like Sahar Tabar
We all have seen crazy fans and followers in the past. People cutting their nerves, people being crazy and breaking the barriers just to hug their idols.  Remember after the opening for Austin Mahone in July 2014. Shawn Mendes was attacked by fans that broke past the gate and ran towards him to get signed autographs? The "Treat you Better," singer jetted out of the place unharmed. These are just incidents. Imagine copying someone, their style, their life, and then their faces?
Who is Angelina Jolie's Zombie Look Alike?
Fatemeh Khishvand, also goes by her Instagram username "Sahar Tabar" is an Iranian influencer/blogger who gained prominence in 2017 for her supposed use of cosmetic surgery in images of herself posted to Instagram. Some people had been speculating that it was Photoshop and makeup as well. It was rumored that she had altered her face through as many as fifty plastic surgeries. The influencer's images on Instagram gathered over 486,000 followers. The images were unusually horrifying due to unnatural skin colouring and distorted facial features that included exaggerated lips and a pointy, turned-up nose.
Zombelina's Arrest And Sentencing
Tabar was interviewed on Iranian national television in October 2019 after she was arrested on charges including blasphemy. Furthermore, inciting violence and illegally obtaining money through inappropriate means. She was also been charged for encouraging young people to corrupt and disrespect the Islamic Republic. Moreover, she is sentenced to 10 years in Jail.
Also Read: BTS sing their way through United Nations Headquarters
Earlier this year, Tabar pleaded for release from detention, saying that she had contracted Covid-19. A BBC report said that Tabar's lawyer Payam Derafshan even wrote an open letter to Iran's judiciary where he wrote that he had been told by Tabar's mother that his client had been moved to a quarantine section of the prison after displaying symptoms of the virus. She also revealed that two of her four charges have been cleared against her.
An Iranian state TV also broadcasted her confession last year in October. Her expressions of repentance grabbed a great deal of sympathy. The news broadcast described Tabar as "a victim with an abnormal personality and mental state." Moreover, who sought "vulgarity" on social media.
The report further stated that Sahar's medical records suggest she was suffering from a mental illness. With a history of visits to psychiatric hospitals, making the 10-year sentence even less explicable. Her lawyers had also asked for her to be bailed and pointed to her age at the time she committed the alleged offenses.
Also Read: Do you Know What John Lennon's Killer Did?
Have something to add to the story? Comment down below!