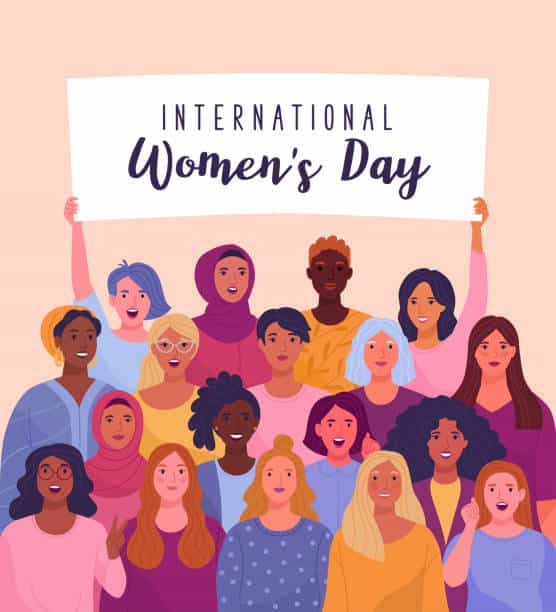 International Women's Day: Steel Wrapped in Silk!
posted by:

Zainab Naseem

No Comments
A balanced hope to the future this International Women's Day
On this International Women's Day consider a future where men and women are treated equally. A world without prejudice, stereotypes, or discrimination. A varied, equal, and inclusive world. A world in which diversity is cherished and celebrated.
The sad contradictions
This doesn't depict reality all the time. In Pakistan, it is considered incorrect to assert that women have the most rights in the name and shadow of religion. A father shot his 7-day-old baby daughter with a gun yesterday (7-03-2022) because he wished for a boy. This reveals a terrible side of our culture that lurks beneath the surface of religion.
According to the breakdown by the ministry of Pakistan, 5,048 incidences of sexual violence and workplace harassment were reported in 2018. 4,751 in 2019. 4,276 in 2020, and 2,078 alone in 2021.
Acid Attacks
Furthermore, the Acid attacks were outlawed in Pakistan's criminal court system in 2011. That indicates that six attacks occurred in a 45-day period in 2021 around September-October. Women and transgender people are included in this category. In our nation, the penalty for such attacks is life imprisonment, but all culprits are free!
Honor Killing and reality check
In 2020, the HRCP recorded 430 occurrences of honor killing, with 363 female victims. In the first four months, the Punjab Police have registered 53 cases of gang rape, and the list continues.
Pakistan has a high rate of gender-based violence. This has been attributed to a variety of factors, including lack of education, awareness, poverty, and widespread misogyny. The recent increase in crime against women, on the other hand, points to the state's complicity in the inability, or even lack of desire, to protect women.
The experiences in stories
Similarly, I sat down with a group of women for this year's International Women's Day to learn about their experiences and observations throughout their jobs and lives. Some of the stories are terrifying and leave you with a lot of unanswered questions!
(Names have been changed in this article in order to maintain privacy and safety)
Sarah J. – 29,
"I married at the age of 21 because my parents thought it was the correct thing to do, but I wanted to continue my education and travel. I was working for a reputable digital agency when I got married, and everything changed. To begin with, I was stripped of my own position at my in-laws' home. I have a bachelor's degree in social sciences, and I never imagined someone would slap me once and then slap me again every night, beating me to the point that I would gasp and consider suicide."
She continued, "The worst thing was that my own family was adamant that I fix myself and stay in that toxic relationship. This made me realize that my mother was in the same situation as when my father used to beat her up when they were first married. When my father died after a few years, my mother took my hand in hers and told, "You are not alone, I am with you," and I never looked back after that."
"With what little courage she had, a woman (my mother) stood by me and helped me heal."
I inquired as to how she was doing now. To which she replied that she is now a Community Manager for a reputable apparel brand and that she is doing everything she can despite having a 7-year-old child; she has done her Master's, traveled extensively, and is living life to the fullest.
Rameen – 28,
"I've always been afraid of sexual harassment in the office, so I do my homework before applying to any job. My introverted temperament makes it difficult for me to communicate, and my biggest fear was realized when I was first subjected to sexual harassment at work. It was mostly casual shoulder touches that were glaring, and I felt suffocated throughout those months of employment."
"I eventually addressed it with my female coworkers and a few male acquaintances, and the male coworkers, to my shock, dismissed it casually. However, one of my female coworkers stood by me, and I was able to break through the barrier and reported the incident. For me, that was a liberating experience. But I'm never sure why I had to 'free or liberate' myself after a tragedy Why can't I, or any other woman in this society, be free from harassment and touching?"
Meher S. – 20,
Meher sat down with me with her group before moving to the United States, and I was not surprised to learn that five of the six women had experienced various forms of abuse. She said, "Things never start ek dum se." She continued, "Everything has a pattern." Before her terrible divorce, she has her happy moments with her husband too.
Furthermore, she quoted, "Meine kabhi nahe socha tha ke is tarah houga, since love marriage thi, har cheez achi thi." I inquired what happened that triggered the abuse and violence? To which she said, "Unresolved issues and the behavior he witnessed as a child rose up to his own existence, or perhaps it never left him; his father's toxic tendencies filtered down into his own identity, and he repeated everything that had happened to him during his childhood." She went on to say that couples counseling and therapy didn't help and that their marriage eventually fell apart due to unresolved issues.
Read more stories at Women Empower Wednesday

Faizan – 34,
A brother stood by her sister in all of these stories. "I can't bear seeing my sister suffer," he said. She was boisterous and chirpy when she was at our house, as any girl is, and we adore her. Moreover, she was employed by a reputable firm, earning well, and exuding confidence. She stated clearly after her marriage that she wanted to continue working, but things went awry. Her spouse was not providing her with any financial support, let alone the 'ijazat' to work."
He said, "Larkion ko job ki ijazat ki zaroorat nahe houni chahiye, wo ek alag identity hain unko shadi ki waja se bandh deyna is not the ideal solution." "Trust me, the guy is an educated one, and this came from him," he continued. "When things went south after that, I was the one who stood by my sister and guided her through the entire separation process." I inquired about the sister's current condition. "THE HAPPIEST," he answered with a smile.
Take a stand this Women's Day!
With these experiences, I'm left wondering if this is a pattern that our patriarchy has instilled because it is. It is profoundly ingrained in our culture, and it has been going on for decades. This trend of hatred and patriarchy needs to be broken. The bias, the fragile ego, must come to an end. And how is that going to happen? This is something that a woman can modify.
The change in 'Tarbiyat'
Every woman in her position should work to change their son's perception and "tarbiyat"! This begins with you at home. A location where change can occur. This is the first step in realizing that a woman can accomplish anything. And this process will aid in the transformation of their minds process! We need to scream equality from the rooftops, and it's something we should have as a birthright! Every person, like every other person, is entitled to basic rights such as work, food, and clothing. Likewise, everyone has the right to their BASIC HUMAN RIGHTS. We can achieve women's equality by working together on this International Women's Day. We can all #BreakTheBias if we work together.
Happy International Women's Day!
By Zainab Naseem Sheikh