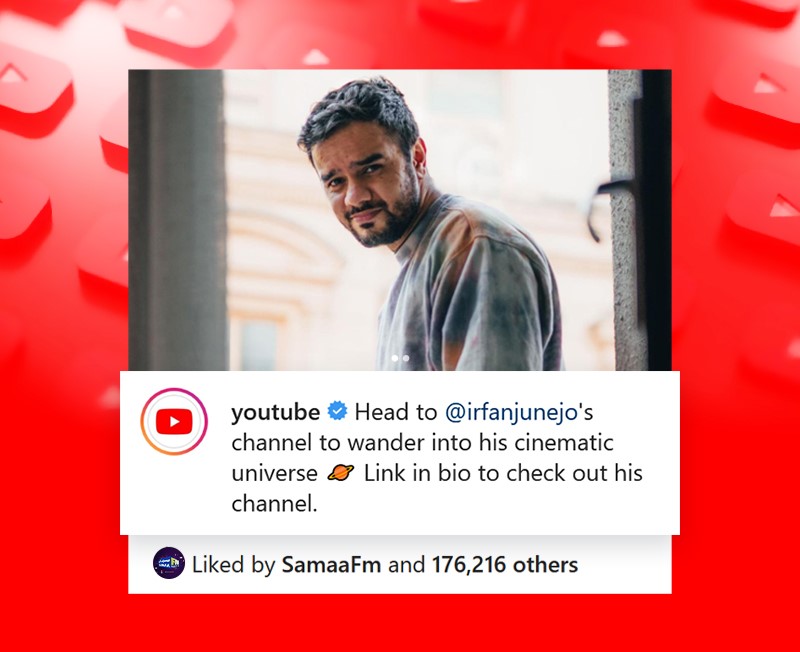 Irfan Junejo receives a shoutout from YouTube for phenomenal content creation
posted by:

Zainab Naseem

No Comments
Irfan Junejo receives shoutout from YouTube
Irfan Junejo, a Pakistani YouTuber, has always been praised by his fans and followers for his outstanding work. The well-known YouTuber is now representing Pakistan on YouTube's official Instagram profile after the American video-sharing and social-media giant praised his work.
"Head to Irfan Junejo's channel to wander into his cinematic universe," Junejo writes on YouTube's official Instagram account. Irfan Junejo and Irfan Junejo 2.0 are Junejo's YouTube channels. On his primary channel, the YouTuber has over 1.13 million subscribers, while his second channel has 343,000.
Many people rushed to social media to congratulate Junejo on his well-deserved YouTube shout-out along with a follow!
Among those who lent their support to the YouTuber were singer and actor Uzair Jaswal. Fans were also ecstatic about this achievement!
Twitter congratulates Junejo for the shoutout from YouTube!
Twitter rejoices after Irfan Junejo's recognition from YouTube. A user tweets,
Another user tweets,
Furthermore, another user tweets congratulations,
Junejo getting shoutouts from YouTube's official account proves that he is indeed the best YouTuber, moreover a prized possession Pakistan has. The standard that has been set by him. No one can reach it.
Also Read: As a YouTuber I cannot add much substance for Palestine issue, says Irfan Junejo
After a 17-month hiatus, the 31-year-old announced his return this year. He stated in the video that he will prioritize his mental health over his desire to make vlogs. He said that this was his method of attempting to figure out who he is, and that he needed time to do it.
Congratulations are in order!
Have something to add to the story? Comment down below!