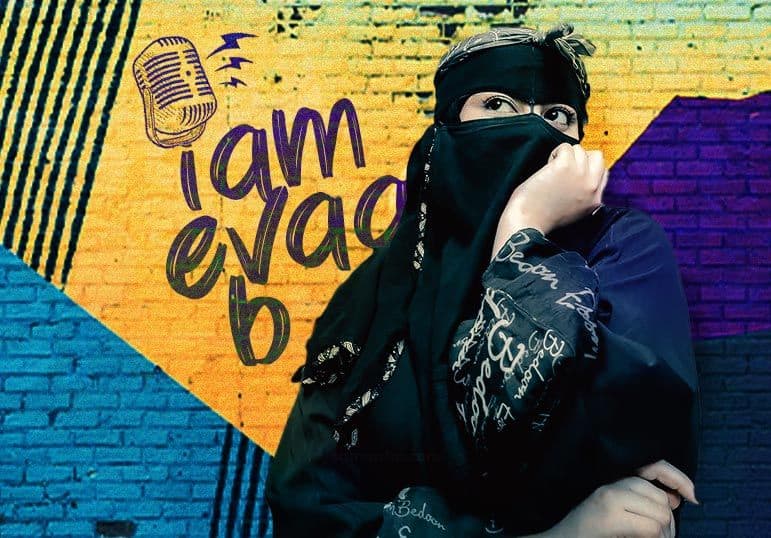 Secret Super Star from the streets of Lyari Eva B
posted by:

Abdul Latif Dadabhouy

No Comments
Lyari, notorious for deadly gang wars, drugs and violence has one more thing that it has produced in abundance: talented artists.
Gully Girls
A singer from Lyari has taken the hip hop scene in the city by a storm and is a female recording artist, singing under the alias of Eva B. Eva has been pursuing her passion of rapping for the past five years with cousin Meer. However, her debut song came out at the start of this year titled 'Gully Girls', a female remake of the acclaimed 'Apna Time Ayega' from the movie 'Gully Boy', starring Ranveer Singh. The song quickly became a chart topper because of its easy to understand lyrics that reflect with a particular girl's day-to-day life.
Secret Super star of Karachi
Just like her alias, Eva chose to conceal her identity as well. She dons a veil, and has been nicknamed as the 'Secret Super star of Karachi' by BBC's reporter, Fifi Haroon.
For Eva, the voyage into this line of work was tough as compared to other rappers from the city. She remarks that her gender is the culprit behind the struggle. When Eva was discovered, she was downright shunned by her family.
Eva got her first song on 'Patari'. Making a track alone is a monumental task for Eva due to the dearth of resources at hand in her locality. Lyari also does not have a studio; all Eva has at her disposal music making apps on her smartphone such as FL Studio and Ableton that provides her with a preset beat to rap on.
Identity of Eva B
"As far as my real name is concerned, I know for a fact that I can't hide it for a long period of time. However, my veil is something I would never give up. No matter wherever I go or whatever I do. My veil is something I like to keep close to me." concluded Eva.
Since she started rapping professionally, Eva has gathered quite a following consisting of both males and females. Socially present, Eva makes sure to keep in touch with her fans through social media platforms such as Facebook and Instagram.