The chaos of One Pot Chicken Qorma by UK Tasty
posted by:

Zainab Naseem

No Comments
Qorma, the magic of Mughals
Almost every Pakistani, no… everyone from the subcontinent, has heard of Qorma. Some people pronounce it Korma as well. But what has recently happened to us is a sad state of affairs. Yes, UK Tasty has ripped apart our beloved dish in the name of "One Pot Chicken Korma." [talk about post colonial affects]
Let us take you back a few centuries before we get to the tragedy…
The magnificent dish, Qorma
Korma or Qorma (قورمہ) is a dish originating in Indian subcontinent. It consists of meat braised with yogurt (dahi), water or stock, and spices to produce a thick sauce or gravy.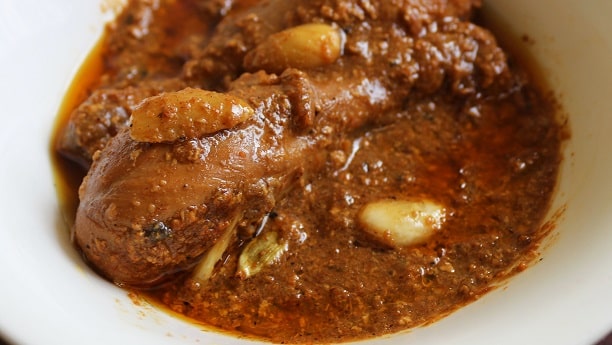 The origins of Qorma
Korma has its origins in the Indian subcontinent's Mughlai cuisine. It is a traditional Mughal dish that dates back to the 16th century and the Mughal incursions into the region.
Not just that, Kormas were frequently prepared in Mughal court kitchens, such as the famous white korma, possibly garnished with vark. It used to be served to Shah Jahan and his guests at the Taj Mahal's inauguration.
Moreover, some kormas are referred to as Shahi (English: Royal), indicating their status as a prestige dish rather than an everyday meal, as well as their association with the court.
Qorma Recipe
The Qorma recipe technique encompasses a wide range of styles. A korma's flavour is based on a combination of spices, including ground coriander and cumin, combined with yogurt kept below curdling temperature and slowly and carefully incorporated with the meat juices. Furthermore, this was traditionally done in a pot set over a very low fire, with charcoal on the lid to provide all-around heat. Moreover, Korma can be mildly spiced or fiery, and it can be made with lamb, goat meat, chicken, or beef.
The tragedy befalls
Before you continue reading, we must warn you that what you are about to see may cause stinging sensation in your soul and your eyes to plead for mercy. Trigger warning: a cultural cuisine is murdered.
On Saturday, Tasty UK shared a video recipe on Twitter with the caption, bless their naïve little hearts, "One-Pot Chicken Qorma [heart eyes emoji]"
We have no idea who is to blame for this atrocity. They attempted to sweeten it by adding raisins! Oh, our precious hearts.
The phrase "one-pot" was posed in such a way that we thought, maybe it's something new, but we never expected qorma to be completely overrun. They added rice, raisins, spinach, and then had the audacity to scoop it all up in a bowl. All ingredients were visible in the 'mix,' probably pleading for mercy and plotting their escape. Overall, we are not doing well.
Desi Twitter lost it!
Subcontinent was enraged. We've been through enough! Desi Twitter loses its cool, with some retweets and reactions coming straight from the heart!
Also Read: Farha: 'Smear campaign' by Israel targets Netflix film depicting Nakba
Also Read: A tale of friendship beyond borders despite of borders
Also Read: Karachi ab waisa na raha! A tale of nostalgia
Yes, it does hurt!
Neighbors banding together against a common foe.
Last but not least, we sincerely hope you've made it through this article completely unharmed. If not, we do write good series reviews as well.
Read this: Friday Flix Series of the Week: Wednesday
Have something to add to the story? Comment down below!