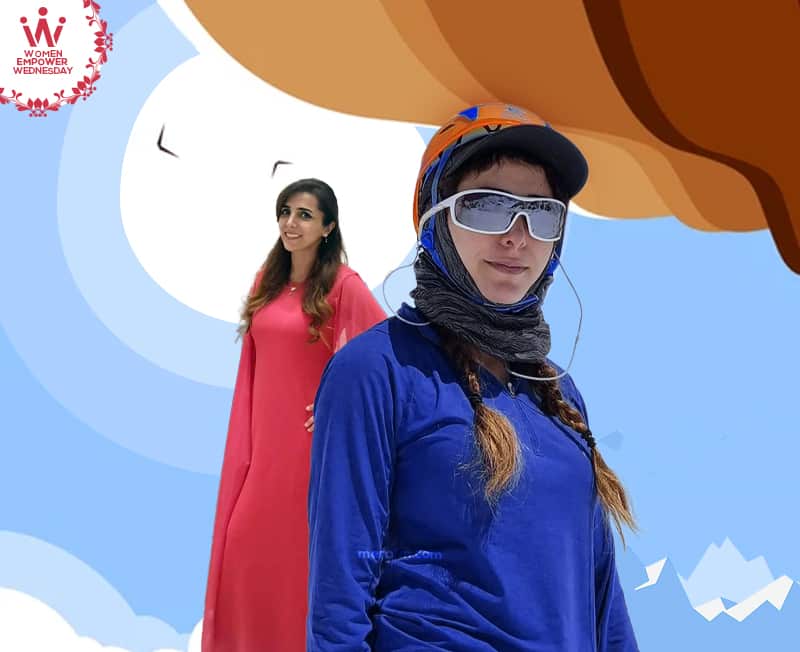 Women Empower Wednesday: Aiming higher than mountains, Naila Kiani!
posted by:

Zainab Naseem

No Comments
Achievements, beyond everything!
This is a phrase we hear virtually every day: "Women can do anything." We don't, however, discuss the obstacles that women confront in achieving their goals. Every day brings a new challenge. Society is difficult, and morality has the highest rate, which can become a problem if it is combined with patriarchy and misogyny. Naila Kiani is one of the most powerful women we know, has not only broken the wheel of misogyny but also ascended against it to an altitude of 8000 meters!
Naila Kiani
Naila, who is currently based in Dubai, is the first Pakistani woman to summit an 8,000m peak in Pakistan, which she accomplished in July 2021 by climbing the Gasherbrum II (8035m). Sirbaz Khan and Ali Raza Sadpara accompanied her to the summit. Not only did Naila climb Gasherbrum II four months after giving birth to her first child, but it was also her first mountain. Naila's hobby, aside from mountaineering, is boxing.
Naila enjoys athletics and is a trained boxer, rock climber, and casual runner. Her transformation into a major mountain climber, though, happened rapidly and unexpectedly.
The added challenges don't stop a dreamer!
She adds of her love for mountains and mountaineering, She said that she investigated for two years. She was training, but then she found out that she was pregnant. It was fine for her because it was Covid-19. Nothing significant happened. After her delivery, she slept for two months before training for four months. And then it was time to go for her. It was as simple as that.
Naila Kiani has become the first Pakistani woman to reach the peak of an 8,000-meter mountain. This was her first huge mountain, which she had never climbed before.
It was surprising to climb an 8000er just after having a baby. But the surprises don't stop there. According to Naila, this is the first mountain she ever climbed. Moreover, referring to the fact that most mountaineers spend their time conquering smaller peaks before attempting the larger ones.
As a result, it's understandable that she set her sights on a 7,000m summit first. A 7,000m peak, on the other hand, takes the same amount of time to the summit as an 8,000m peak – four to six weeks. Plus, it was only an extra 1,000 meters. But, as I remind her, it's a thousand meters into the death zone (where the air has so little oxygen that your cells practically die). That is the most difficult task she can set for herself!
She claimed she wanted to convey a softer image of Pakistan through her exploits as she told her narrative. Because one of the issues that deter foreign climbers and tourists from visiting our country is a negative reputation, she is doing everything she can to improve it in her own circle of acquaintances by participating in various athletic events.
Have something to add to the story? Comment down below!
Also, find out more inspiring Women Empowering stories here!