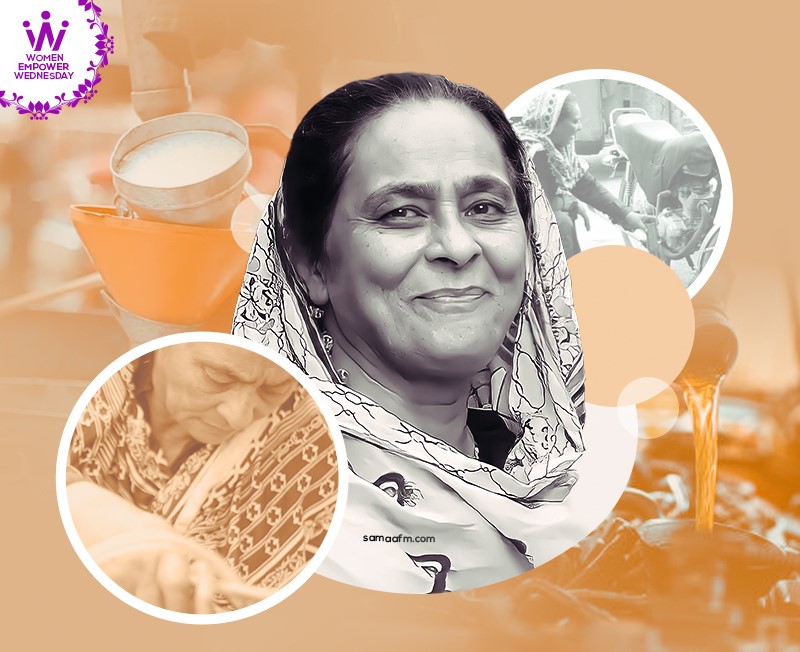 Women Empower Wednesday: Meet jameela khatoon aka Oil wali Aunty
posted by:

Zainab Naseem

No Comments
Day after day, we see and hear about women who are trying to do the best they can for their families and children. They go to great lengths to ensure that they are comfortable and happy. This is the journey of Jameela Khatoon, a strong-willed widow who perseveres in the face of adversity and restores motorbikes.
Jameela Khatoon
On the streets of Karachi, Pakistan Jameela Khatoon is famed for her strength and endurance, even when the temperature reaches a scorching 40 degrees. Mrs. Oil Jameela Khatoon, often known as Mrs. Oil, boldly walks through the male-dominated society every day to provide for her family. Despite several setbacks throughout her life, she never gave up because she had to live today!
Jameela crouches on the ground, clutching a wrench, and concentrates her focus on the motorbike in front of her almost every day. She appears to be oblivious to the loud and activity around Ranchore Line's Poonabhai Tower as she loosens engine nuts.
How Jameela Khatoon became 'Oil Wali Aunty'?
Khatoon claims that her business is her late husband's sole lasting legacy. When he died of cancer and she lost her adoptive son, Jameela was forced to become the only provider of her family.
Also Read: Women Empower Wednesday: The irrepressible, Ayesha Memon
Jameela Khatoon does everything herself, including adding oil to motorbike engines, changing oil, and maintaining them. Her grandson assists her as needed, but she handles the more challenging tasks alone.
Life was easier for her when she had employees. She now opens her business from 10:30 a.m. to 11:00 p.m. and stays open till midnight. Furthermore, Jameela Khatoon claims that customers who come in to have their motorcycles repaired are always kind to her.
Also Read: Women Empower Wednesday: The Courageous Tabassum Adnan
While Jameela Khatoon has had the good fortune of having her clients appreciate her, women who choose lowly occupations are rarely regarded favorably in our culture. People make it a point to make fun of them instead of supporting and appreciating them for doing their best to manage their homes' stoves with dignity and respect.
Find out more women empowerment and inspiring stories here