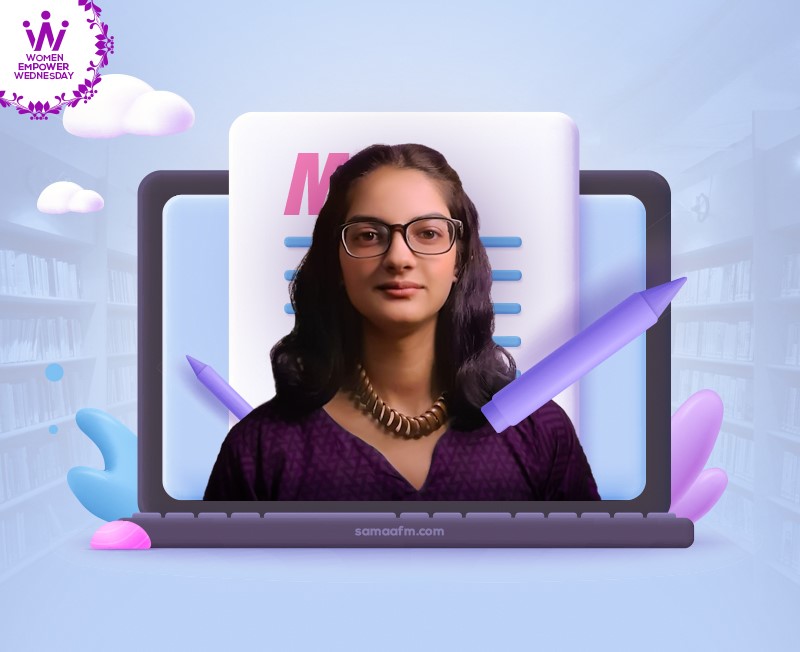 Women Empower Wednesday: The multi talented Maryam Arif
posted by:

Zainab Naseem

No Comments
Talents have no boundaries and similarly, talent is not bound with age-limit as well. If you have a hidden talent it will come out at any point in your life. However, for Maryam Arif, it came a little earlier than what usually most kids find their talent. Today it is all about Maryam Arif and her accomplishment as a writer, scientist, and entrepreneur.
Maryam Arif
Hailing from Karachi, Pakistan, Maryam Arif is a 16-year-old talented young individual who is also a writer and an entrepreneur. At the age of 12, she started writing poems for young Dawn and before turning 14, she already wrote 7 books. This particular achievement has made her the youngest author of Pakistan to have written eight books under the age of sixteen. Maryam is also a Goodreads certified author. Along with that, she also runs two Podcasts; New Trends and Live Biology. She is also one of the youngest Pakistani Podcaster to have an international audience on both her platforms.
Maryam was inspired by her mother who was a writer herself. Five of the eight books Arif wrote and published are in the self-help category. Her books include, "Unlimited Power: The secret of achieving more," "Growth from fears," "Reasons and morals," "Make money by Blogging," and "Top 9 Persuasive Copywriting Techniques" while three are coloring books. Maryam has also written a fiction novel 'Sour Blood,' a novel based on a girl who survived murderers in a forest for 10 days.
Also Read: Women Empower Wednesday: The determined soul Asma Tariq
She has also published an academic article in the Pakistan Journal of Pharmacology, one of the most cited Journals of Pakistan, in collaboration with the Khan Research Laboratories in Kahuta, Pakistan.
The entrepreneurial journey
Writing is not her only strong forte. Her entrepreneurial journey is also quite admirable. At the young age of 16, Maryam Arif has already started her own successful beauty business store on Daraz, Pakistan's largest online marketplace.
Currently, she is studying at Askari APS college in Islamabad, She managed her responsibilities alongside her career. She says, "Many people think that it is not such a good idea to focus on too many things, However, if pursue only one field, I would personally, not feel complete."
Unable to settle for just one thing and always thriving is what gives us the motivation to grow stronger every day!
Have something to add to the story? Comment down below!