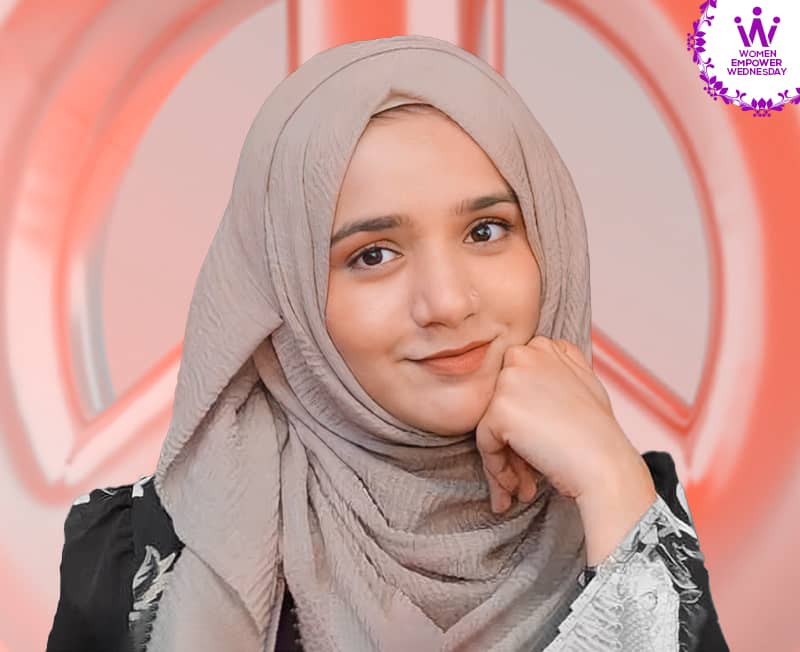 Women Empower Wednesday: The nuclear peacemaker Komal Ali Shah
posted by:

Zainab Naseem

No Comments
Komal Ali Shah aims higher than a nuclear missile
Several countries conducted tests in conjunction with nuclear reactors and fission weapons during World War II. The study is indeed in-depth but there are a lot of people who believe in humanity and the cause, effect, and dangerous conclusion of nuclear weapons. A young lady Komal Ali Shah, who was selected for the Hiroshima-ICAN Academy on Nuclear Weapons and Global Security 2021, shares a similar peaceful philosophy.
Komal Ali Shah
Komal, a 25-year-old MPhil student at the National Defence University in Islamabad, is a Karachi native. She has a Master's degree in Strategic and Nuclear Studies under her belt. She lived in Karachi with her parents and one younger brother until migrating to Islamabad in 2011.
Komal Ali Shah to the Hiroshima-ICAN Academy
The program was launched in 2019 and continues every year. Komal was one of the 41 participants chosen this year. She is the first Pakistani, and the first Pakistani woman, to be accepted into this program.
ICAN is a global, multi-stakeholder campaign aimed at organizing civil society around the world to promote the goal of banning and eliminating nuclear weapons.
ICAN's Nuclear Weapons and Global Security program develops global leaders who advocate for nuclear disarmament and can contribute concretely to a more peaceful and secure world.
"I would enhance the discussion by encouraging campaigns about nuclear disarmament from an educational perspective," Komal explains. She'd also be looking into the environmental risks associated with nuclear weapons testing.

When it comes to nuclear policies, Komal claims that the humanitarian aspect is frequently overlooked. The program's criteria are that half of the participants come from nuclear-weapon states such as the United Kingdom, the United States, Germany, Russia, and China, and the other half comes from non-recognized nuclear-weapon states such as Pakistan, India, and Israel.
Because Pakistan and India are rivals, nuclear weapons are a flashpoint in South Asia. Pakistan began testing nuclear weapons in 1998, becoming the world's eighth country to do so. Dr. AQ Khan, the program's originator, died in October of this year.
Komal spreading and advocating Global Peace
The humanitarian consequences of nuclear weapons and the political, legal, and technological elements of nuclear weapons and global security are the two subjects of this year's program.
The course is split into two halves. Part one will take place online and will comprise essays and webinars, while part two will take place in Hiroshima.
The first has just ended, and all students have turned in their final essays, while the dates for the second are still being determined. It will start in either February or March.
Women like Komal Ali Shah are empowering and motivating women in every walk of life!
Find out more women empowerment and inspiring stories here