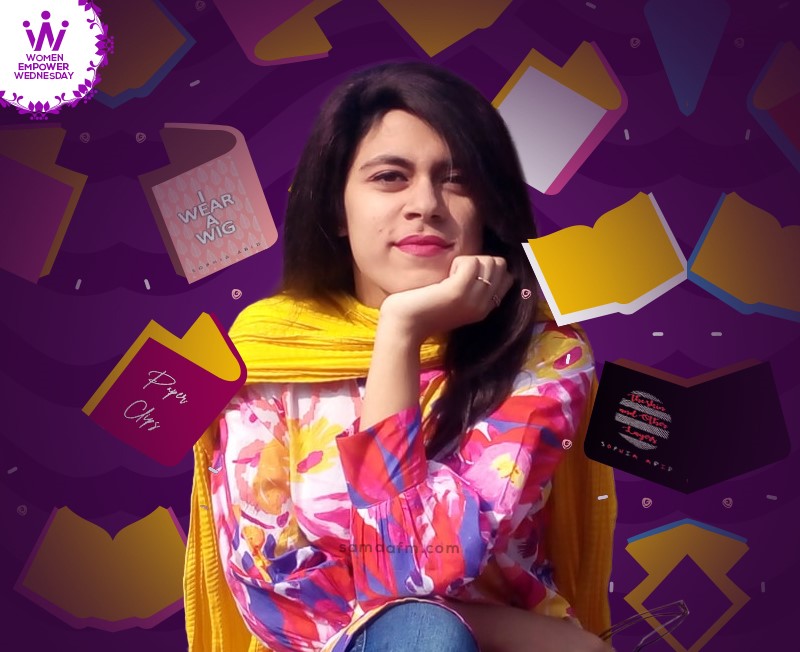 Women Empower Wednesday: The talented writer Sophia Abid
posted by:

Zainab Naseem

No Comments
Who is Sophia Abid?
Authors are frequently created by creativity placed in various tales. The story moves forward as it unfolds, and the characters change at the same time. A novel is created by combining action, conversation, character thoughts, and a climax. This appears to be a simple task. However, it takes time and multiple first draughts for authors to get to the point where their novel can be called a final manuscript. Sophia Abid accomplished all of the above at the youthful age of eighteen. She had to shake in her shoes since she needed to complete a statement with that phrase. She needed to give the protagonist options in order for the plot to move forward.
Amazon book author Sophia Abid
Sophia was busy writing and revising the paragraphs for her book at a period when girls were learning how to apply makeup or throwing hi-tea parties with friends. Sophia's debut novel, I Wear a Wig, was released in August 2018 by AuthorHouse UK. Moreover, she is also an author of two other books, The Skin and Other Layers in 2019 followed by her second book Sunshine in 2020.
The Undergrad student of Psychology reveals her tough process of becoming an author. She shares, "Becoming an author has been a long and tough process."
Her writing journey
"It took me a year and a half to get accepted by a couple of publishers before I said "yes" to AuthorHouse UK," says the author. Sophia worried if her novel would ever see the light of day during this period of receiving calls from publishers. She felt hopeless, and she thought she'd be stuck with her manuscript for the rest of her life. She was on the verge of giving up when she got a call from AuthorHouse UK. I honestly think that what is intended to be yours will come to you when the timing is right, she says.
Also Read: Women Empower Wednesday: The multi talented Maryam Arif
Sophia's time came in 2018 when her book 'I Wear a Wig' helped her achieve a new goal. She was the youngest author ever to have a book published by AuthorHouse UK. It's not easy to achieve literary success at such a young age, especially when the author is still a student. It's all in a day's work for Sophia. "I've always thought of writing as something I could do with my breath instead. I could easily carve out time for my studies, and I worked my way up through the ranks during my time as a student."
Also Read: Women Empower Wednesday: The determined soul Asma Tariq
I Wear a Wig by Sophia Abid storyline
I Wear a Wig is a young adult novel with fifty-five chapters that deal with self-love and sorrow. It tells the story of Mia Nick Wilson, a little girl who goes through a sequence of incidents in her life. She is attempting to live with her mental illnesses. Mia is surviving on a drug that causes her to shave her head. This is why her parents purchased two wigs for her to conceal his unattractive hairline. Mia is the older of the two siblings, with Lyla being two years younger. Nick Wilson and Amanda Nick Wilson, her parents, reside with her. Mia's friends Khadija, Zennirah, and Sophia, as well as her psychiatrist, Wylie Pratt, play important roles in the plot.
You can check other writing contributions by Sophia Abid here.
Have something to add to the story? Comment down below!