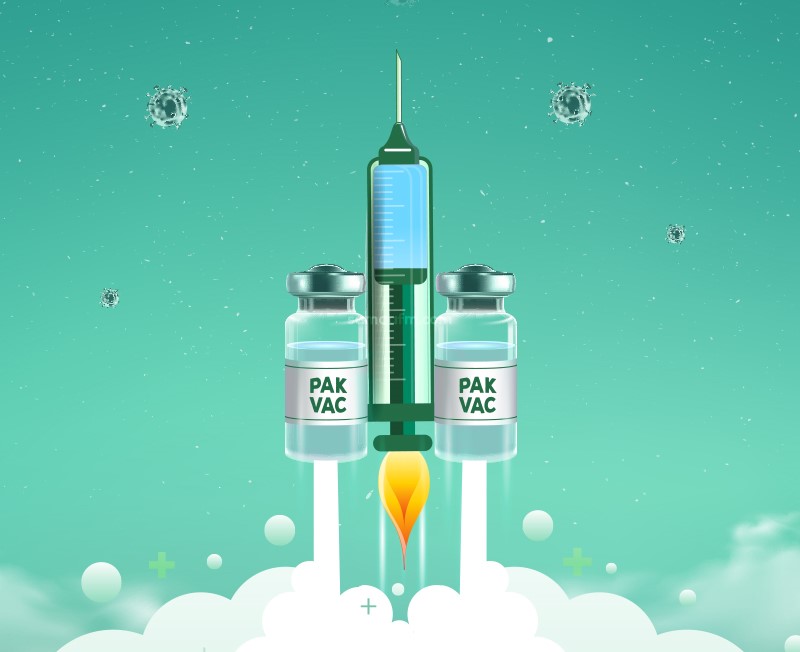 PakVac vaccine launched in Pakistan against Covid-19
posted by:

Zainab Naseem

No Comments
In a significant boost to the public authority's Covid immunization campaign. Health authorities have finally carried out the Pakistan-made Covid-19 PakVac vaccine on Tuesday, seven days after effectively creating it with the assistance of China's CanSino Bio.
PakVac Vaccine launch in Pakistan
Along with the PakVac vaccine launch all over Pakistan, a special Pakistan International Airlines (PIA) flight carried 500,000 doses of Sinopharm from the Beijing Capital International Airport to Islamabad, as the authorities arranged to leave on an immense task to immunize the whole adult populace.
'PakVac' was launched yesterday during a ceremony, chaired by Asad Umar. Umar also heads the National Command and Operation Center (NCOC), other than Special Assistant to Prime Minister on National Health Services Dr Faisal Sultan and others.
Asad Umar spoke to the ceremony on the homemade vaccine launch
Speaking to the ceremony, Asad Umar said that the day was a significant one for the nation, adding that the whole country was glad for the group that had fostered the vaccination.
He said, "We have witnessed a huge revolution taking place in this country right in front of our eyes in just a matter of months."
According to Umar, vaccines were in high demand all over the world but the Chinese-produced ones were "the most preferred" in Pakistan. "We need to promote PakVac vaccine as it is produced by us," he said. "This is a revolution."
CanSino was the first Chinese vaccine which had clinical trials in Pakistan. The company's efficacy results showed 65.7% efficacy in preventing symptomatic coronavirus cases and a 90.98% success rate in stopping severe infections.
Read More: Pakistan develops a new homemade anti-Covid vaccine 'PakVac'
The Health Minister of the country Dr. Faisal Sultan spoke at the ceremony. He said that developing a vaccine from raw materials was not an easy task. Because a lot of hard work was required to maintain its quality. "We found our friend China closest to us in overcoming the Covid-19 challenge."
You can get your walk-in vaccination process at Expo Centre. By messaging your CNIC number to 1166 to get a registration code and date for the vaccination. Be safe, be protected!