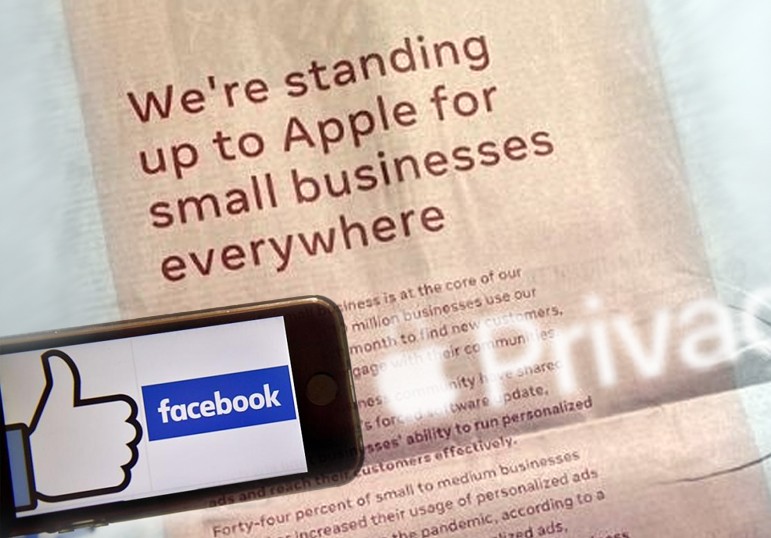 Facebook vs Apple Feud Continues!
posted by:

Abdul Latif Dadabhouy

No Comments
It's always something happening in the Big Tech Giants' world! Whether it's new features rolling out for Messenger, Instagram or WhatsApp. Or the Antitrust lawsuit on Facebook! I am not trying to paint a bigger picture here, or maybe I am… Just sharing the fact that something is "always" up in the tech world.
Well, quarrels happen too! As Facebook has publicly criticized Apple's IOS privacy changes with a full page newspaper ad today with, "We're standing up to Apple for small businesses everywhere," reads the headline on an ad inside the New York Times, the Washington Post, and the Wall Street Journal today. Bloomberg News reports that the ads are related to Apple's iOS 14 privacy changes that will make it more difficult for companies like Facebook to target users with ads.
Apple's Privacy Policies Against Facebook
Apple had recently planned to implement changes like the developer will ask for permission to gather data and track them across mobile apps (including Facebook and other websites) for iPhones and iPads with iOS 14 in September, but delayed rolling it out until early next year. These changes will impact Facebook's ad business, and in particular its ad network for developers and businesses, as end users are more likely to opt out of tracking prompts.
Facebook's Claim Against Apple
Facebook claims Apple's changes will be "devastating to small businesses" that rely on its ad network to generate sales. The newspaper ads direct small businesses to Facebook's "speak up for small business" site, where a series of business owners speak out about Apple's changes. "Small businesses deserve to be heard," Facebook writes. "We hear your concerns, and we stand with you."
Notably it was also revealed how Facebook tracks the users with iOS app!
After the public spat from Facebook, Apple has emerged with a defensive statement against the 'one pager ad,' Apple responded to Facebook critiques saying that they are "standing up for our users"
Apple's Defence Against Facebook Ad!
Apple's statement says, "We believe that this is a simple matter of standing up for our users. Users should know when their data is being collected and shared across other apps and websites and they should have the choice to allow that or not. App Tracking Transparency in iOS 14 does not require Facebook to change its approach to tracking users and creating targeted advertising, it simply requires they give users a choice."
Apple in the recent past also made good for their users when they promised to provide more transparency around iOS app data collection with the launch of their privacy labels on the App Store. The "Nutrition privacy labels," include the accuracy from every time a developer submits a new update to the user. Apple has broken down data collection into three categories: "data used to track you," "data linked to you," and "data not linked to you."
Tracking in this context means the app developer is linking data from the app which includes personal information, location data collected from your device. Other data from other companies' apps, or websites for the purpose of targeted advertising. Apple says it's also using the term tracking here to mean sharing user or device information with companies that sell it, like data brokers.
The quarrel between the two companies is supposed to be a big one in the tech world, how Apple will implement these changes for the users is the bigger question.
---