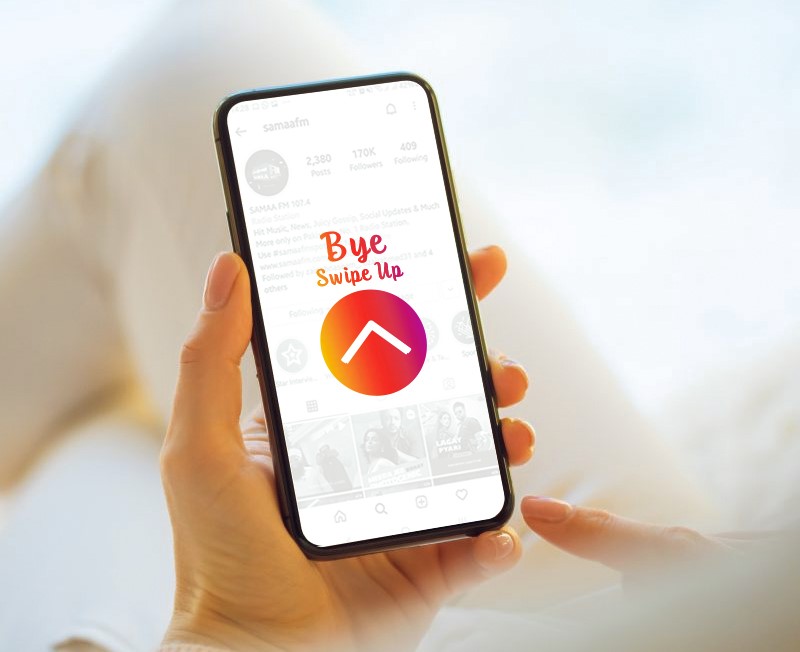 Swipe up for links in Instagram stories to go away on August 30
posted by:

Zainab Naseem

No Comments
Goodbye Swipe up option on Instagram stories!
Users will no longer be able to swipe up on Stories to access external links supplied by the Story author, instead opting for a new link sticker, which will be available starting August 30.
Only verified profiles and users with at least 10,000 followers had access to the swipe-up feature.
In June, Instagram began testing link stickers for all users, not only those with access to the swipe-up feature. When it appears on Aug. 30, however, the link sticker will only be available to individuals who previously qualified for swipe-up capabilities.
Introducing stickers instead of swipe up for Instagram stories
At the time, Vishal Shah, then-head Instagram's of product, told that stickers were a better fit for how people used Stories.
Indeed, the Stories platform already has stickers for features like donations, music, and polls.
The link sticker may be personalized in the same way that other stickers in Stories can, providing creators flexibility over color, location, and text, allowing it to be placed wherever they want in the Story for optimal interaction. Unlike the swipe-up feature, viewers can interact with Stories that carry the link sticker by reacting to and replying to postings.
Also Read: Instagram launches 'limits' to hide abusive messages
Why stickers?
Stickers appeal to younger users, who enjoy slapping them all over the place. The rest of us are baffled, owing to the fact that this isn't Pokémon. For many people, Instagram is a real business. Changes like this jolt them out of their complacency. They have the sensation of a landslide. For them, everything changes.
Is swipe up stickers on Instagram available for people?
A user tweeted regarding the stickers inquiring about the sticker option. Her tweet reads,
To which in response Sam Sheffer tweets a picture that indicates stickers are coming soon.
Also Read: Instagram Now Lets You Recover Deleted Posts
How can you get Instagram swipe up option available on your account?
Following are the terms from which your swipe-up option can be available on Instagram.
You can get a business account on Instagram will a public setting.
Your followers must be 10,000.
You must have a verified account.
You can then add a link from your story with the link option shown on top of the screen. Simply type or paste a URL of the story you want to link.
Make sure you use a link that is relevant to your post for the best results. Don't simply direct your followers to your website and leave them to their own devices. Isn't it true that you want them to take action? You must make it extremely simple for them.
Have something to add to the story? Comment down below!