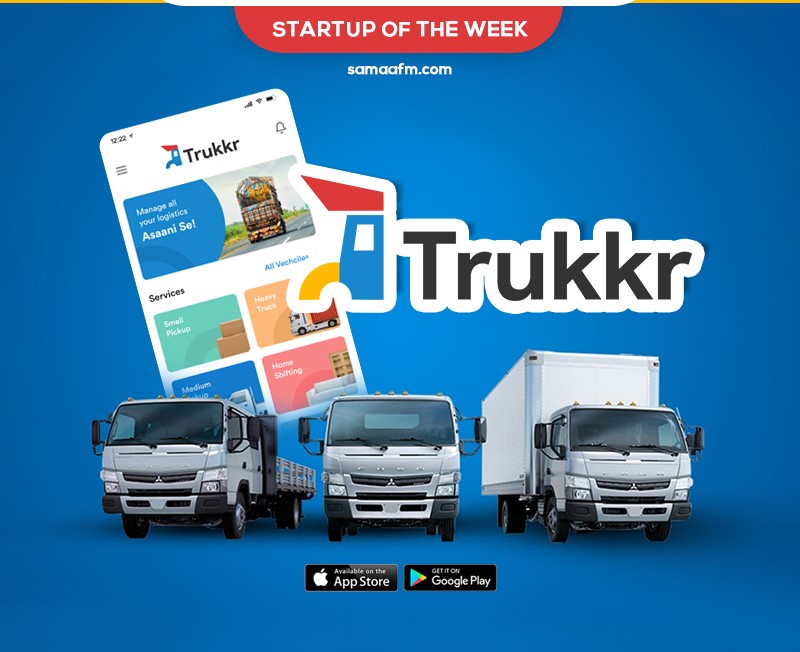 Tech Tuesday Start up of the Week: Trukkr
posted by:

Zainab Naseem

No Comments
Pakistan is revolutionizing the tech sector. And the marketplace is filled with people introducing their start-ups. Not just digitally, but logistically as well. Introducing high potential and widespread transportation as it connects millions of customers and carriers through easy-to-use technology. Trukkr is on rescue taking Pakistani logistics in a new direction!
Trukkr
Founded in 2020 by Sheryar Bawany, Waqas Khatri, Ali Haji, Mishal Adamjee, and Kasra Zunnaiyer. Trucker is a Karachi-based start-up that helps businesses transport their goods across Pakistan using its network of transporters which is helping people providing countrywide accessibility of logistics. With their cutting-edge technology, complete transparency, country-wide accessibility, and more opportunities, both shippers and carriers win – Pakistan wins! With Trukkr you need a Suzuki pick-up, Shehzore or a Mazda, a 20-foot container truck, or a water tanker, they make it easier and cheaper than ever before just through a click of a button on our App or our website.
Solving commercial cargo problems
This start-up makes the process of booking commercial cargo fast by linking a shipper directly with a driver over a secure, intuitive, and powerful platform. Furthermore, they ensure that shippers have complete transparency in price discovery; visibility, flexibility, and choice while at the same time give drivers easy access to more jobs whenever they want them.
Water tanker services
Moreover, Trukkr offers a digitized solution to your water problems. Along with moving your goods, Trukkr provides premium water tanker service. Choose from the multiple quantities available. Tap and let Trukkr handle your water problems. The platform is completely free-to-use for Trukkr's customers.
Features
If you're a large corporate, small business, or transporter, it gives you flexible and powerful tools that help you save time and money. These tools and features include,
Fleet Management
Access Management
Trucking Marketplace
Transporter Management
Reporting & Analytics
E-documentation
Client Management
User Access Management
SMS/Email Alerts

Trukkr raises $600,000 seed for trucking marketplace
Karachi-headquartered trucking marketplace Trukkr has raised $600,000 in seed funding led by Peter Findley. The investor is a General Partner at Anchorless, a New York-headquartered VC focused on Bangladesh. Furthermore, the deal also included participation from Pakistan-focused investor Kinnow VC, Kargo Technologies' founder and CEO Tiger Fang, and an executive from Cue Health. Moreover, in addition to the equity investment, the startup has also raised an undisclosed amount of money in debt financing.
Trukkr has constructed a far-reaching transportation management ecosystem for transporters, everything being equal, to approach the right truck, at the ideal opportunity, at the right cost, and for transporters, all things considered, to book a load effectively and move their vehicles at full capacity.
Last but not the least, if you like this article, find out more startups in our segment Tech Tuesday. If you want your startup to get featured, contact us.