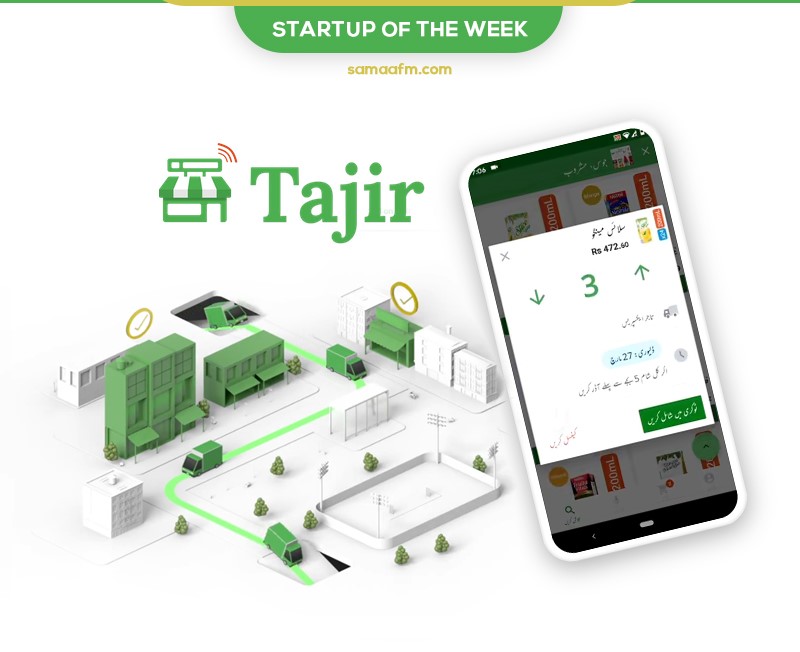 Tech Tuesday Startup of the Week: Tajir
posted by:

Zainab Naseem

No Comments
It is good to say that B2B commercial marketplace is the eventual fate of the world. Being an online platform, which is operated between buyers and sellers, that opens to purchasers and dealers in a specific industry is what the world has been witnessing. From 2019 when Covid began to spread, B2B commercial setup flourished. We have seen Bazaar, Retailo, and Dastgyr with comparable points and this online cycle works easily. Your platform is freely run online between a buyer and a seller. Purchasers and dealers can enroll themselves in it and market their products according to the demand. A startup that means to change retail supply chains in the area with a tech-empowered distribution marketplace that is Tajir.
Tajir
Tajir is founded in 2018 by brother Babar and Ismail Khan. It sells inventory to Kiryana stores locally in Pakistan through its mobile app. This startup serves retailers in Lahore and some parts of Central Punjab, and has over 1,000 SKUs including soft drinks, hair products, biscuits and snacks, and food staples like rice, flour, and wheat, on its application. With the latest funds, it plans to expand to Pakistan's largest city Karachi as well.
Shop from the Tajir application
Through Tajir's application, the storeowners order inventory whenever they want with just a click. They can also receive on-demand delivery, enjoy transparent and competitive prices, and choose from the largest selection of products available online.
24/7 ordering and next day delivery
Tajir is trusted by more than 100 multinational and local brands and all are available on the application. With Tajir you don't have to wait for a salesman. Stores can order whenever they like and with their next-day delivery option, the process of delivery gets smooth and hassle-free.
Tajir raises $17million Series A led by Kleiner Perkins
B2B e-commerce marketplace Tajir raised $17 million in a Series A round led by one of the leading American VC firms Kleiner Perkins. It is the first investment by the American VC in a Pakistani startup. Furthermore, the round also included the participation of Y Combinator Continuity Fund, AAVCF, Fatima Gobi Ventures, Flexport, Golden Gate Ventures, Liberty City Ventures, VentureSouq, and angel investors including Flexport CEO Ryan Petersen and Figma CEO Dylan Field.
Indeed, the tech-empowered startup is gaining recognition in the country mostly through social endorsement from existing partners. The startup also maintains a sales team to educate more store owners about their platform.
Read more: Tech Tuesday startup of the week: Truck It In
Lastly, Tajir doesn't have any significant contender currently, which is uplifting news. Babar and Ismail are the founders who have made this level of entrepreneurship possible in the country. From multiple points of view, their prosperity will decide the impression of the Pakistani market to financial backers around the world.
If you want your startup to get featured, contact us.