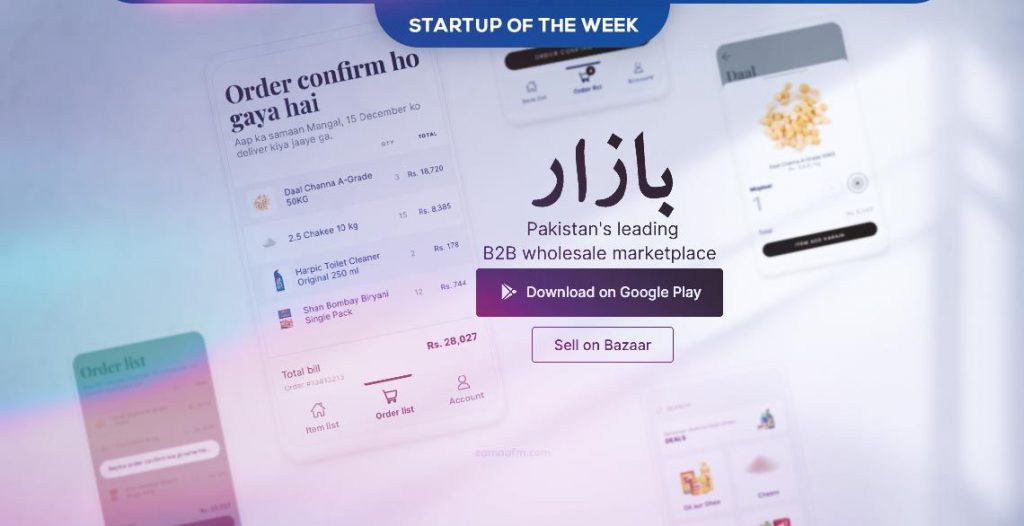 Tech Tuesday Startup of the Week: Bazaar
posted by:

Abdul Latif Dadabhouy

No Comments
B2B Market
B2B ecommerce, or business-to-business electronic commerce, describes online order transactions between businesses. Because orders are processed digitally, buying efficiency is improved for wholesalers, manufacturers, distributors and other types of B2B sellers.
Different Types of B2B Commerce models
B2B2C
Business-to-business-to-consumer (B2B2C) web-based business takes out the agent typically between the B2B association and the B2C, putting the organizations directly in contact with the buyer. In a B2B2C model, the distributer or producer arrives at the last purchaser by either banding together with the B2B or straightforwardly offering to the customer. With B2B2C web based business, these advances happen on the web, regularly through virtual retail facades, an internet business site, or even applications.
Wholesale
Organizations frequently purchase products in mass at a lower cost and turnaround to sell them at retail esteem. The products are typically bought straightforwardly from the maker or wholesalers. This is discount, and it's a mainstream type of B2B. Discount could likewise be portrayed as the offer of products to different organizations. Discount B2B models are available in numerous enterprises including retail, food administration, development, and clinical, among numerous others.
Manufacturers
Manufacturers produce completed merchandise for an enormous scope by using parts and crude materials in blend with physical work and machines. In a B2B model, the completed products are offered to different makers or wholesalers.
Distributors
A wholesaler is an individual who works intimately with makers with an end goal to carry perceivability to the merchandise they are creating, with the objective of expanding deals. In an internet business model, the coordinations of the deal happen on the web, frequently through an internet business stage. Numerous manufacturers work with distributors and taking things computerized sets out a more prominent opportunity for development and growth. Similarly, as with other B2B models, wholesalers are attempting to abbreviate the lead time from the deal to conveyance and make a client experience that beats client expectations.
As B2B commerce and market has replaced most of the business setups, the Bazaar startup too has made an online market for whole sellers and manufacturers to be able to stay on one platform!
Bazaar
Bazaar is a brainchild of Saad Jangda and Hamza Jawaid, It is a mobile-based e-commerce marketplace that enables people running local grocery stores (Kiryana stores) to purchase the inventory for their stores from manufacturers, wholesalers, and suppliers.
When the two co-founders had started building Bazaar, they had set a target of serving 800 retailers in Karachi by the end of 2020 but they closed the year with over 10,000 retailers, beating their initial targets both in terms of the number of users served through the platform and GMV by over 10x. They also have an app that features over 500 SKUs of branded and unbranded products, offering free next-day delivery.
For Retailers
Bazaar offers a convenient ordering and reliable, fast delivery with market competitive prices.
For Suppliers
Bazaar offers features for suppliers as well, and that includes the direct route to market, cost-efficient distribution, and actionable market insights.
Achievement
Received Seed Funding From Alter Global
B2B e-commerce marketplace Bazaar has raised an unprecedented $1.3 million in a pre-seed round from the US and Pakistan-based institutional and angel investors.
The investment round for the seed funding was led by Pakistan-focused fund Indus Valley Capital started by Aatif Awan, former VP of Growth at LinkedIn, which led to early investments in Airlift. The round was co-financed by Alter Global – ​a Silicon Valley-based emerging markets fund (making this their first investment in Pakistan) and other strategic angel investors.
The amount raised is unusually high, particularly by Pakistani standards. And it became the largest ever pre-seed raised by a Pakistan-based startup. Ushering in a new era of growth for startups in the country. Bazaar co-founder Saad Jangda also said that, the team they built around the idea and the market size helped them get the backing of investors. And eventually, score a significant round all over.
While their far-fetched goal is to use technology to solve this industry-wide problem faced by millions of retailers in Pakistan, Saad and Hamza's ultimate vision is to materially contribute to Pakistan's tech ecosystem.
On one occasion Saad said, "So much of Pakistan's best talent has helped build great products and companies globally. We want to assemble and nurture the best talent to build something incredible in and for Pakistan. We know that with the right team, our underlying purpose, our self-belief, and a lot of hard work, we can build a company that can create a massive impact for our ecosystem."
As the Pakistani tech market for B2B business is now seeing a major boom, businesses like bazaar is making business easy for people [manufacturers, suppliers, and distributors] to have one BIG platform for all their problems!
RECOMMENDED STARTUPS
Last but not the least, if you like this article. You can also check more on Tech Tuesday
If you want your startup to get featured, contact us.