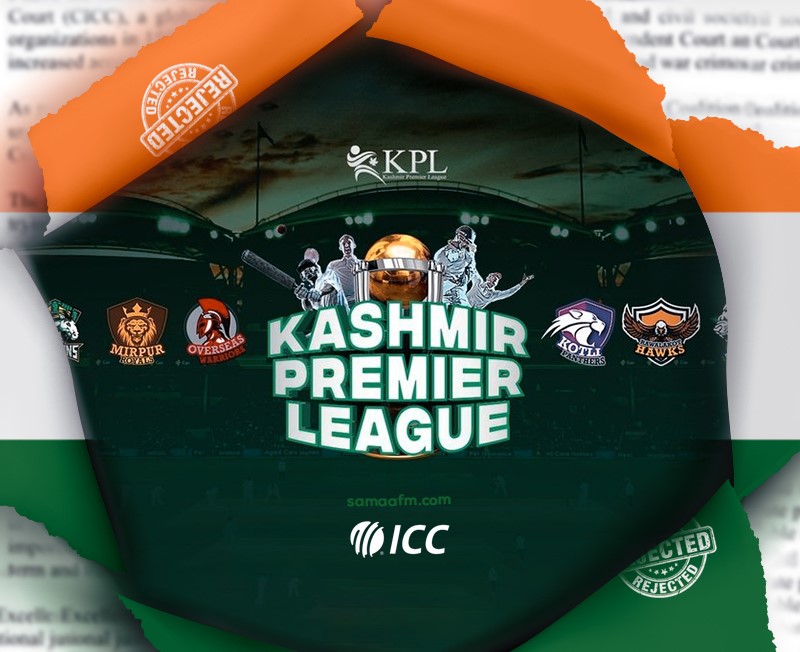 ICC dismisses India's request against Kashmir Premier League
posted by:

Zainab Naseem

No Comments
ICC dismisses India's request against Kashmir Premier League (KPL)
International Cricket Council (ICC) has dismissed India's request against KPL. According to International Cricket Council, it has no jurisdiction over Kashmir Premier League (KPL), as it's not an international cricket tournament.
ICC's response came after the Board for Control of Cricket in India (BCCI) approached the governing body to take action against the tournament.
Caution from BCCI for the players for Kashmir Premier League
Prior, BCCI had cautioned and undermined international players partaking in the tournament that they won't be permitted to participate in any cricketing related activities in India.
BCCI then approached ICC and asked them to drop the tournament based on matches being played in the disputed area.
The BCCI letter to International Cricket Council
BCCI in their letter to ICC asserted that Kashmir is a disputed domain; henceforth no matches in such regions ought to have ICC's endorsement. Nonetheless, ICC doesn't have any guidelines and regulations against matches in disputed regions. It should be noticed that India has recently played two ODIs in Srinagar, which is in Indian involved Kashmir and is a disputed region.
Also Read: IPL 2021 postponed due to bio-secure bubble breaches
A domestic league on a disputed territory
Moreover, domestic leagues like KPL require endorsement from the nation's board, which for this situation is PCB. ICC's guideline in regards to the endorsement of an occasion, condition 2.1.3, obviously expresses that every national cricket organization will have the sole and selective right to authorize the arranging of domestic matches inside its territory. PCB has effectively approved KPL, which is planned from August 6-16, 2021, in Muzaffarabad.
Furthermore, on Friday, former South African cricketer Herschelle Gibbs had slammed BCCI for trying to stop him from participating in KPL.
"Completely unnecessary of the @BCCI to bring their political agenda with Pakistan into the equation and trying to prevent me from playing in the KPL. Also threatening me saying they won't allow me entry into India for any cricket-related work. Ludicrous," Gibbs tweeted.
Moreover, former England spinner, Monty Panesar, pulled out of KPL after reportedly receiving threats from BCCI. After denying him entry to India for cricket-related work in the future if he participates in the league.
"I have decided not to participate in the KPL because of the political tensions between India and Pakistan over Kashmir issues. I don't want to be in the middle of this, it would make me feel uncomfortable," Panesar tweeted.
Also Read: Umar Akmal apologizes for breaching PCB anti-corruption code
Have something to add to the story? Comment down below!