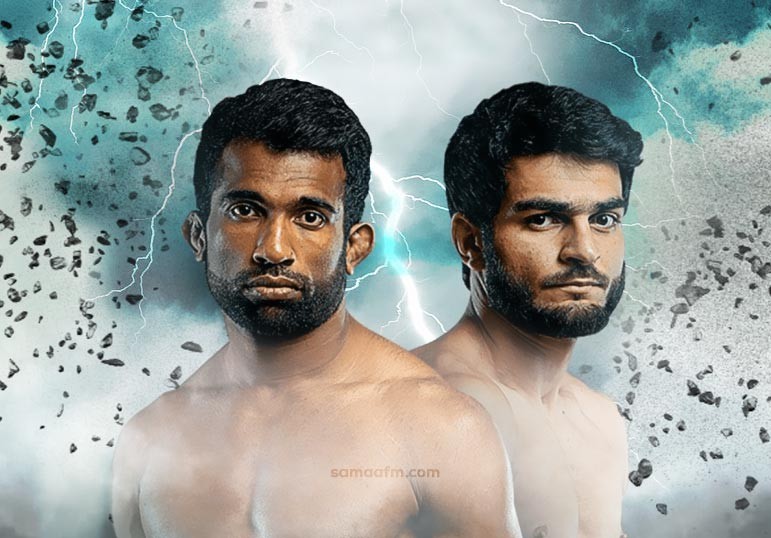 MMA Showdown PAKvIND: Mujtaba And Rahul To Fight in Lightweight Match
posted by:

Uzair Ahmed

1 Comment
The fight between the two was on the cards for quite a while however was getting postponed because of different reasons. Mujtaba has been preparing hard and is certain of knocking down Rahul this time in the lightweight match at One Championship Unbreakable III in Singapore on Friday, 5th February 2021.
Ahmed Mujtaba
Ahmed 'Wolverine' Mujtaba of Quetta is one of the most splendid martial arts stars to rise from Pakistan. Armed with a noteworthy record, practically the entirety of Mujtaba's successes since he appeared in 2013, Ahmed has come by way of stoppage, demonstrating his exciting and powerful style. What's more, he has made every sacrifice necessary to succeed in martial arts. In 2010, Mujtaba started his MMA training under the roof of Fight Fortress, an Islamabad based MMA training academy run under the supervision of the critically acclaimed MMA pioneer in Pakistan, Ehtisham Karim Shaheen. He is the first professional MMA fighter from Pakistan who has a seven-win streak in his professional bouts which has made the local star a true wolverine in the ring. He owns an incredible career record of 7 wins and 2 losses. While he was a full-time student of the Balochistan University of Information Technology, Ahmed juggled life as a student with that of a professional martial artist. Furthermore, he has made every sacrifice necessary to prove his mettle in martial arts. While he was a full-time student of the Balochistan University of Information Technology, Ahmed shuffled life as a student with that of a professional martial artist. Since he has graduated and can prepare full-time, Ahmed is driven by putting Pakistan of origin on the global radar, just as bringing to Pakistan the values of respect, honor, and competitive spirit that he feels are intrinsic to martial arts. He is eager to take the necessary steps, and face whoever he should, to turn into a champion. He got off to an extraordinary beginning on the worldwide phase of ONE Championship, overcoming profoundly appraised Singapore ability, Benedict Ang, on his limited time debut.
Achievements of Ahmed Ahmed Mujtaba aka the Wolverine
In 2013, Mujtaba started his Professional MMA bouts with a victory in Lahore where he defeated another MMA fighter, Nadeem Sharif at Pak Fight Club 3 Bantamweight Grand Prix via Submission. Another win of the Pakistani MMA star came in the year 2015 when he overcame a fighter from the arch-rival nation, India named Sanjivan Padwal at Ultimate Beatdown 18 – Dynamite by Submission (Armbar). UGB MMA Championship 13 – Foreign Invasion stands as another platform of victory for Ahmed in the year 2016 where he earned his third bout against a Filipino counterpart, Rodian Menchavez via Submission (Rear-Naked Choke). Mujtaba then grabbed another win in the same year at 360FN Beatdown against Shafi Ul Islam by TKO (Submission to Punches).
Ahmed has crowned the World Series of Fighting (WSOF) Champion in 2016 when he choked his opponent from the Philippines named Neil Larano in the first round. "The Wolverine" got off to a great start on the global stage of ONE Championship, defeating highly-rated Singapore talent, Benedict Ang on his Promotional Debut in 2016. The first loss for him came the next year (2017) when he got choked by Keanu Subba at One Championship: Throne of Tigers. Mujtaba collected another win into his tally in the same year at One Championship: Immortal Pursuit 2017 beating DQ his Chinese opponent: Li Kai Wen. In 2017, Ahmed Mujtaba has last seen in action at One Championship: Visions of Victory where he once again lost at the hands of another Chinese counterpart, Jia Wen Ma.
Ahmed Wolverine Mujtaba Sharing His Excitement Over the Upcoming Fight!
According to the occasion, Ahmed Mujtaba said, "Pakistan vs India clashes are always exciting in any sport and now we are throwing down in a cage. I'm training hard and I will dedicate this fight to firstly, the people of Pakistan and the residents of Kashmir who have been under unlawful Indian Occupation, this victory will be dedicated to us."
For his championship, he further added that "I am confident that I will finish him either on the feet or submit him on the ground. I'm a BJJ Brown Belt under Astra Fight Team and he's a brown belt too. It will be a good fight to show my Grappling skills."
Mujtaba also revealed that he has learned new tricks from his Brazilian coaches which he will implement in the fight against Raju. "I learned a lot of new tools training at Astra Fight Team under head coach Marcelo Brigadeiro and my Brazilian Jiu-Jitsu professor and fellow ONE Championship fight Gilberto Galvao. I plan on using every tool in the fight," he added.
Mujtaba's manager Muhammad Rizvan Ali is overall satisfied with his preparation. He shared, "I am very confident that Ahmed will finish this fight as he has just come out of a long layover and has a huge return of fire in his body."
Meanwhile, Raju known as 'The Kerala Krusher' Raju is the SFC Welterweight Champion. He is coming in this match with a win over Pakistan's Furqaan Cheema.
---
READ MORE: THE STORY OF FAWAD ALAM: A SWEET REVENGE!
Comment on "MMA Showdown PAKvIND: Mujtaba And Rahul To Fight in Lightweight Match"